Odell Beckham not spotted at the start of today's OTA. He also missed the first two voluntary sessions earlier this week. #Giants

— Dan Duggan (@DDuggan21) May 25, 2017
Come on Odell. Giants just picked up your 5th-year option and this is how you repay them? I know why, it's because you're too preoccupied with hanging out with Drake, dancing (constantly, the dancing never fucking stops with him) and now a new shoe deal with Nike. Don't bother being on my team with that bullshit.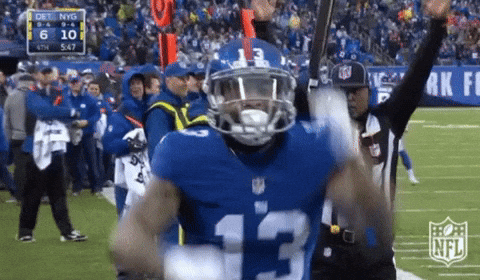 Nah, I'm just joking.
Is Odell wrong for not going to OTAs? Yes. They're an organized team activity that's voluntary, but it's basically like a "you should just go" kind of thing. Eli's been on the team since 2004 and he's there. Same goes for Janoris Jenkins, who broke bank last season. Just because he's Odell doesn't mean he should get a free pass.
Now…on the contrary, some Giants fans are fucking crazy. And there's two types of crazy we're talking about. Old Giants fans, and young Giants fans.
Old Giants fans (noun)

Giants fans that support the team but are always just grumpy when they watch the game, so then they wait for something bad to happen, therefore they can have a reason to be pissed off. Also hate:

Endzone celebrations
Players that get penalties
Players that are flashy, compared to an Eli Manning
So basically if you're an old Giants fan, you have an issue with Odell Beckham Jr.
2. Young Giants fans (noun)
Giants fans that have a lot more passion for the team/games, but justify the actions for any player for their wrongdoings, even when they're really wrong.

They usually spend 16 hours out of their day defending Odell's actions.
It's good to be somewhere in the middle on this scale. Bottom line is this. Is Odell a perfect person? No.
Is he the devil? I'd like to think not.
Okay so the guy missed OTAs, he doesn't deserve to be burned at the stake. In games against the Ravens and the Cowboys, he put the team on his back by breaking routine slants to the endzone.
And he's never created locker room issues. He's not an issue to the team, but he can fix some things about himself, like anyone.
Johnny Manziel and Odell Beckham Jr. worked out together this week.

Manziel's arm looked strong, and his feet looked fast, per @TMZ. pic.twitter.com/2Qa533WgDF

— NFL Update (@MySportsUpdate) May 24, 2017
Johnny Football over Eli? 0-16 is looking a lot more realistic now…