After finishing 11-5 and clinching a playoff berth in the 2016 NFL season, the New York Giants finally became relevant again for the first time since Super Bowl XLVI. Although the team only lost one defensive starter (Jonathan Hankins) and added offensive firepower in Evan Engram and Brandon Marshall, New York will have to be at their best in order to compile another winning season.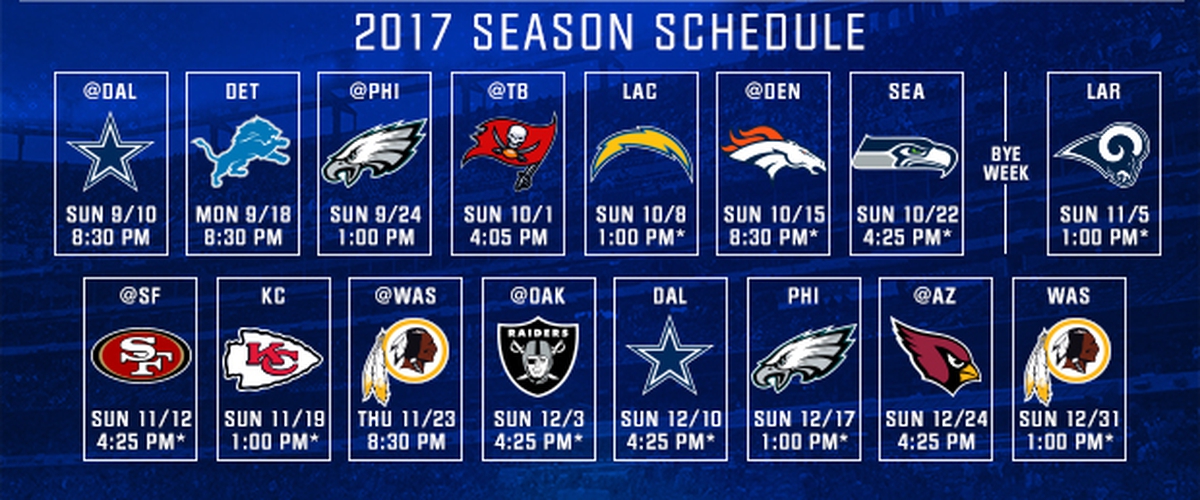 The Divisional Matchups 
The Giants finished 4-2 within the division last year, and only lost by a combined seven points to the Redskins at home and the Eagles on the road. They also swept the No. 1 seed in the NFC if I remember. Crazy to say, but Philadelphia made some great moves this off-season with the signings of Alshon Jeffery and LeGarrette Blount. Paired up with a great offensive-line and a productive front seven, Philly can cause some havoc for the Giants on both sides of the ball. The Redskins are a little less worrying since there are questions on defense and within the management of that organization. Anything could happen between Dallas and New York, but the Giants defense matches up very well against Dak and company. The Cowboys revenge (in the words of Ringo Starr) won't come easy.
On the Road Again
This is where the going gets tough and the tough gets going. New York has to travel to Oakland, Tampa Bay, Denver, Arizona and San Francisco. It's important to note that NONE of those games follow each other. That's right. The G-Men have to fly back to East Rutherford, N.J. after each of those games. The Buccaneers and Broncos games are the only matchups that occur before their Bye Week (Week 8). Head Coach Ben McAdoo will have to carefully plan out time management on these long and frequent trips, along with finding his guys some time to rest.
Not much needs to be said about Oakland. With a healthy Derek Carr and Khalil Mack manning the line of scrimmage, this might end up being the most difficult game of the season for the Giants. Denver still has a majority of their Super Bowl Champion defensive roster under contract. Von Miller could disrupt a game for any offensive lineman, let alone going up against Bobby Hart, Ereck Flowers or even D.J. Fluker. The Cardinals were a shell of their 2015 team last season, but the squad finished as the No. 2 ranked defense and the No. 9 ranked offense in the league, according to ESPN.com. The Buccaneers also have some great potential on offense and began to make some strides last season as a team. Desean Jackson finds a way to play against the Giants even when he leaves the division. The 49ers don't appear to be too threatening, but you'd imagine they'll be better than 2-14 under Kyle Shanahan and an upgraded defense.
Another cause for concern is the Giants' play in road games last season. Besides Week 1 in Dallas (which is hardly a road game) and Week 17 in Washington, the Giants didn't have a road win of much significance. They had flat performances against the Vikings, the Steelers, the Packers on two occasions, and even the Eagles in Week 16. This road stretch is more crucial than it appears.
The Safe Haven Games
Although New York faces some uncertainty on the road, they have a few home games that can easily tilt in their favor. Games against the Lions, Chargers, Rams and Chiefs are totally winnable and can all be controlled by Big Blue's defensive front and secondary. The Giants beat the Lions and Rams last season, each game being dominated by Steve Spagnuolo's bunch. Los Angeles and Kansas City won't be easy wins, but home-field advantage can really make a difference against teams with sub-par offensive lines. The only real challenging non-divisional home game would be the Seattle Seahawks. The LOB is still alive and well and Russel Wilson's scrambling could cause some fits. Beckham vs. Sherman Part 2 should be exciting.
So yes, the Giants do have a tough schedule, but when you're a good team you have to beat, well, good teams. Doesn't take a genius to figure that out. If they get into the postseason, they can easily become a Super Bowl contender with their dominance on defense and lightning receiving core. But first thing's first, they must survive the 2017 regular season.