The New York Jets are terrible, epically terrible. In fact, they are one of the worst teams in NFL history. After 8 games, the team has a point differential of -144 (average of -18 per game). As a basis of comparison, the second-worst point differential belongs to Dallas, whose point differential is -81. That said, as awful as the Jets are, their franchise is not in a terrible position right now.
You might say I am crazy, but hear me out on this one. The NFL is a quarterback-driven league, and the "experts" seem to agree that Clemson's quarterback Trevor Lawrence is a generational, "can't miss" NFL talent. With the success that first- and second-year quarterbacks have enjoyed in the NFL in recent years, it is fair to assume that Trevor Lawrence should make his NFL team legitimate playoff contenders by Year 2, if not Year 1. Additionally, it is a huge advantage for an NFL team to have a great quarterback on a rookie contract, as the team can save plenty of cap room for other positions. (Russell Wilson and Patrick Mahomes are great examples of QBs who allowed their teams to make hay while said QBs were on rookie contracts.) Thus, Trevor Lawrence figures to give his NFL 4 or 5 seasons of an incredible competitive advantage while he is on his rookie deal……and what team is looking like a sure bet to win that competitive advantage? The New York Jets.
The Jets are 0-8, and we are down to three 1-win teams – the Jaguars, Texans, and Giants.  Next week, the Jaguars and Texans play against each other, which means that (barring a tie, which would actually be of even greater benefit to the Jets) one of those teams will earn a second win.  Is it possible that the Jags/Texans loser goes winless the rest of the way?  I would say it is possible with Jacksonville; however, Houston has enough talent to make it to 4 or 5 wins.  As for the Giants, I expect them to beat Washington and win at least one other game.  Then again, all of this discussion is probably moot.  Are the Jets, of the -18-per-game point differential, going to win ANY game this year?  Doubtful.  Their last 8 games are against the Patriots (twice), Dolphins, Chargers, Raiders, Browns, Rams, and Seahawks.  Given that all of those teams are NFL teams, the Jets are not winning any more games.  Thus, it looks like the Jets getting the gift of Trevor Lawrence.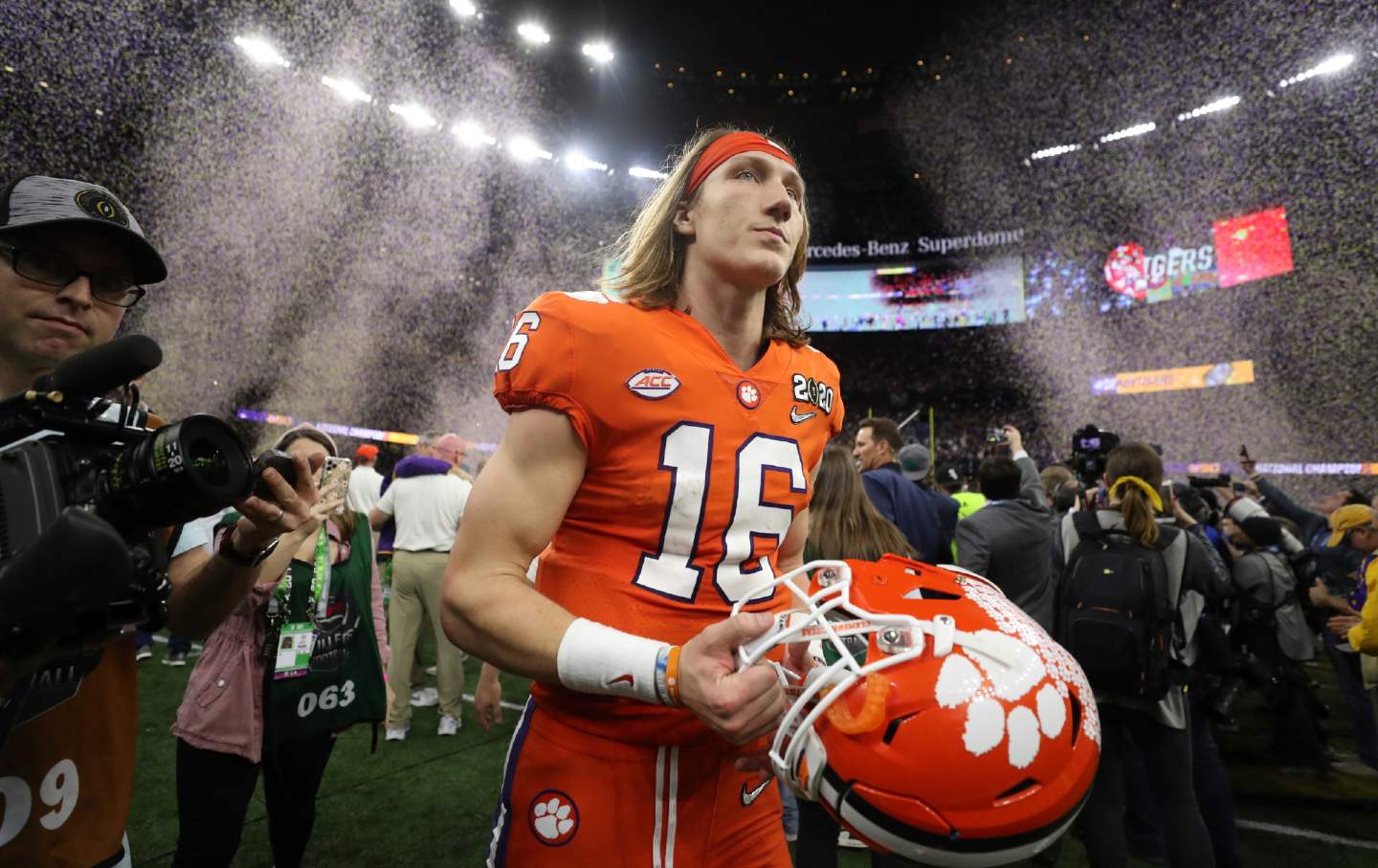 This begs a question. Where does the Jets' quarterback situation of the present and future rank among those of all NFL teams? For example, if you were the Detroit Lions, would you trade your current QB situation of Matt Stafford and his contract for Sam Darnold and the highly likely prospect of having Trevor Lawrence next year. Absolutely. What if you were the Vikings with Kirk Cousins? Um, yes please.
Anyway, I have ranked all 32 NFL quarterback situations and determined that the Jets have the 10th-best scenario. Not bad for a winless team! Don't worry; I am going to unveil my rankings, but let me first provide some disclaimers. If a team is ranked higher than another team, I imply that more NFL teams would choose to take the higher-ranked option than the lower-ranked option. Of course, teams' rosters, records, salary-caps, and coaching situations can cause teams to rank differently from each other. For example, I have the Bucs' quarterback situation ranked as 7th, but I also know that the Jets (10th) and Jaguars (27th) are not talented enough right now to want to swap their situations for a 43-year-old Tom Brady. That said, most teams below 7th would swap their QB situations with the Bucs', while it is a safe bet that the six teams above the Bucs' would not.
One other disclaimer: In the rankings, I consider backup quarterbacks only where relevant. If there is a situation with any type of QB controversy (like the Bears), an injury-prone QB (like with the Niners and Jimmy G), or a changing of the guard (like the Jets going from Darnold to Lawrence) I consider backup QBs in my discussion. However, you will read plenty of cases where I do not discuss the backups. That said, it is a given that, if any of the top-flight QBs get hurt, it will be very bad for the team….but that does not factor into my discussion with non-injury-prone guys.
Now, without further ado, the rankings!
1)      Kansas City Chiefs: You can't go wrong with Patrick Mahomes or Russell Wilson, but tie goes to Mahomes because he is locked up for 10 years and is in Year 4 of his career.  Mahomes likely makes the Chiefs Super Bowl contenders for at least the next 10 years.  Plus, I consider Mahomes the best quarterback right now and Wilson the second-best right now, although the gap between the two is incredibly slim.  I cannot argue if someone would rather have Russell than Patrick.
2)      Seattle Seahawks: Of course, Wilson makes the Seahawks Super Bowl contenders for possibly the next 10 years too and at least the next 5.
3)      Green Bay Packers: Aaron Rodgers is ever-so slightly below Mahomes and Wilson when I consider current QB quality.  After a good but not great 2019 season (and yes I know Green Bay went 13-3), Rodgers stock dropped ever-so slightly for me.  However, for much of this year, he has resembled the guy who was scrambling and throwing Hail Mary TDs in 2015.  Green Bay is a legit Super Bowl contender this year, and he should keep the Packers in contention for another two or three years.  However, if Rodgers starts to "lose it" due to injury or simply Father Time, the Pack is grooming Jordan Love to be his replacement. 
4)      Arizona Cardinals: Yeah, Kyler Murray is really good, and Arizona could legitimately win the Super Bowl this year.  The guy is in Year 2, so the Cards have not yet had to tie up too much cap space in this guy.  In the modern NFL, the dominant QBs (other than Tom Brady) are fantastic runners and passers.  I know that Lamar Jackson is the reigning MVP, but I trust Kyler Murray more than Jackson right now when it comes to completing a big-time pass.  That said…
5)      Baltimore Ravens: …Jackson still makes the Ravens Super Bowl contenders, and most NFL teams would love to give up their QB situation to have him.
6)      Houston Texans: This is probably the first controversial entry on the list, in that great QBs should not lead teams to 1-6 records.  If you look at the top 9 guys on this list, most of them guarantee their teams at least 10 wins in healthy seasons.  At the same time, I have seen Watson lead the Texans to division titles in his first two full seasons as the starter.  The guy is the requisite rushing/passing threat, and I am going to chalk the 1-6 start up to the combination of a) Bill O'Brien's coaching, b) Bill O'Brien trading away one of the best WRs in football, and c) a tough schedule to this point.  I expect the Texans to end up at 7-9 or such this year and to bounce back to have playoff seasons over the next several years, even though Watson has signed his big second contract.
7)      Tampa Bay Buccaneers: I have said probably 50 times over the past five years, "Brady is done", and every time he proves me wrong.  The Bucs are legit Super Bowl contenders and might be the most complete team in the NFC.  I would rather have one of the Top-6 situations because the guys are mobile and will be around much longer, but Tom Brady is playing well enough to have a chance for his 7th Lombardi Trophy.
8)      Pittsburgh Steelers: We are in the middle of the "Last Kick at the Can for a Future Hall-of-Famer" section here.  When it comes to Brady, Big Ben, and Drew Brees; I rank the three guys in that very order in terms of how good I think they are now.  None of them will take their teams deep into the 2020s, but all can win titles this year.  Speaking of which…
9)      New Orleans Saints: Brees is an all-time great, but I feel like there are more moments where I think "Brees looks old" than where I think the analogous for Brady or Big Ben.
10)   New York Jets: Everyone higher on this list allows for the statement, "We are legit Super Bowl contenders because we have our current QB."  Of course, a team can win a Super Bowl with a QB listed below, but there is much less certainty.  Thus, I will sign up for the Lawrence hype combined with the fact that I should get a few years of quality play before I have to break the bank.
11)   Cincinnati Bengals: I am using the same logic as with the Jets, except I have actually seen Joe Burrow play in the NFL, and the guy is excellent.  The Bengals are a work in progress, but, if they improve their defense, I can see Burrow leading them to the 2021 AFC North crown.
12)   Tennessee Titans: Over the past year, Ryan Tannehill has been one of the best quarterbacks in football.  I know that Derrick Henry did most of the offensive work in last year's playoffs, but Ryan Tannehill has beaten Patrick Mahomes and other quality NFL teams.  Tannehill is not on the level of those first nine guys, with whom any team using said QB automatically becomes a Super Bowl contender….but the Titans can definitely win a title with Tannehill.
13)   San Francisco 49ers: We are now at the part of the rankings that are a bit of a cluster-you-know-what.  I feel like people would have much more disagreement about these next 14 teams than they would have about the earlier entries on this list.  Anyway, I like Jimmy G.  He was one overthrown pass in the Super Bowl away from having a Lombardi Trophy (as a starter).  When he has been healthy, he has looked good much more often than not.  He is too injury-prone, but Nick Mullens is one of the best backups in the league.  I know that he looked better against the Jets and Giants than he has against other teams, but, if you have a backup QB who looks dominant against any NFL teams, you will take it.
14)   Philadelphia Eagles: I…don't…care what you think about Carson Wentz as long as it's about him being an enigma.  (Yes, I like Fall Out Boy very much.)  His win over the Giants on TNF was proof of this.  He looked confused for much of the game and made a few wonderful throws with the game on the line to give Philly the win.  Anyway, the guy was a 2017 MVP candidate while leading the Eagles to the top seed before getting hurt and watching Nick Foles lead the Eagles to the championship.  I am fine taking my chances with a guy who has led a team to the #1 seed three years ago.
15)   New England Patriots: I am not ready to give up on Cam Newton yet.  He was a Top-10 QB for most of the 2010s and was a Top-5 QB part of the time.  I have a hunch that the Pats will go on a run in the second half of the season as Belichick and Newton start to jell.  However, if I am wrong, the Pats can cut bait with Newton and can draft a QB with their high draft pick.
16)   Dallas Cowboys: As a Giants fan, I am not supposed to praise Dak Prescott, but I really think the guy is a great QB.  I have seen him make too many great throws, and, if it weren't for some late Aaron Rodgers magic, we would remember Dak for a great playoff comeback against Green Bay four years ago.  Anyway, had Dak not been hurt, I would have put Dallas in Jets territory (around #10).  I should note though that I was wrong in predicting that Andy Dalton would be an excellent backup, and now Dallas has lost him to injury too.
17)   Denver Broncos: I really like Drew Lock.  I wanted the Giants to draft him and not Daniel Jones, but oh well.  Lock looked great in limited action last year.  He had disappointed this year but looked great in leading the Broncos back this Sunday against the Chargers.
18)   Los Angeles Chargers: I like Lock slightly more than Justin Herbert, but you could make a case either way, especially with Herbert being in his rookie year.
19)   Miami Dolphins: I cannot judge Tua on one game, but, if he is what he is cracked up to be, the Dolphins will be set at QB for a while.  Plus, if Tua gets hurt, Ryan Fitzpatrick has shown this year that he can still win games.
20)   Atlanta Falcons: Poor Matt Ryan.  How many times have we seen that sad look on his face as the Falcons fall apart at the end?  Anyway, we all saw him make a pass to Julio Jones that looked like a Super Bowl clincher.  It turned out to be for naught.  That said, Ryan was the 2016 MVP and still puts up strong numbers.  I think he could make another Super Bowl run before his career ends.
21)   Carolina Panthers: Teddy Bridgewater has looked rejuvenated this year, and he is great comeback story.  Carolina's defense is terrible, but I can see Bridgewater and Carolina rising to the top of the NFC South over the next few years as the other QBs in the division age.
22)   Los Angeles Rams: Jared Goff is what he is at this point.  He is good enough to reach a Super Bowl with a strong supporting cast, and all four of his teams under Sean McVay have been playoff or near-playoff teams (assuming this to be the case this year).  He is not going to make a ton of highlight-reel plays nor be an MVP candidate, but you can do worse than him.
23)   Las Vegas Raiders: Derek Carr doesn't excite me.  Yes, he was great in the Raiders' upset win in KC, but he is what he is at this point.  I can't visualize him leading a team deep into the playoffs.
24)   Buffalo Bills: I just can't get myself excited about Josh Allen either.  Yes, he makes big plays, but it's Year 3, and he makes way too many head-scratching mistakes for my liking.
25)   Detroit Lions: Last year at midseason, I thought Matthew Stafford had a chance to lead the Lions on a deep playoff run and make a play for MVP.  Then, Stafford suffered a season-ending injury.  This year, Stafford is back to his normal self.  The Lions play many exciting games, but you know the team will end up annually with somewhere between 6-8 wins.  It is looking more and more like Stafford will finish his career with zero playoff wins.
26)   Cleveland Browns: Browns' QB were terrible for so long that Baker Mayfield's mediocre play sometimes fools people into thinking he is a great QB.  He isn't. 
27)   Jacksonville Jaguars: Gardner Minshew II has been a nice story the past two years, but the Jags seem primed to finish with the #2 pick, with which they will likely pick their QB of the future.  The jury is out on how strong a QB that will be, but we know he will be a big step down from Trevor Lawrence; which is why I list the Jags so far below the Jets.
28)   New York Giants: I want to talk myself into Daniel Jones.  However, there are so many guys higher on this list who look(ed) so much better than Jones in their first and second seasons.  Everyone knows that Jones needs to decrease his number of turnovers, but the question is whether or not he can do it.
29)   Indianapolis Colts: I thought the Colts would finish 3-13 this season.  Watching the Chargers last year, I thought Philip Rivers was done.  He has proven me wrong, and he has the Colts at 5-2.  That said, I do think that Rivers is at the end of the line, and I expect the Colts to come back to Earth as their schedule toughens (includes Titans (twice), Ravens, Steelers, and Packers).
30)   Chicago Bears: When the Eagles won the Super Bowl, I was big on the "Nick Foles dominated for the 2013 Eagles.  This year's performance is no fluke" train.  That said, the Nick Foles of Jacksonville and Chicago is an average quarterback.  Was the 2017-18 Philly Foles an average QB who found some good luck, or was he a great QB then?  I don't know, but that doesn't matter now.  The Bears are a solid team with two OK QBs (including Mitch Trubisky) and thus in no position to draft a better QB.
31)   Washington Football Team: I thought Washington might not win a game this year, but the Football Teamers have already won twice.  Ron Rivera might get them up to 3 or 4 wins, which hurts their chances of drafting a franchise QB.  Kyle Allen is a fine backup QB, but that is all he is.
32)   Minnesota Vikings: Ugh, Kirk Cousins.  The first all-guaranteed contract in NFL history, and Cousins has trouble breaking 100 passing yards per game.  The Vikings have so much money locked up in this guy but are also too good to be in the position to draft a solid replacement.
And there you have it! I hope that you enjoyed my rankings!