Ever since I joined Twitter in 2012, I've been hooked. I check it with a Cal Ripken jr. level of consistency every day. I'm the one constantly sending people tweets I think they might enjoy, and getting offended if they don't at least give me the obligatory "lol." I see hundreds of tweets every day, so I've probably seen at least a couple hundred thousand in my lifetime. However, there are still a few tweets that stand out.
That's why I've decided to establish the Twitter Hall of Fame. I'm not inducting people, but rather individual tweets. This is our inaugural class, so it had to be exclusive. Baseball inducted legends like Babe Ruth and Walter Johnson in its first batch of Hall of Famers, I'm not gonna throw in any old slapdick tweet that made you chuckle one time. These are the cream of the crop, the best of the best. Here goes nothing.
Kehlani didn't score 81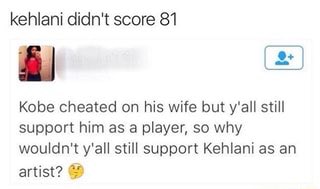 Just a truly unbelievable response to a somewhat rational question. For context, the popular singer was taking some heat from NBA Twitter after it came to light she had cheated on Kyrie Irving. This woman posed the question of why people were being so tough on Kehlani, but still supported Kobe (RIP) after he cheated on his wife. The fact of the matter is that, unlike Kobe, Kehlani has never scored 81 points in a baketball game. A feat like that wipes away any wrongdoing, everyone knows that. Which made me think of a follow-up tweet that may someday get Twitter HOF consideration.
Continue reading

Hall of Fame Tweets: Inaugural Class