Loyal BTB readers, I know that you have a burning question.  "Have the BTB editors been given official Hall of Fame ballots for 2019?"  Somehow, the answer to this question is "No".  I would like to think that my ballot was lost in the mail.  I did move in August, so maybe the Hall of Fame has not been able to track me down at my new address.  Nevertheless, you readers all deserve to see my 2019 fictional ballot.
Last year, I wrote a post explaining how I view the "steroid guys".  As a result, you probably know that I am voting again this year for Barry Bonds, Roger Clemens, Sammy Sosa, and Manny Ramirez.  Last year, I also wrote a post detailing the rest of my Hall of Fame vote .  Because I do not believe in dropping people off my ballot from one year to the next, you know that I am also voting this year for Larry Walker, Fred McGriff, Edgar Martinez, and Mike Mussina – all of whom were on my fictional 2018 ballot and are eligible for election this year as well.  Thus, you already know eight of the ten people for whom I am voting this year.
Fortunately, the voters did much good last year in electing Vladimir Guerrero, Jim Thome, and Larry Wayne Jones to the Hall.  You know that I did not agree with Trevor Hoffman receiving the nod, but, given that he had earned 74% of the vote (75% is needed for election) two years ago, I knew that it was a foregone conclusion that "Hell's Bells" would ring in Cooperstown in 2018.
Last year, I lamented the fact that, because all of the "steroid" guys have been clogging up the ballot for so long, there have been many years in which more than 10 deserving players have appeared on the general ballot.  Given that voters may vote for no more than 10 players per year, voters have been forced to leave off people for whom they would actually like to vote.  In that vein; last year, I wanted to put 12 people on my ballot, so I had to keep two of them off the list.  Thus, I decided to leave Curt Schilling's and Jim Thome's boxes unchecked.  My logic with Thome was that; while he is a definite Hall of Famer; 1) I did not feel that he needed to be a first-ballot HOFer, and 2) Since it was his first year on the ballot, I would have many more opportunities to vote for him.  (To the contrary, I did vote for first-year Larry Wayne, as I felt he was a true first-ballot guy.)  As for Schilling, I simply felt that he was the least qualified of the non-first-ballot guys.
As a result of the Jones, Guerrero, and Thome elections; we traveled through 2018 with 9 remaining guys on the ballot whom I have thought deserve to enter the Hall.  Therefore, if 2019 were to have brought no more than one deserving candidate, my logjam would have disappeared.  Unfortunately, I missed this mark by one.
The 2019 ballot has brought us two people – Mariano Rivera and the late Roy Halladay – whom I consider clear Hall of Famers.  In last year's anti-Hoffman explanation, I did note that Rivera is the only modern closer for whom I would ever vote.  Had Rivera had a ho-hum postseason career; I would not have voted for him, but his postseason career is legendary.  The guy had 42 postseason saves, many of which were of more than one inning (141 innings pitched in 96 appearances), and an 0.70 postseason ERA.  I repeat, "an 0.70 postseason ERA"….over 141 innings…..in the postseason.  You know, against the best teams in baseball on the biggest stages.  141 innings equates to 2/3 of a regular-season load for a reliable starting pitcher.  Can you imagine a starting pitcher posting an 0.70 ERA up through the trade deadline?  Think of how excited we were about Jacob deGrom's 1.6 – 1.8 ERA at various times last year.  Rivera's numbers are incredible.
Additionally, do these three names ring a bell?  "Sandy Alomar", "Luis Gonzalez", and "Roberts Steal"?  They represent three of Rivera's four blown postseason saves, and they are so well-known because it was such a rarity for Mo to blow postseason saves.  (Note: Mo's fourth postseason blown save was in Game 5 of the 2004 ALCS, where he entered with 1st and 3rd and nobody out and allowed only the inherited runner on third to score.  As I mentioned in my "Jeurys Familia" article, why this blown save is given to Rivera and not the guy who put the runner on base is beyond me.)  Additionally, Luis Gonzalez handed Rivera his only postseason loss.  Therefore, among all the times Rivera entered tie games, he did not lose any for the Yankees.  (Note: the Yanks did ultimately lose the other three games in which Rivera blew saves, but the Yanks lost each of those games after the book was closed on Rivera.)
For the Yankees' run of dominance from 1995 through 2012, there was no psychological edge in baseball greater than the Yankees knowing they had Mariano for the 9th and maybe 8th innings of postseason games (actually Mo was working the 8th innings in 1995 and 1996, but this is not the best time to be bringing up the guy who was working those 9th innings).  The Hall of Fame is about more than just numbers.  It is about dominance, especially on the big stage; and it is also a home of legends.  Mariano Rivera fits those criteria to a "T".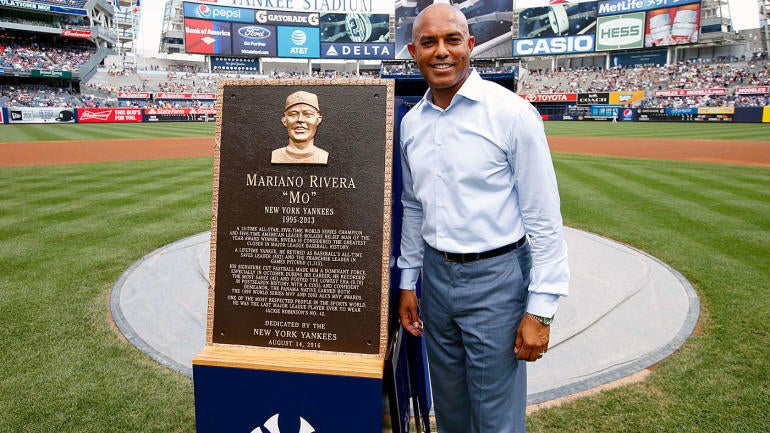 Anyway, with Mo earning the 9th spot on my ballot, I find myself in a tough position for the final vote.  Do I check Curt Schilling's name or Roy Halladay's?  For that answer, I will use the same logic I used last year.  While Roy Halladay is a Hall of Famer to me, he does not need to be a first-ballot guy.  Therefore, I am going to vote for Schilling, whose ballot days are closer to expiration.  I explained Schilling's candidacy last year, and I will save my Halladay explanation for next year, when I can hopefully make room for him on my ballot.
Additionally, this year's ballot has four other new guys whom I do not consider definite "No"s: Todd Helton (More than likely a future "yes" for me), Andy Pettitte (Likely a "no" as per my "Tier III" steroid rules), Lance Berkman (Leaning toward "no" but need to examine more closely), and Roy Oswalt (Almost certainly "no" but also need to examine more closely).  Similarly, there are two viable holdovers from previous ballots whom I have never truly considered due to lack of available spots.  Because I did not previously vote for these guys, I likely still will not, but I do not want to rule out these two individuals, Scott Rolen and Andruw Jones.  I will go into deeper analyses on these players next year, when hopefully I am writing about my REAL ballot!
Lastly, as a Yankees hater, it is fun for me to see Travis Hafner, Kevin Youkilis, and Vernon Wells as first-timers on this year's ballot.  First-timers on this year's ballot are guys who last played in 2013, and would you look at who employed all three of those guys when they realized it was time to hang up their spikes?  The New York Yankees.  Too bad Lyle Overbay wasn't even good enough to make it on the ballot.
That said, a much more prominent member of the 2013 Yankees did make it onto this year's ballot, and he was the last player to wear #42 outside of April 15.  Mariano Rivera absolutely needs to be inducted into the Hall, and let's hope that the voters elect several other guys on my list so that I can clear up this year's logjam and avoid any in the future.