The Yankees' long-standing hair policy was making waves on Twitter on Monday after some comments from former Yankee Andrew McCutchen. McCutchen was only here for the second half of 2018, but he's an awesome dude and quickly became a fan favorite.
Cutch honestly has a point when he says the policy "takes away from our individualism as players and people." But I always found it awesome that when guys sign with the Yankees, they buy in to the clean-shaven look. Gerrit Cole did it this past offseason, and Johnny Damon iconically did the same back in 2006.
I think it's a pretty cool tradition. It also creates a contrast with the rival Red Sox. A bunch of them have the grizzly beards like Damon on the left, while the Yankees are clean shaven like Damon on the right. But at the end of the day, who really cares? We're not talking about taking the pinstripes off the jerseys or putting names on the back of them.
Who cares if a guy lets his hair grow out? McCutchen had already cut his dreadlocks before he was traded to the Yanks, but if he still had them there's no reason he should've had to get rid of them. I mean these were DOPE.
Just this offseason, videos circled of Gleyber with cornrows. Why not let him rock those during the season?
When it comes to hair, guys should be able to express themselves. Cole may have had to shave the beard, but he still kept the trademark flow. Just make the players shave their beards, but let them do whatever they want with their hair.
McCutchen also clarified the comments, saying he was caught off guard by the question. He wasn't trying to be inflammatory; he loved his time in New York.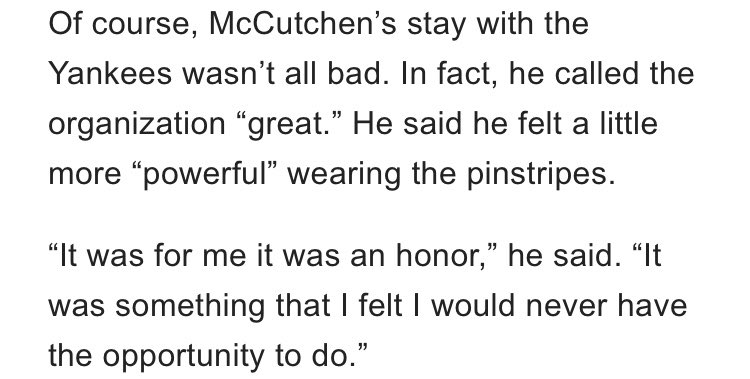 That's the bottom line right there. You can do away with the Yankees' grooming policies, but you'll never change the legacy that comes with putting on the pinstripes.
Also, since this blog mentioned both facial hair and Johnny Damon, I'd be remiss if I didn't include this throwback DHL commercial: