Brian Cashman is the longest-tenured GM in baseball. After starting as an intern in 1986 and being promoted to assistant GM in 1992, Cashman was named the General Manager prior to the 1998 season. He was reluctant to take the job, as he knew that George Steinbrenner had a history of firing people in power positions any given moment. Luckily for Cashman, the Yankees went on to win the World Series in his first three seasons at the helm.
In the twenty seasons since the Yanks' 2000 World Series victory, Cashman's teams have experienced multiple phases with varying levels of success. The 2001-07 seasons were littered with playoff disappointment. The free agency splurge ahead of the 2009 season produced a title immediately, but that core failed to win it all again. The 2013-16 teams were a pathetic group of aging veterans that appeared in only one playoff game. And finally, Aaron Judge helped usher in the "Baby Bombers" era with a team that came within one game of the World Series in 2017.
With every playoff shortcoming, there has remained one constant: the Yanks always seem to come up a little short in the starting pitching department. Even in the years where their starting pitching holds up and isn't necessarily the reason they lost, the other team's starters always seem to be the difference makers. Despite all of Brian Cashman's successful moves, even his strongest supporters will admit that starting pitching has been Yankees' achilles heel the last twenty years. Not since the days of Cone, Pettitte, Wells and El Duque have the Yankees had a truly deep starting rotation. Even in their most recent World Series win in 2009, the Yanks went with a three-man rotation in October.
So I decided to look at every major starting pitching move that Brian Cashman has made since 2000. I also decided to include some of the more notable pitchers Cashman DIDN'T acquire, who sometimes had a larger impact on the Bombers' success than the ones that did end up in Pinstripes.
2000-01 Offseason: Signed Mike Mussina
The first move on the list also happens to be one of Cashman's best. He signed Orioles' right-hander Mike Mussina to a six-year, $88.5 million contract as the Yankees pursued a four-peat in 2001. He did not disappoint, going 123-72 with a 3.88 ERA in his eight seasons in the Bronx. He also had a heroic relief appearance to keep the Yanks in Game 7 of the 2003 ALCS after a rough start from Roger Clemens. Since his time in New York was sandwiched between two World Series wins, Mussina is a somewhat underappreciated Yankee. However, as far as big-money free agent pitchers go, Moose was absolutely a success.
2001-02 Trade Deadline: Traded for Jeff Weaver
The success of the Mussina move is immediately followed up with a dud. Jeff Weaver had a 3.18 ERA in 17 starts with the Tigers in 2002 before the Yankees acquired him in July. He pitched to a 4.04 ERA in the Bronx down the stretch of that year, more than respectable. Shit hit the fan in 2003 though, as Weaver went 7-9 with a 5.99 ERA and gave up a walkoff homer in Game 4 of the World Series against the Marlins.
2002-03 Offseason: Signed Jose Contreras
Cashman signed two starting pitchers ahead of the 2003 season. I'll get to the other one, Jon Lieber, in the next section, as an injury caused him to not appear for the Yankees until 2004. Contreras was a heavily sought after Cuban defector who Cashman inked to a four-year deal in December of 2001. Due to injury he made only nine starts, but he was very good in them, going 6-1 with a 2.34 ERA. His overall stat line in '03 was 7-2 with a 3.30 ERA, but Contreras had a rough postseason, allowing seven runs in eleven innings across his eight appearances. He transitioned back to a full-time starter in 2004 but once again struggled, posting a 5.64 ERA in eighteen starts. Contreras was then traded at the deadline to the White Sox for Esteban Loaiza.
2003-04 Offseason: Traded for Kevin Brown & Javier Vazquez, Signed Jon Lieber
Cashman had his work cut out for him after the Yankees lost the 2003 World Series to the Florida Marlins. That offseason saw both Pettitte and Clemens depart for Houston, and Cashman made a handful of moves to try and replace them in the rotation.
So much to unpack with this group. Let's start with the "best" (yikes) of them. After rehabbing his injury in 2003, Lieber went 14-8 with a 4.33 ERA for the Yanks in 2004. He gave up 3 ER over 6.2 innings in a no decision in ALDS Game 2 against the Twins, won ALCS Game 2 against the Sox but took the loss in Game 6. Overall, a decent season in Pinstripes.
Vazquez was actually an All-Star in 2004 before struggling down the stretch, going 14-10 with a 4.91 ERA. He got the win in relief in ALCS Game 3 before allowing the soul-crushing Johnny Damon grand slam in Game 7. He would eventually go on to make a second stint as a Yankee in 2010, and spoiler alert, it didn't go well that time either.
And finally, Kevin Brown. Brown was traded from the Dodgers in December 2003 in a deal that involved both Weaver and former NFL quarterback Brandon Weeden.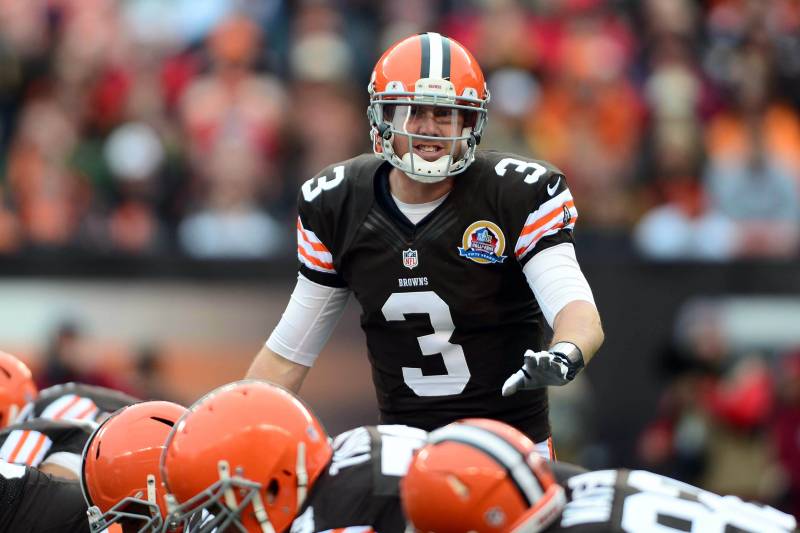 Brown wasn't bad in the 2004 regular season, going 10-6 with a 4.09 ERA. However, he made only 22 starts due to various injuries, among them a broken hand after punching a wall in September. He won ALDS Game 3 before getting lit up to the tune of a 21.60 ERA in 3.1 innings in games 3 & 7 of the ALCS. He went 4-7 with a 6.50 ERA in 13 starts in 2005 before retiring.
As I mentioned before, Loaiza joined the Yanks during the 2004 season and went 1-2 with an 8.50 ERA in Pinstripes. He allowed only one run in 8.1 playoff innings, but that one happened to be David Ortiz' walk-off homer in Game 5.
Moral of the story here is that if Cashman could have somehow convinced either Pettitte or Clemens to stay, I doubt the Yanks drop four straight to the Sox. Or if he had signed Curt Schilling as a free agent ahead of the season instead of making moves for Brown & Vazquez. Instead, the Yankees suffered their most painful postseason exit in franchise history.
2004-05 Offseason: Traded for Randy Johnson, Signed Carl Pavano & Jaret Wright
Here's where the "fun" really begins. After the utter failure that I just outlined, Cashman addressed the starting pitching problem ahead of the 2005 season. Or at least, he tried to.
His headline move was trading for one of the best pitchers of all time in Randy Johnson. After failing to acquire Schilling in the previous offseason, Cashman got the other half of the duo that sunk the Yanks in the 2001 World Series. Johnson's resume stands up with anyone – 10-time All-Star, 5-time Cy Young, former World Series MVP, led the league in strikeouts nine times. Sure, he was 41 by the time Cashman acquired him, but Johnson was coming off a season in which he went 17-8 with a 2.60 ERA and led the National League with 290 strikeouts.
Johnson was not nearly as good as a Yankee, posting ERA's of 3.79 and 5.00 in his two seasons with them. The worst part was that he was an utter postseason failure in Pinstripes. He got shelled for five runs in just three innings in ALDS Game 3 in '05, and another five in Game 3 again in '06.
Wright was coming off a pretty solid 2004 in Atlanta where he went 15-8 with a 3.28 ERA in 32 starts. He would go on to make 40 starts over his two seasons in the Bronx, going 16-12 with a 4.99 ERA. He didn't make it out of the third inning in his only postseason start, allowing four runs on five hits as the Tigers eliminated the Yankees in ALDS Game 4 in 2006.
Now for perhaps the most polarizing guy on this list: Carl Pavano. Pavano was coming off a breakout 2004 with the Marlins in which he went 18-8 with a 3.00 ERA in which he was an All-Star and placed sixth in NL Cy Young voting. Cashman inked Pavano to a four-year, $39.95 million contract before the 2005 season. In return, Pavano made just 26 starts as a Yankee.
Pavano was constantly injured as a Yankee. Among the injuries: a strained buttocks in 2006 Spring Training, broken ribs from a car accident in August that same season, and an elbow strain leading to Tommy John surgery in April of 2007. Mussina was among Pavano's teammates who questioned how badly he wanted to be a Yankee, saying "it didn't look good from a player's and teammate's standpoint." Pavano was so oft-injured as a Yankee that the media started referring to him as "American Idle".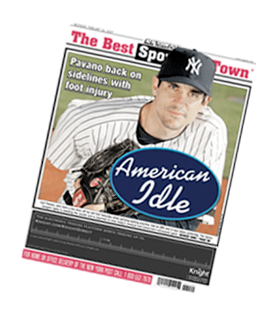 Those three moves were a huge part of the colossal failure that led to a first-round exit in both 2005 & 2006.
2007: Reunion with Pettitte & Clemens, Signed Kei Igawa
Cashman brough back a couple of pieces from the 90's Yankees dynasty to try and fix the rotation in 2007. Andy Pettitte returned after three seasons with the Astros, and 44-year-old Roger Clemens returned in June after three seasons in Houston as well. Clemens went 6-6 with a 4.18 ERA in 18 starts, and was forced to leave ALDS Game 3 with a hamstring injury. Pettitte went on to pitch six more seasons for the Yanks, and was a huge part of their 27th championship in 2009.
Igawa was perhaps the worst pitcher on this entire list. He pitched in just sixteen games to a 6.66 ERA in 2007 & 2008 for the Yanks, before they got rid of him.
2008 saw the Yankees miss the playoffs for the first time since 1993. In response, Cashman once again set out to finally fix the rotation for good.
2008-09 Offseason: Signed CC Sabathia & A.J. Burnett
These two moves won the Yankees the 2009 World Series, period. Sabathia is the best signing Cashman has ever made. He went 3-1 with a 1.99 ERA in five starts in the 2009 postseason, including being named ALCS MVP. He went on to pitch 11 seasons for the Yankees, making three All-Star teams, leading the league in wins twice, and pitching to an 8-4 record in the postseason.
Sabathia was the same dominant, overpowering pitcher he was when the Yankees signed him from 2009-2012. However, his workload caught up to him as his production dipped in 2013-2015. He re-invented himself and went from a power pitcher to a finesse pitcher, proving to be an invaluable asset to the Yanks' rotation including a huge start in a series-clinching ALDS Game 5 win in 2017.
Burnett's Yankee career was a little more interesting. He went 13-9 with a 4.04 ERA in 2009 before pitching to an ERA over 5 in the next two seasons. Cashman sent him to the Pirates ahead of the 2012 season. Despite Burnett's underwhelming regular seasons as a Yankee, in my mind his contract was worth it for one reason: the 2009 postseason.
Burnett took a trio of no decisions in his first three playoff starts with the Yanks, pitching well in the first two until a poor outing in Game 5 of the ALCS. His most important start would come after the Yankees were dominated by Cliff Lee (who I'll get to later) in Game 1 of the World Series and faced a must-win Game 2. The alternative was heading to Philly trailing the series 2-0. Burnett rose to the occasion, allowing just one run over seven innings and striking out nine en route to a 3-1 Yankees win. The rest is history, as the Yankees won it all.
Was Burnett a disappointment in New York? That's more than fair to say. But his start in World Series Game 2 makes him forever cool in my book.
The Yankees failed to win a championship in the 2010's, and the decade may have been defined more by the moves Cashman didn't make than the ones he did make.
2009-10 Offseason: Roy Halladay Traded to Phillies
Halladay was one of the best pitchers of his generation. He also dominated the Yankees for years when he played in Toronto, going 18-7 with a 2.98 ERA in 38 games against them. Despite Halladay's dominance, the Blue Jays were never able to get past the Yankees or Red Sox. So they began shopping him at the 2009 deadline before ultimately trading him to the Phillies that offseason. The Yankees were involved both times, but were unsuccessful in their pursuit of the Hall of Famer. Imagine prime Halladay and CC 1-2 at the top of a rotation? Would have been absolutely insane.
2010 Trade Deadline & 2010-11 Offseason: Cliff Lee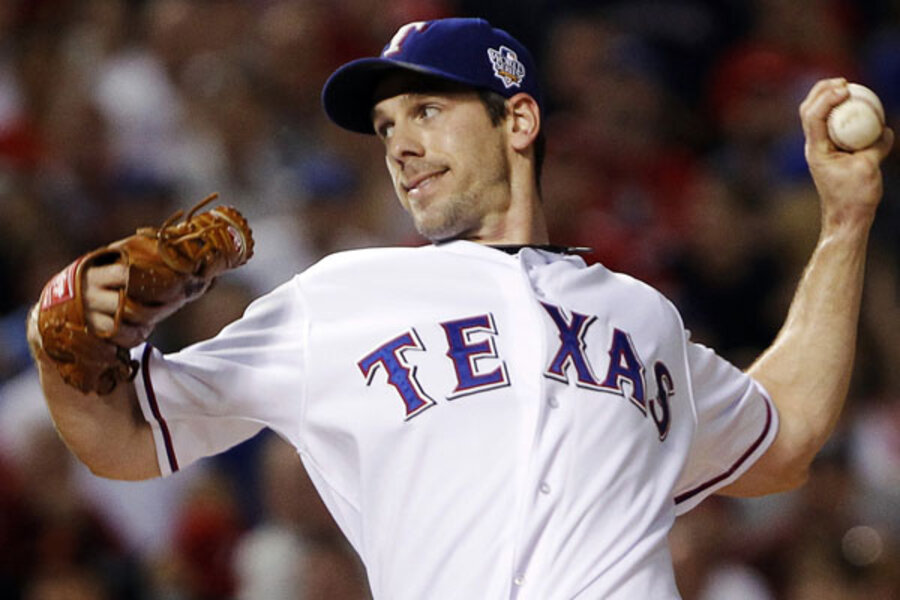 Of any move on this list, I would have to argue that this one was Cashman's biggest mistake. Not only would Cliff Lee have been a tremendous help in getting those 2010-12 Yankee teams over the hump, he also wouldn't have been able to dominate them in the 2010 ALCS.
The Yanks won the 2009 World Series despite losing both games Lee started, but his 8 shutout innings in Game 3 of the 2010 ALCS swung the series in the Rangers' favor for good. The worst part is, Lee easily could have been in the Yankees' dugout for that series.
Cashman had a deal in place with the Mariners for Lee, planning to send Jesus Montero, David Adams, and Zach McAllister to Seattle.
Seattle got cold feet at the last minute, worried about Adams' medicals. They requested he be replaced with Ivan Nova or Eduardo Nunez, and Cashman countered with Adam Warren. The Mariners declined, traded him to the Rangers, and the rest is history. Obviously hindsight is 20/20 in Cashman not wanting to give up Nova or Nunez, but that's the entire point of this blog. Bottom line, if Cashman pulls the trigger on the Lee deal, the Yankees at minimum play the Giants in the 2010 World Series with a pretty good chance they get back in 2011 & 2012 too.
2011-12 Offseason: Signed Hiroki Kuroda & Traded for Michael Pineda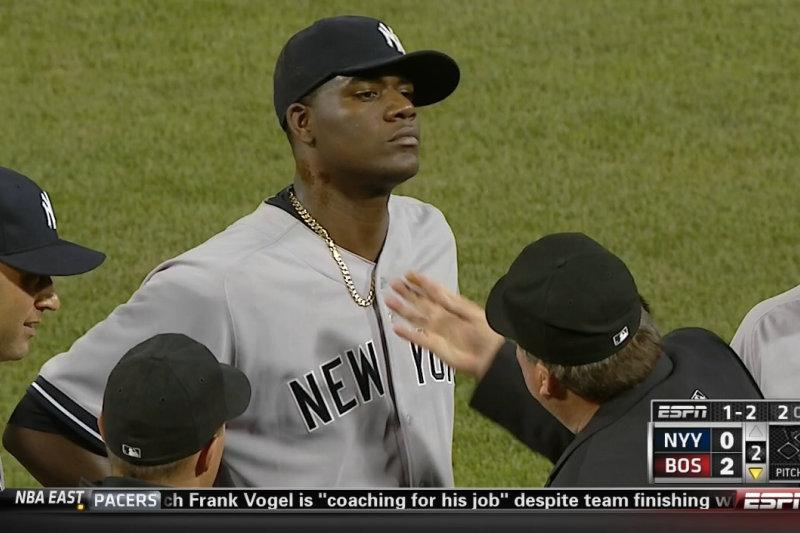 Michael Pineda was an All-Star with the Mariners in his rookie year in 2011 before the Yankees traded for him that offseason. Ironically, they finally sent Montero to Seattle after the Lee deal involving him fell through in 2010. After the deal, Pineda had shoulder issues and didn't end up appearing in a game for the Yankees until 2014. The best way to describe Pineda's Yankee career is underwhelming. He would have flashes of greatness, then a stretch of poor starts. He finished 2014 with a 1.89 ERA in 13 starts after again battling injuries, and posted ERA's in the 4's each of the next three seasons before the Yankees let him walk in free agency. Ultimately, the defining moment of Pineda's Yankee career is the above picture. In an April game against the Red Sox, Pineda was ejected for having pine tar on his neck and subsequently suspended ten games. Pineda always had plenty of promise, but was never able to put it together as a Yankee.
Kuroda is one of the best moves on this list. While he's no CC or Mussina, he was a consistent veteran presence in the rotation during his three seasons in New York. He threw 200+ innings with an ERA under 3.35 in his first two seasons, followed by 199 innings and a 3.71 ERA in 2014. Kuroda also fared well in the 2012 playoffs, taking a no decision after firing 8.1 innings of two-run ball in Game 3 of the ALDS against the Orioles. He followed that with a tough loss in ALCS Game 2 against Detroit, in which he gave up just three runs in 7.2 innings pitched. He doesn't get a ton of credit because he was only in the Bronx for three seasons and pitched in the playoffs in only one, but Hiroki Kuroda was one of Brian Cashman's better starting pitching moves.
2013-14 Offseason: Signed Masahiro Tanaka
While CC Sabathia is the best starting pitching acquisition Brian Cashman has ever made, you can make a great case that Masahiro Tanaka is #2. He was just 25 when he signed a seven-year, $155 million deal out of Japan before the 2014 season to become the Yankees' new ace. Tanaka was an overpowering and dominant pitcher in Japan, and proved to be the same with the Yanks. He began the season 11-1 with a 1.99 ERA and struck out 113 batters in 99 innings en route to being selected to the All-Star team. Unfortunately, Tanaka suffered a partially torn UCL that season, and many wondered if he would get Tommy John surgery. He didn't, and would return later in the season.
Though Tanaka isn't the same overpowering pitcher he once was, he's adjusted and been effective in every season for the Yankees. Although he'll get roughed up once every few starts in the regular season, Tanaka has proven to be well worth the money because of his postseason performances. In eight postseason starts, Tanaka is 5-3 with a 1.76 ERA. He's proven to be the guy the Yankees can trust the most come October. With his contract expiring after 2020, we can only hope Cashman keeps Tanaka a Yankee for life.
2014-15 Offseason: Traded for Nathan Eovaldi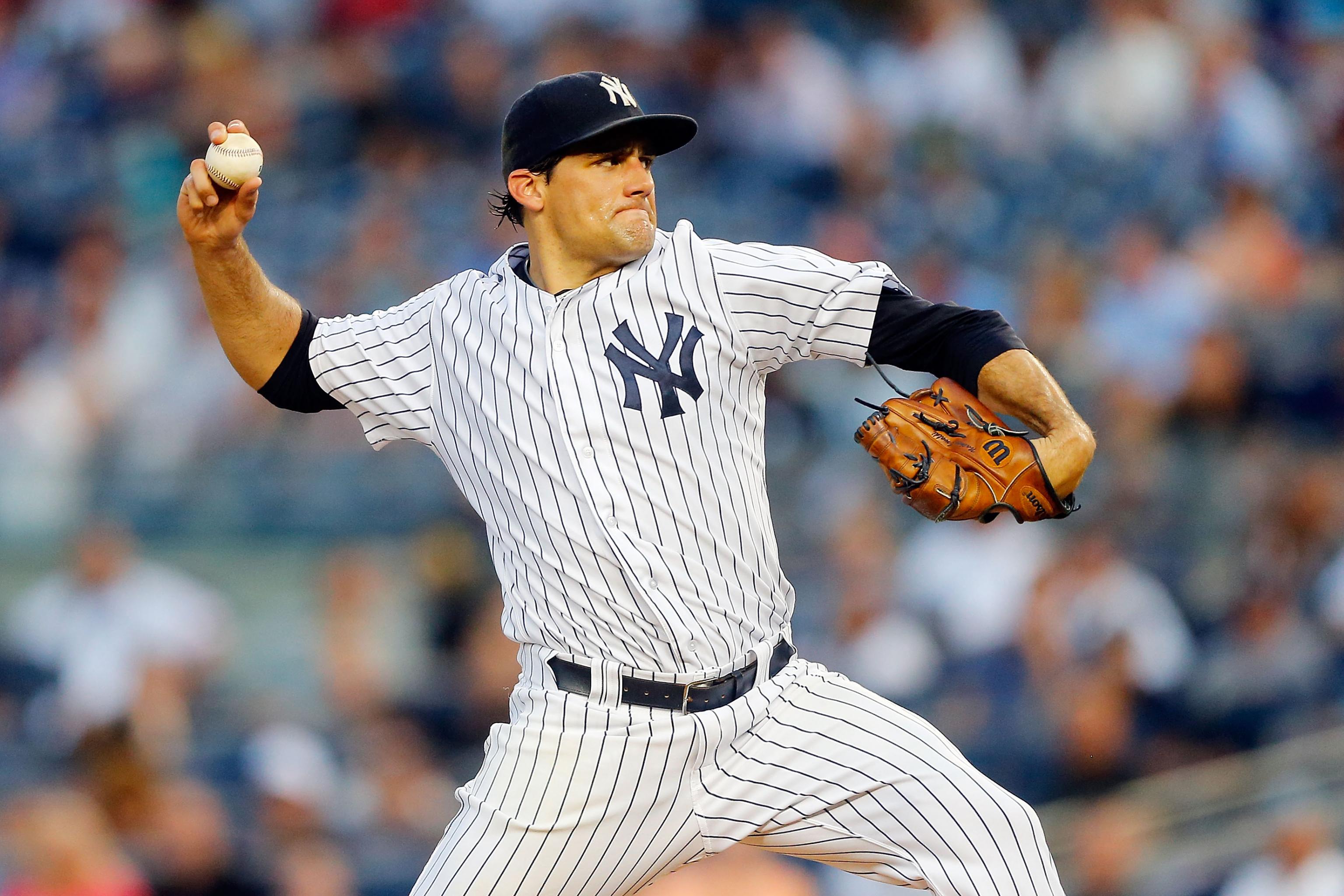 Cashman acquired Eovaldi, as well as noted scumbag Domingo German, from the Marlins prior to the 2015 season. Eovaldi was a solid Yankee, going 14-3 with a 4.20 ERA in 2015 & 9-8 with a 4.76 ERA in 2016 before undergoing his second Tommy John surgery in August. He would never pitch for the Yankees again, but that wouldn't be the last the Yankees would see of him.
2017 Trade Deadline: Traded for Sonny Gray, Astros Get Justin Verlander
This one made me nauseous to type out. Sonny Gray was a disaster in the Bronx, while Verlander dominated the Yanks en route to ALCS MVP in 2017. Gray was decent down the stretch in '17, pitching to a 3.72 ERA, but failed to make it out of the fourth inning in ALDS Game 1 in Cleveland. He actually wasn't bad in ALCS Game 4 either, keeping the Bombers in the game before their famous 8th inning rally to win it. Gray was awful in 2018 though, pitching to an ERA just under 5 and losing his rotation spot. Given the amount of prospects the Yankees traded for Gray (none of whom have panned out yet but still had a lot of value at the time) and the fact that the 2017 & 2018 teams really needed another frontline starter, Gray over Verlander is a decision that will haunt Yankee fans like myself for years to come.
2017-18 Offseason: Gerrit Cole Traded to Astros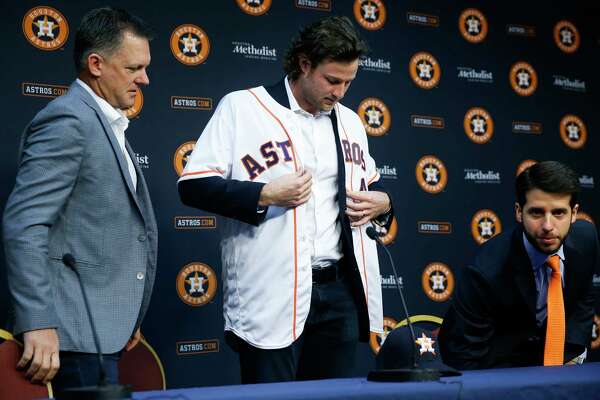 The Yankees were involved in Cole talks at the same time as the Astros, however they decided they were unwilling to part with Miguel Andujar in a potential deal. Cole was dominant in his two seasons in Houston, going 15-5 with a 2.88 ERA in 2018 & 20-5 with a 2.50 ERA in 2019, making the All-Star team & finishing top-5 in Cy Young Award voting both years. On top of that, it was Cole's dominant Game 3 that permanently swung the 2019 ALCS in the Astros' favor, similar to Cliff Lee in 2010. Unlike with Lee, the Yankees were able to successfully sign Cole in the offseason, which I'll get to in a minute.
2018 Trade Deadline: Traded for J.A. Happ, Red Sox Get Eovaldi
Happ was actually great down the stretch in 2018 for the Yankees, going 7-0 with a 2.69 ERA after being acquired at the trade deadline. His ALDS Game 1 start was not nearly as good though, as he lasted just two innings and gave up five runs, including a first inning three-run homer from J.D. Martinez. 2019 was a rough year for Happ, as despite his 12-8 record his ERA was 4.91.
The kicker is that the Red Sox acquired Eovaldi, who would go on to let up just one run in 16 innings against the Yankees before tossing seven innings of one-run ball at Yankee Stadium in ALDS Game 3.
2018-19 Offseason: Traded for James Paxton
Paxton had an up-and-down first season as a Yankee, starting strong with a dominant April outing against the Red Sox before hitting a rough patch where he would give up runs in the first inning every start. He then had another great start against the Red Sox on August 2nd that was the first of ten straight starts he won. After an average start in Game 1 of the ALDS and a bad one in Game 2 of the ALCS where he failed to get out of the third inning, Paxton tossed his most important start as a Yankee. With the Yankees facing elimination in Game 5, Paxton allowed just one run and struck out nine in six innings. Like Tanaka, Paxton will be a free agent after 2020, and I'm hoping they're able to keep him in the Bronx as well.
2019-20 Offseason: Signed Cole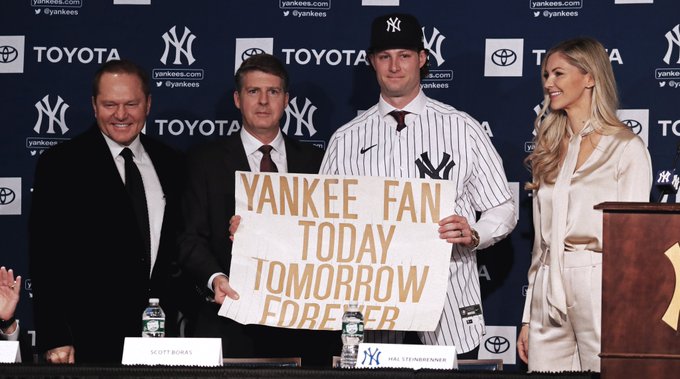 After being unsuccessful in his attempts both to sign him after the 2008 Draft and trade for him in the 2017 offseason, Cashman finally got his white whale in Cole with a record-breaking 9-year, $324 million contract. Hopefully in ten years, we'll all look back on this list and agree that Cole was the best move on here.
I trust Brian Cashman, but even his biggest supporters can agree that his track record with starting pitchers is suspect at best. The 2001-07, 2010-12, and 2017-19 Yankee teams could've won multiple championships had Cashman gone in a different direction for a few of these. The current version of the Yankees are in a great position to win #28 – let's just hope Cashman's done enough to get them over the hump.