If our country wasn't currently imploding, we would be about two months into baseball season at this point. Instead of watching people argue on Twitter about coronavirus, racism, or the upcoming election, it should be ME getting into Twitter fights. I'd be defending Gary Sanchez to Yankee fans trying to trade him after a three strikeout game, or battling an Astros fan who still tries to claim "everyone was cheating." Maybe I'd even be having a nice argument with a Mets fan about how Aaron Judge is clearly better than Pete Alonso, while still admitting that Jacob deGrom is the superior pitcher to Gerrit Cole.
But there is no baseball right now, and the way things are going, we may not get it any time soon. So my dumb, baseball-deprived brain has to find different topics to blog about in an attempt to entertain both myself and the hundreds tens of readers I get daily. As I was scrolling Twitter, I stumbled upon this abhorrent piece of headwear:
Anyone who wears that should be thrown in federal prison for life. But the question the tweet asks had me thinking what an all-time lineup of guys who played for both the Mets and Yankees looks like. I promise not to make fun of the Mets for the entirety of this blog (probably).
Catcher: Yogi Berra
The picture says it all. Yogi Berra is one of the most legendary Yankees ever. 3-time MVP, 18-time All-Star, and 10-time world champion in 18 seasons with the Yankees. After that he took a year off and played four whole games with the Mets in 1965. Kind of a cheap pick, sure, but Yogi was too big of a legend to leave off the list. Also in a somewhat related story, my Dad was taking me to a Jackals game after school in second grade and Yogi Berra was signing autographs beforehand (the Jackals' stadium is named after him). I had a substitute teacher that day and she kept saying that was impossible because Yogi Berra was dead. I assured her that he was very much alive (he didn't pass away until 2015), but she refused to believe me. Eight-year-old me was HEATED. Wild to think that if that happened now anyone could just pull out their phone and settle it in two seconds, but this was 2005. You weren't surfing the internet on this bad boy:
First Base: John Olerud
I honestly remember Olerud the most because he wore a batting helmet in the field as a result of a brain aneurysm he suffered in college. That being said, Olerud had a consistently good MLB career, posting a ,295 average, .398 OBP and .863 OPS over 17 seasons with five different teams. He played for the Mets from 1997-99, posting a .998 OPS and finishing 12th in the MVP voting in 1998. Olerud played in just 49 games with the Yankees after they signed him in August of 2004, but I don't remember how that season ended.
Second Base: Robinson Cano
One of the prettiest swings the game has ever seen, Robinson Cano had a legitimate Hall of Fame case before he got popped for steroids. Unless voters ease up by the time he's on the ballot, it'll be hard for him to get in. That being said, his resume is amazing, especially for a second baseman. 8-time All-Star, 2-time Gold Glover, nine seasons batting over .300, and a 2009 World Series champ. I think the Yankees clearly made the right move not re-signing him after 2013, but I truly wish they didn't sign Jacoby Ellsbury immediately after.
Cano was underwhelming in his first season as a Met, but I'm rooting for him to bounce back. Obligatory video of his swing:
Shortstop: Tony Fernandez
It was slim pickings at shortstop, so I had to go with Fernandez. He put together a really good career with five All-star appearances and four Gold Gloves, but played only a season each with the Yankees & Mets. He's best known in New York for getting hurt during Spring Training in 1996 essentially handing the starting shortstop job to some kid named Derek Jeter. Not too sure how he turned out, but every 14-year-old on Twitter tells me he was overrated.
Third Base: Todd Frazier
Todd Frazier played only half a season with the Yankees, but I don't think it's possible to love a team that didn't win a championship more than I love the 2017 Yankees. After the Yanks didn't re-sign him because they had Gleyber Torres and Miguel Andujar ready to make the jump to the big leagues, Frazier switched boroughs and suited up for the Mets. Also fun fact, Todd Frazier and I bonded over both being Rutgers alumni from New Jersey who are very talented baseball/intramural softball players and we are now best friends.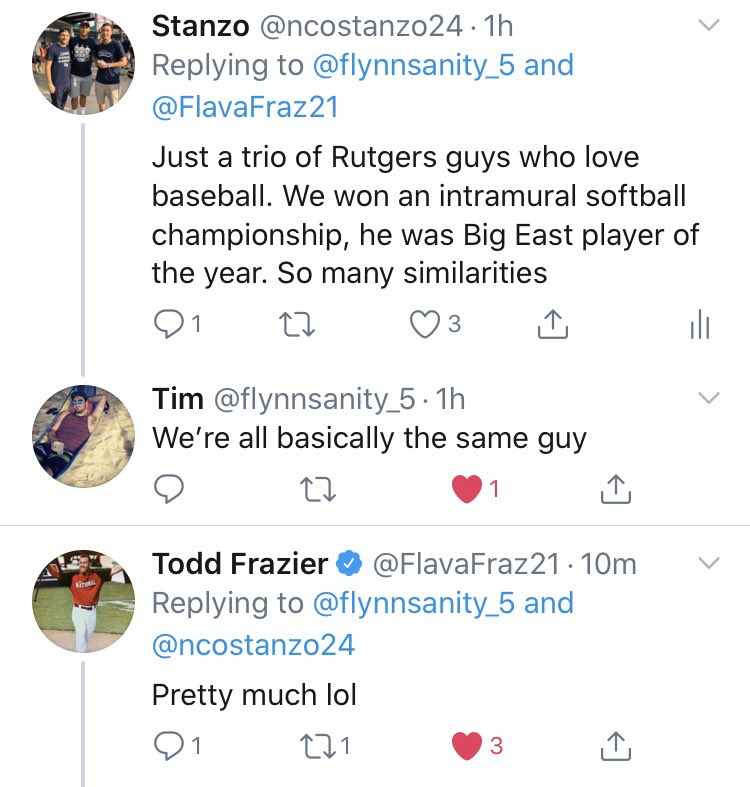 He also loves my ideas on how to save baseball, no big deal.
Left Field: Curtis Granderson
As far as players who are beloved by both Yankee and Mets fans, I'm not sure anyone fits that description better than Curtis Granderson. He was extremely productive as a Yankee, making two All-Star teams and leading the league in both runs scored and RBI in 2011. Granderson then went on to play three seasons for the Mets, including for their 2015 NL Pennant winning team. The Grandy Man is always welcome back in New York, no matter what type of fans he encounters.
Centerfield: Carlos Beltran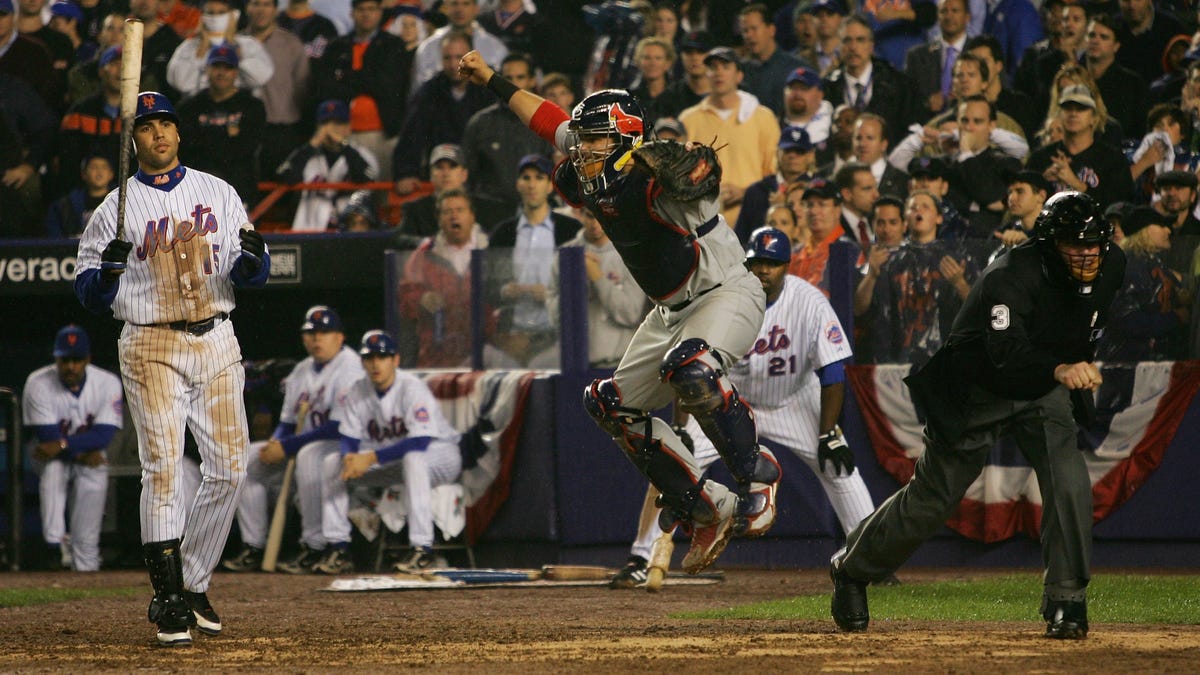 I'm sorry, Mets fans, I couldn't make it all the way through the blog without having a little bit of fun at your expense, but at least I made it all the way to center field before doing it! Despite being remembered for that strikeout to end the '06 NLCS, Beltran was an elite player for the Mets. I mean, the guy has a great case to be a Hall of Famer and played a good chunk of his prime in Flushing. Beltran made the All Star team in five of his six and a half seasons with the Mets, racking up two Silver Slugger awards and three MVPs on the way. He also went on to become the first Mets manager to never lose a game after being fired due to the 2017 Astros sign stealing scandal earlier this year, just months after he was initially hired. The story is so perfectly Mets, but I actually feel for Beltran. He was scapegoated in my opinion, as that operation started with Astros' GM Jeff Lunhow, not Beltran. Although he was at the end of his career by the time he made his way to the Bronx, Beltran was a pretty solid Yankee too. Here's hoping he's able to get a new job in baseball relatively soon.
Right Field: Darryl Strawberry
Strawberry is one of the few players with the honor of winning a World Series with both the Yankees and the Mets. He was part of the legendary '86 Mets, the drugged-out team that shocked the world, and the late-90's Yankees dynasty. Speaking of drugs, they did hamper Strawberry, as he was suspended for using them three times in his career. That doesn't change the fact that he was a great player, winning the 1983 NL Rookie of the Year and then making eight straight All-Star teams after that. I'm not a huge Simpsons fan, but the Softball episode is absolutely hilarious and Strawberry is among the players who guest star to voice themselves. Watch it, it's worth your time.
DH: Gary Sheffield
Robinson Cano might have the best swing on this list, but Gary Sheffield for sure has the best batting stance. Every kid my age growing up would impersonate his stance when you played wiffle ball. The bat-wag will always be so badass. Sheff was also a legendary player who has nine All-Star appearances, five Silver Sluggers, and a batting title to his name. He put up awesome numbers as a Yankee, finishing second in the MVP race in 2004 and eighth the next season. However, it is disappointing that the Yankees could've had Vlad Guerrero instead. Sheff finished his career with the Mets in 2009 and was pretty damn good for a 40-year old, posting an .823 OPS in 100 games.
Starting Pitcher: David Cone
Tough choice between Cone and Doc Gooden here. But ultimately, I went with Coney because he pitched at a high level for both teams. Gooden was electric early on in his career with the Mets, but didn't pitch for the Yankees until he was well past his prime. Like Strawberry, Cone was a part of both the '86 Mets and the 90's Yankees dynasty. He made two All-Star teams with each New York club, also posting a top-5 Cy Young finish with both teams.
Relief Pitcher: Justin Wilson
Justin Wilson is a good pitcher. Had a solid 2015 for the Yankees before they traded him for Chad Green & Luis Cessa, and was effective in his first season with the Mets last year. But it is kind of funny that he's the best reliever I could come up with. The rest of the names I had to choose from are pretty hilarious. You have Armando Benitez, who started this brawl at Yankee Stadium in 1998,
blew a save in Game 1 of the 2000 World Series while pitching for the Mets, and then finally appeared in nine games for the Yankees in 2003. You also have Kyle Farnsworth and Tyler Clippard who were both just hilariously bad Yankees. I could've also went with Graeme Lloyd, who was part of both the 1996 and 1998 world championship Yankees.
As I wrap this up, I leave you with some food for thought: the Subway Series should be a marquee event every year. Yet MLB hides these games in the middle of the week.
The sad thing is I know their exact thought process. Weekend games will always sell tickets, but a Subway Series game on a Wednesday will surely pack the house more than Yankees/Royals. If MLB was smart, which these negotiations have shown us they clearly aren't, they would make the series a four-game set from Thursday to Sunday. That would be the kind of event that could really generate some buzz around the sport and bring in casual fans. But what do I know, I'm just a blogger who thinks they should play baseball this year.