It's been over two months since we last had a real sporting event, and I'm losing my mind. I miss everything about them. Watching them, talking about them, betting on them. I'm like Champ Kind telling Ron Burgundy how much he misses him in Anchorman.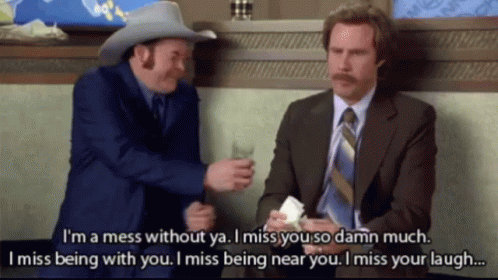 Not only do I miss my own teams, I miss just watching random games. It seems like a million years ago that you could turn on your TV at basically any point in time and live sports would be on. I literally can't even grasp that concept anymore. The best thing about it was you could make even the most boring sporting event interesting by betting on it. Who cares about Cavs-Hornets on a Wednesday night? Certainly not I. But throw some money on the over and all of a sudden you've got a very entertaining basketball game.
I really miss being able to do that. Here's a couple other things I miss about sports betting:
-Throwing $10 on a Hail Mary, eight-leg parlay because "one's gonna hit eventually"
-Taking blind betting advice from your friend because he insists he has inside information
-Screaming at your friend when his "inside information" bet inevitably doesn't hit
-Watching a game with a group of people who all bet the over and going crazy any time points are scored
-Betting a player's prop bet and asking every five minutes why the hell they aren't giving him the ball
-Putting in a team bet with a group of friends and truly believing that your "strength in numbers" approach will have an impact on the game
That's all I've got for now. Let me know what you miss about sports gambling. Hopefully we get them back soon.