Fantasy football is without a doubt one of the best parts of football, and it's easily the best of all the fantasy sports. Fantasy baseball has too many games, fantasy basketball is just uncomfortable, and honestly I've never done hockey but I'm sure it isn't better than football.
Your fantasy football roster is like your child, and I'm sure the day I actually have a child I'll regret making this comparison, but I believe there is some semblance. You spend months planning for your roster, reading book, blogs, and listening to experts. Then comes Draft Day, and you just want your roster to be happy and healthy when it's all said and done.  Then each week you nurture your roster. Give it good waiver pickups, get rid of people that are making it weaker, and give it the best fighting chance (based on matchups).  Hell, you even give it a name.
You can clearly tell I'm missing it. So I thought I'd put together the all-time fantasy football roster. Note, I'm only ranking players since 1997 when fantasy football really started on outlets like CBS and Yahoo. Therefore, you will not see Jerry Rice on this list, although he would have been a great addition. I'll also be basing it off only individual seasons as opposed to careers because as we all know, guys who are good one year are not necessarily good the next.
STARTERS:
QB: 2013 Peyton Manning: The man pulled a Barry Bonds (minus the repulsive amount of steroids) and had a historic year at age 37. He had almost 5,500 yards and 55 TDs.  I think you could safely make an argument that 2019 Lamar Jackson, 2007 Brady, or 2018 Patrick Mahomes could take this spot, but Manning was brilliant this year.
WR: 2007 Randy Moss: The yards (1,493) might not be anything that warrants 'all-time', but how about his 23 TDs? That'll do, Donkey.
WR: 2011 Calvin Johnson: People might be surprised by this selection only because Calvin's famous year was 2012 when he had almost 2,000 yards. But in 2011, he had only 300 less yards while accumulating eleven more touchdowns than his 2012 campaign.
WR: 2015 Antonio Brown: It's not often that receiver is in the conversation for the #1 overall pick, but for a few years nobody could blame you if you went with AB at the top. This year specifically, he had 1,834 yards, 136 catches, and 10 TDs.
RB: 2006 LaDanian Tomlinson: This is a set-it-and-forget-it pick.  1,800 yards and 28 touchdowns…just as a runner. He added 500 more yards receiving and 3 more TDs, giving him a total of 2,323 yards and 31 TDs. Yeesh.
RB: 2019 Christian McCaffrey: The legendary pick here would have been Marshall Faulk, but McCaffrey last year was just barely better than Faulk's infamous 2000 season. I will admit though, PPR plays a huge factor here so I'd say Faulk and McCaffrey are interchangeable between here and the flex spot depending on how your league typically does things.
TE: 2011 Rob Gronkowski: The only year Gronk played and started all 16 games he had 1,327 yard and 17 TDs. The next best year by any other TE isn't close.
W/R/T: 2000 Marshall Faulk: The Greatest Show on Turf wasn't possible with this man. He has almost 2,200 total yards combined with 26 total TDs.
BENCH:
QB: 2019 Lamar Jackson: Last year he was just insane. He's one of those guys you like having your fantasy team simply because he's fun to watch. When he's playing in primetime games racking up 30+ points, you watch him from your couch like a proud mom.
WR: 2015 Julio Jones: He's been a beast since the second he stepped into the league, but his best year was this one with 1,800+ yards and 8 TDs.
WR: 2013 Josh Gordon: I'm putting him on this list for one reason. A report came out a few years ago that he would drink and smoke before every game this season, in which he led the league in yards. While I definitely don't think there's a place in the game for that, I have to say it's one of the more impressive feats in sports history. It's like that guy that threw a no-hitter on LSD. You almost just gotta tip your cap.
RB: 2003 Priest Holmes: 2110 total yards and 27 TDs. I'll keep that tucked in on the bench for some trade bait. By the way, his 2002 was crazy as well, but the reason I chose this year was he had more TDs in '03.
RB: 2005 Shaun Alexander: Chris Johnson could have fit this spot, but I let my Seahawks bias slip in. Plus, he had 1,800 yards and 27 TDs. Let me have this one.
TE: 2005 Antonio Gates: 1,100 yards and 10 TDs. He was a touchdown machine, so you could probably pick a few of his best seasons and keep it on the bench.
D/ST:
K: 2011 David Akers: I won't lie, this one I didn't do much research on. I don't know much about kickers, but I know this guy was, and always has been, a beast.
DEF: 2019 Patriots: I'm taking the Patriots here over that Bears team because last year felt like a year where outside of Lamar and McCaffrey, it was tough to find anybody absolutely dominating the league. Because of that, the Patriots weren't just the best defense, they were being started as one of the best players.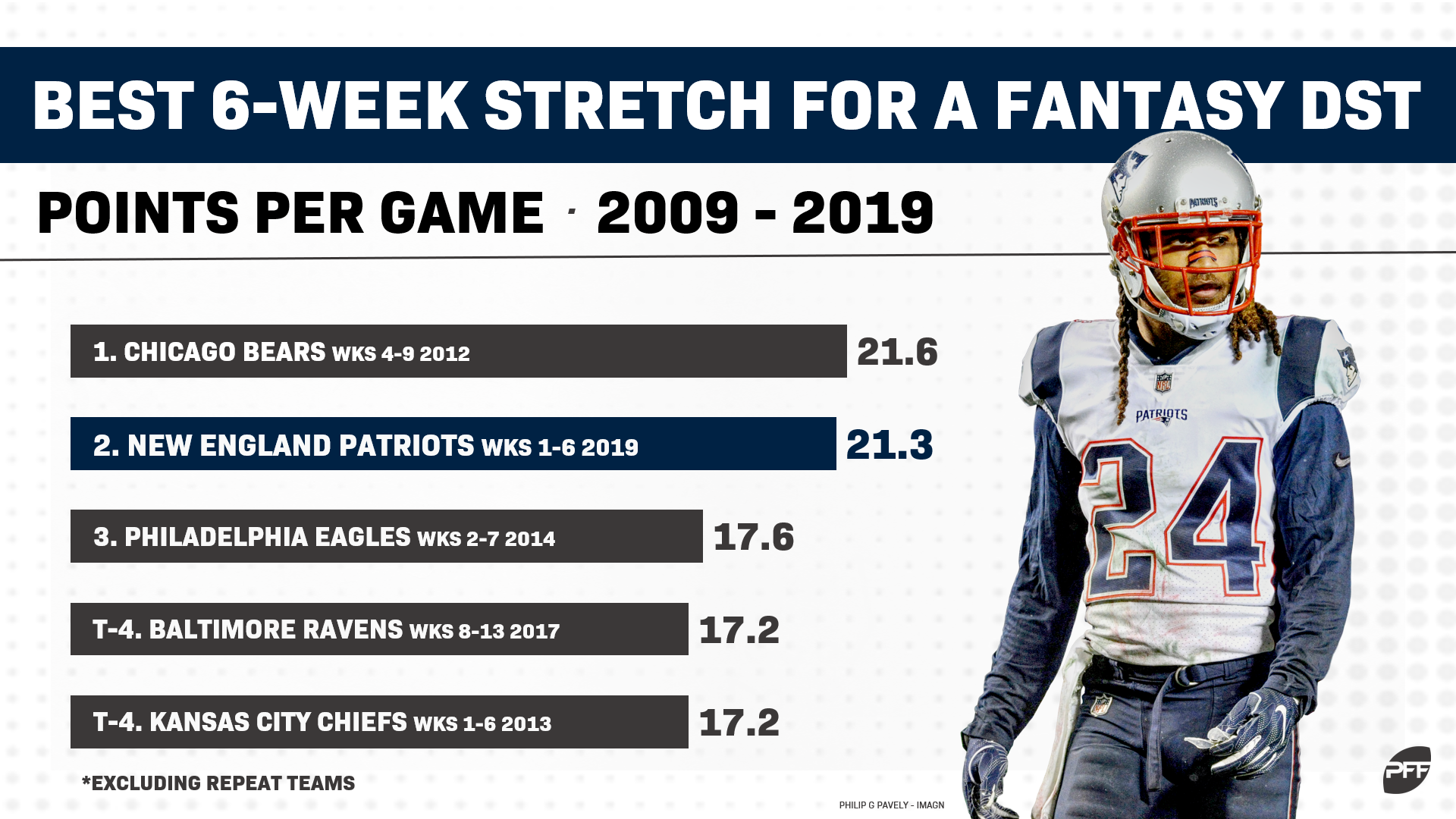 Let me know if I missed anybody or anybody on my bench should be starting.