With The Last Dance coming to an end last night, it got me thinking: what other sports topics should be made into documentaries? ESPN has already announced they're coming out with docs on the 1998 Home Run race between Mark McGwire and Sammy Sosa, as well as one on Lance Armstrong, which will both be awesome. But what should be next?
Malice at the Palace
This is one of the most fascinating regular season NBA games in history. We've seen brawls in every major sport, but players going into the stands? Season-long suspensions? The Malice at the Palace was an absolutely unprecedented event. I think that they've probably tried to make a documentary about it before but the NBA shot it down because that night was such a black eye for the league. Regardless, it would be unreal content to have a full documentary with behind the scenes footage and personal accounts from Ron Artest, Stephen Jackson, Ben Wallace, and others.
Chicago Cubs Ending Their 108-Year Championship Drought
When the Red Sox ended their 86-year championship drought in 2004, it got tons of attention, and for good reason. They reversed the "curse of the Bambino" by becoming the first and only team in the four major sports to come back from a 3-0 series deficit, which also happened to be against their arch-rival, the New York Yankees. As a Yankee fan I absolutely despise the fact that I'm still constantly reminded of this, but the 3-0 comeback and the "Curse of the Bambino" deserve the attention they get. ESPN made a documentary about the '04 ALCS titled Four Days in October.
The Cubs may not have come back from 3-0 in the League Championship Series, but they did snap an 108-year championship drought with one of  the best World Series in recent memory. We got some insight on how brutal it was to be a Cubs fan in Catching Hell, a 2011 doc that recounted the Cubs blowing a 3-1 lead in the '03 NLCS. It would be awesome to see a documentary that shows how much the 2016 Cubs winning it all meant to the city of Chicago.
2008 Florida Gators football team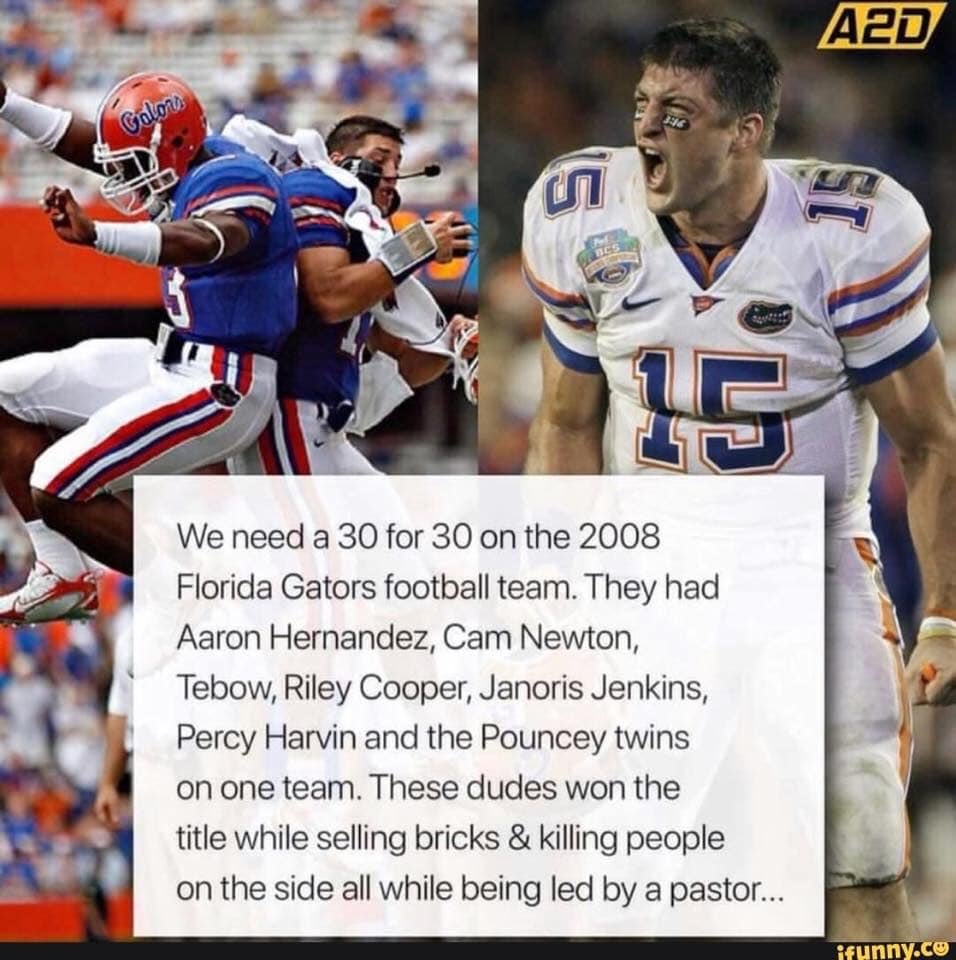 The picture says it all, but let's run down the list of players on that team, all of whom went on to be impact players in the NFL:
Aaron Hernandez: Murderer
Cam Newton: Went on to be the #1 overall pick after transferring to Auburn and winning the Heisman & national championship
Tim Tebow: One of the best college football players of all-time who was also a Jesus freak leading the team, whose players performed many not-so-Christian acts
Riley Cooper: Noted racist
Janoris Jenkins: Dead body found in his basement
Percy Harvin: Laundry list of anger management issues
Pouncey twins: Wore "Free Hernandez" shirts and overall perceived as scumbags
It's unbelievable that these guys all played on the same college football team. Throw in the fact that they were coached by the legendary Urban Meyer, and this would make for an ELECTRIC documentary.
Seahawks/49ers Rivalry
Everyone remembers Richard Sherman's interview with Erin Andrews after the Seahawks defeated the 49ers in the NFC Championship Game to secure their bid to Super Bowl 48. But that was such a great rivalry at the time. Russell Wilson, Colin Kaepernick, Jim Harbaugh, Pete Carroll. Those were some really talented teams with big personalities galore, and I can only imagine the kind of stories that would come out of a documentary.