The Yankees have had countless players put together special careers in pinstripes. Conversely, they've also had some players who had great careers with other teams, THEN came to the Bronx before calling it quits. Who are the best players to ever make a cameo appearance with the Yanks at the end of their playing days? I'm about to tell you. The criteria for the list was guys who I've actually seen play that enjoyed success elsewhere, but were clearly past their primes as Yankees.
Catcher: Pudge Rodriguez
Rodriguez played just 33 games with the Yankees during their final year at the old Stadium in 2008. After the Tigers sent Pudge to New York in exchange for Kyle Farnsworth (yuck), he posted an unimpressive .580 OPS to finish out his age 36 season. That was the tail end of an already Hall of Fame career, which included 14 All-Star appearances, 13 Gold Gloves, and the 1999 AL MVP. Though he was well past his prime as a Yankee, Pudge was an all-time great catcher.
First Base: Travis Hafner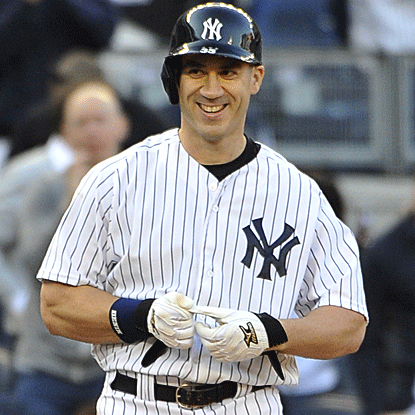 My first time being introduced to Travis Hafner was when he was batting third for the Indians as they knocked the Yankees out of the 2007 ALDS in four games. Though Hafner was never an All-Star, he was a solid middle of the order bat for nearly a decade, twice posting an OPS over 1.000. In 2013, was his only season in the Bronx and also his last in the majors, Hafner was terrible. He managed just a .202 batting average in 82 games. I'll take prime Hafner in my lineup any day.
Second Base: Brian Roberts
Like Hafner, Roberts had also played for one team his entire career before spending his final season in the Bronx. Roberts was a two-time All Star in thirteen seasons with the Orioles, leading the league in stolen bases in 2007. Despite a mostly successful career, Roberts was unremarkable in New York (sensing a trend?)Roberts hit just .237 with a .659 OPS in 91 games during the Yanks' disappointing 2014 season.
Third Base: Eric Chavez
Eric Chavez was the OG Matt Chapman. He won six consecutive Gold Gloves for the A's from 2001 to 2006, and posted an OPS of .850 or better five times in the Bay Area. Chavez was a Yankee in both 2011 and 2012, and while he was nothing special in his first season as a Yankee, he actually posted very solid numbers in 2012. He hit 16 homers and posted a .845 OPS while splitting time at both corners of the infield, as well as DH. He wasn't nearly the same fielder with the Yankees as he was with the A's, but I'll always remember this awesome catch he made back in 2003.
Shortstop: Troy Tulowitzki
Signed to play shortstop while Didi Gregorius recovered in early 2019, fans joked about how many games we would get out of Tulo before he got hurt. 20? 30? Well we got five games. But hey, he did get revenge on the Blue Jays for releasing him by *checks notes* hitting a home run off of them in spring training! What an exhilarating moment for Yankee fans him and his family (they probably didn't even care).
IAll jokes aside, Tulowitzki was on a borderline Hall of Fame pace with the Rockies, making five All-Star teams and establishing himself as one of the best players in baseball. He hit .300 or better four times, and had an OPS over .900 five times. Can't ask for much more than that out of your shortstop.
Left Field: Matt Holliday
Fun fact about Matt Holliday: he landed on the DL in 2017 due with the Epstein Barr virus, better known as mono. I also had mono in the year 2017. Was I the one to give it to him? Can't confirm or deny, a lady never kisses and tells.
All kidding aside, Holliday raked in the first half of 2017 for the Yanks, hitting 15 homers and posting an .877 OPS as their full-time DH. Holliday was clearly not right post-mono, as he saw that OPS drop to just .525 in the second half while hitting only four home runs.
In his prime, Holliday was an absolute stud. He was a seven-time All Star, four-time Silver Slugger and won the NL batting title in 2007 while leading the Rockies to an NL pennant. Holliday retired in 2018 with a .299 career average and an .889 OPS, and it's honestly underrated how good he was.
Center Field: Andruw Jones
Andruw Jones is a guy who might legitimately be able to make a case for the Hall of Fame. Yankee fans were first introduced to him in 1996 when he hit two homers in Game 1 of the World Series at Yankee Stadium at just the age of 19. Jones would go on to win ten Gold Gloves, making five All-Star appearances and slugging 434 home runs in his career, the majority of which was spent in Atlanta. After stops with the Dodgers, Rangers, and White Sox, Jones spent his final two seasons with the Yanks in 2011 & 2012. He was actually very solid in 2011, posting an .850 OPS in 77 games. He ran out of steam in his final year though, hitting just .197 in 94 games. His career accolades probably fall a bit short of the Hall of Fame, especially given the era he played in, but he's the ideal "Hall of Very Good" candidate.
Right Field: Ichiro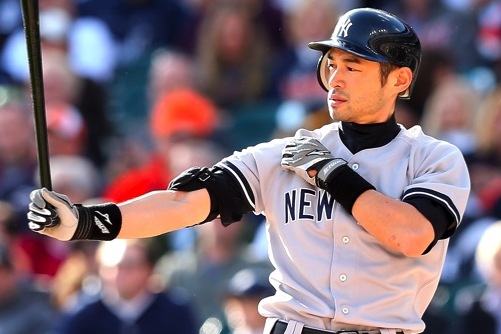 When I first got into baseball in 2004 or 2005, Ichiro was the absolute man. He won both the MVP & Rookie of the Year in his first season in America in 2001, broke the single season hits record with 262 in 2004, and hit over .300 in each of his first ten seasons in the bigs. He was a wizard at the plate, great base stealing ability, and a rocket of an arm in right field. Ichiro had 3,089 hits in Major League Baseball, despite the fact that he played in Japan until he was 27 and collected nearly 1,300 hits there.
Ichiro played two and a half seasons in the Bronx and was pretty good for the Yanks, posting batting averages of .322, .262 and .284. I'll always remember him for what he accomplished in Seattle, but it's pretty cool at the end of the day to say that Ichiro was a Yankee. He'll absolutely join Pudge and become the second Hall of Famer on this list.
Designated Hitter: Lance Berkman
Berkman was very productive in his eleven and a half seasons in Houston, making five All-Star teams and driving in 100+ runs six times. He was traded to the Yanks at the trade deadline in 2010, and posted a .707 OPS in just 37 games with them. He went on to be an All-Star and win the World Series with the Cardinals in 2011, alongside Holliday. Anyone would want a hitter of prime Berkman's caliber in the middle of their lineup.
Starting Pitcher: Bartolo Colon
"Big Sexy" may be idolized by the other baseball fan base in New York, but people forget that he was a Yankee first. Colon made 26 starts for the Yanks in 2011, going 8-10 with an ERA of exactly 4.00. Colon at his peak won 20 games twice, as well as the 2005 AL Cy Young award with the Angels. Colon was productive after he left the Bronx, posting All-Star seasons in 2013 with the A's & 2016 with the Mets at the ripe old ages of 40 and 43. He won 247 games in his career which is certainly nothing to sneeze at. Yet he will always be remembered for being overweight, hitting a home run with the Mets, and having a secret second family.
Relief Pitcher: Kerry Wood
Wood was another deadline pickup for the Yanks in 2010, and he was actually lights out. He made 24 appearances and gave up just two earned runs, pitching to a 0.69 ERA. He was a starter in the beginning of his career, but transitioned into a relief pitcher due to injuries in 2007. Wood had electric stuff, tying a major league record with 20 strikeouts in a game during his rookie year of 1998. He made All-Star teams as both a starter and a reliever, and led the league in K/9 twice.
If you put together a team of these guys all in their prime, they would be a machine. Which other Yankees past their prime did I miss?