If there is one thing guys will always be romantic about, it is baseball. I'll be the first to admit it's difficult to really express emotions about real life stuff, like those you care about and your deepest passions. But when it comes to a bat, a ball, and some expensive hot dogs on a summer day, I'll scream my thoughts from the nosebleeds to whoever is listening.
There's a few particular days where those emotions run high. Any Game 7, Yankees vs Red Sox/Mets (or any rivalry game for other fans), certain player's final game, and of course, Opening Day.
And in case you live under a rock, today is Opening Day. I know this Sandlot scene is about July 4th and baseball, but I still feel it captures the beauty of baseball and the awe we absorb when the game comes around.
With that said, there are a few matchups that I think fans should be looking at today if they want to watch some good baseball:
Mets vs Nationals—Jacob deGrom vs Max Scherzer
 You can argue this is the best pitching matchup we'll see all year. I expect Mad Max to be absolutely insane today with an abundance of talking to himself on the mound. It's Opening Day (in case you didn't hear me the first 12 times I said it) and the Nationals are being overlooked this year. He will not like that.
With deGrom just getting his extension and the "pitching to preserve his arm" situation totally gone, we will see the best of deGoat too. The two best pitchers in baseball face off, be sure to at least watch a few moments of this one.
Giants vs Padres—Madison Bumgarner vs Eric Lauer
I am infatuated by the San Diego Padres. I love that Machado went there because there is nothing better than turnover in sports. Four or five years from now, I can finally see the Padres overtaking the NL West and the Dodgers finally coming down from their World Series runner-up marathon.
Eric Lauer is a great 23 year old prospect in his first Game 1 start. He is going up against a living legend in MadBum. That's a tall task, and how he lives up to it will be telling not only of his future, but potentially the Padres too.
Seeing Bumgarner back on the mound fully healthy is great, and I really want to see him pitch well this year. But…not too well because I think he's a great fit for the Yankees. The worse he pitches, the smaller the price gets at the deadline. Today is the first day we can evaluate where he, and the Giants, might be in July.
Cardinals vs Brewers—Miles Mikolas vs Jhoulys Chacin
There is really nothing exciting about Jhoulys Chacin, a career .500 pitcher with a near-4 ERA, but that is not the point. The Cardinals and Brewers, along with the Cubs, are going to be the key players in the best division in baseball this season. Today is the first today we'll see these division rivals square off, and expect to see them battle it out game-by-game the rest of the way.
Miles Mikolas is a low-key stud. He started his career in San Diego and Texas before leaving to play in Japan for multiple years. Now back in the MLB with the Cardinals, he has legit ace potential. Coming off a year where he went 18-4 with a 2.83 ERA, he is somebody to keep an eye on to see if he can repeat his surprising 2018.
Rays vs Astros—Blake Snell vs Justin Verlander
Similar to the Mets and Nationals, this is the best pitching matchup you're going to get in the AL (replace either of these guys with Chris Sale and you'll hear the same thing).
The Astros aren't going to surprise anybody, we know they're really good. But the Rays were a dark horse last year, and they opened the eyes of the baseball world to the "Opener". How they come back this year when people can plan for their strategy will be interesting.
Braves vs Phillies—Julio Teheran vs Aaron Nola
AL East division predictions go back and forth between these two teams. The sexy pick is the Phillies after an incredible offseason, but people forget how much talent the Braves have on the field. Their infield alone consists of Freddie Freeman, Ozzie Albies, Dansby Swanson, and Josh Donaldson. Like the Brewers and Cardinals, the madness starts today.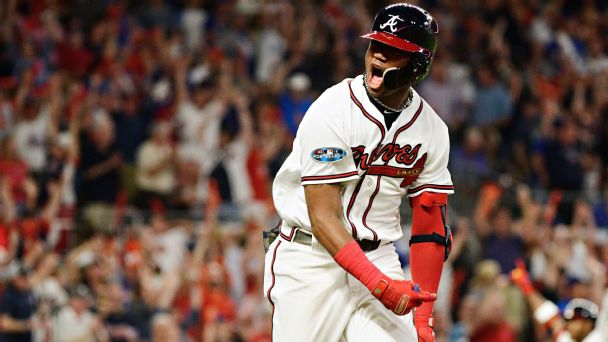 Happy Opening Day everyone, baseball is finally back.