If you are a big football fan like myself, there aren't too many phrases worse than "Week 17".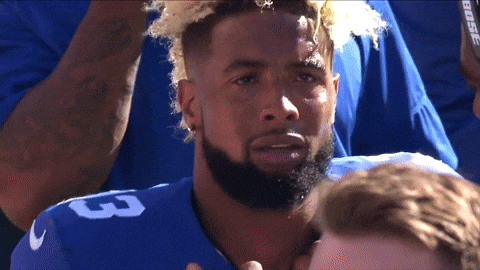 Last season felt like it went by fast, but this season was on level 12 on the treadmill. It feels great though as a Cowboys fan to be back in the playoffs at this time of year, after the painful season endured on and off the field last year. It even look like we'll have a Below the Belt Bowl during Wild Card Weekend. You love to see it!
Even though I've struggled, writing these articles has been a part of the week I've looked forward to, so thanks to everyone who has read. It has definitely been a sophomore slump to say the least. It's funny because I know so much more about gambling now than I did last year, between trends, fading the public, not making sucker picks, and so forth. Yet, my record is somehow worse. That's just how gambling works. Like I said in the beginning of the season, there's no chance whatsoever to make money if you bet on every game, that's why the best gamblers only give you their top plays. For example, I'm in a spread pool where you make 5 picks a week. I'm 39-41 through Week 16, which is a losing percentage, but is good enough for 4th place in my league of about 20 people, and a much higher winning percentage than when I pick every game. That being said, hopefully I'll be back making picks next season and winning more this time.
Week 16 was very similar to how much of the season has gone. Solid outright, but poor against the spread. I went 11-5 outright, but just 4-10-2 ATS. Here's a look back at the picks I made (correct pick in blue, incorrect pick in red, push in green):
Redskins at Titans (-12)
Thoughts and prayers to anyone who had the under.
https://www.youtube.com/watch?v=0ByCfy298XM
Ravens at Chargers (-4)
Packers (-3) at Jets
Giants at Colts (-10)
Bengals (+10) at Browns
Vikings at Lions (+6.5)
Falcons (-3) at Panthers
Texans (+2) at Eagles
Bills at Patriots (-13.5)
Jaguars at Dolphins (-3)
Bucs at Cowboys (-7)
Bears at 49ers (+3.5)
Rams at Cardinals (+14)
Steelers at Saints (-6.5)
Chiefs at Seahawks (+1)
Like I said I might, I switched my pick to Seahawks after the Chargers lost, making this not a must win for KC.
Broncos (-2.5) at Raiders
2018 Straight-Up: 143-95-2, 2018 vs. Spread: 102-127-11
As for Week 17, we all know it's extremely unpredictable, cause you never knows who's playing and for how long, and you also don't know what a lot of team's motives are. I'll do my best to point out which games to bet on and which ones to avoid.
Lions at Packers (-8)
Both teams have nothing to play for, if anything the Packers will want to finish on a win streak and make their record look better
Lions have been really mailing it in
Packers win by 2 TDs in season finale to cover
Panthers (+6.5) at Saints
Both teams have nothing to play for and are starting backup QBs
Teddy Bridgewater has seen minimal time on the field over the past 3 years, think Saints are laying too many points here
Avoid betting on this game, but I like Saints by a field goal with Panthers covering
Cowboys (+5.5) at Giants
I'll be in attendance
Both teams have nothing to play for here
I don't think the Cowboys starters go the whole way, but they will play at least the first half
Definitely avoid betting this game, but you know I'm taking the Cowboys when it's a toss up
Falcons (-1) at Bucs
Neither team has much to play for
Falcons have played well the last two weeks, and as a good team who has underachieved like crazy, think they want to close the season on a high note and make their record look a little better
Falcons are the better team if both teams play their starters, they win by a TD
Jets (+13.5) at Patriots
Pats need to win to lock up a bye, Jets fans probably want to lose and help their draft pick, but the team wants to keep up their solid play of late and possibly play spoiler
Pats didn't cover this same spread against the Bills, and I think the Jets are better than Buffalo
Darnold has been playing well the past few weeks and wants to end his rookie season on a high note
Pats win by 10 but Jets cover
Dolphins (+5.5) at Bills
Both teams have little to play for, but appear to be playing their starters
This could be Ryan Tannehill's last start as a Dolphin, so he has something to prove
I think the Dolphins are the better team, and they're getting 5.5 points
Dolphins cover the number, Bills win by a field goal
Jaguars (+6.5) at Texans
Texans need a win to lock up division, Jags playing for pride/spoiler
Jags D has been playing well of late and Blake Bortles is back under center, who is a huge upgrade over Cody Kessler
Texans win by less than a TD to lock up the AFC South, but the Jags cover
49ers at Rams (-9.5)
49ers want to continue their hot play and play spoiler, Rams need to win to lock up a bye
Niners have played well of late, but all of those games were at home
Rams need to get their groove back before the playoffs
Rams win by 2 TDs to cover
Bears at Vikings (-4.5)
Bears can still possibly get a bye and want to play spoiler, Vikings need a win to get in
I feel like Vikings motivation is a lot higher in this one as the Rams are almost definitely going to beat the 49ers which would lock the Bears into the 3 seed
Vikings and Kirk Cousins know this is going to be a long and painful offseason if they don't even make the playoffs
Public on Chicago (60% as of Friday)
Vikings win by a TD to secure the final NFC playoff spot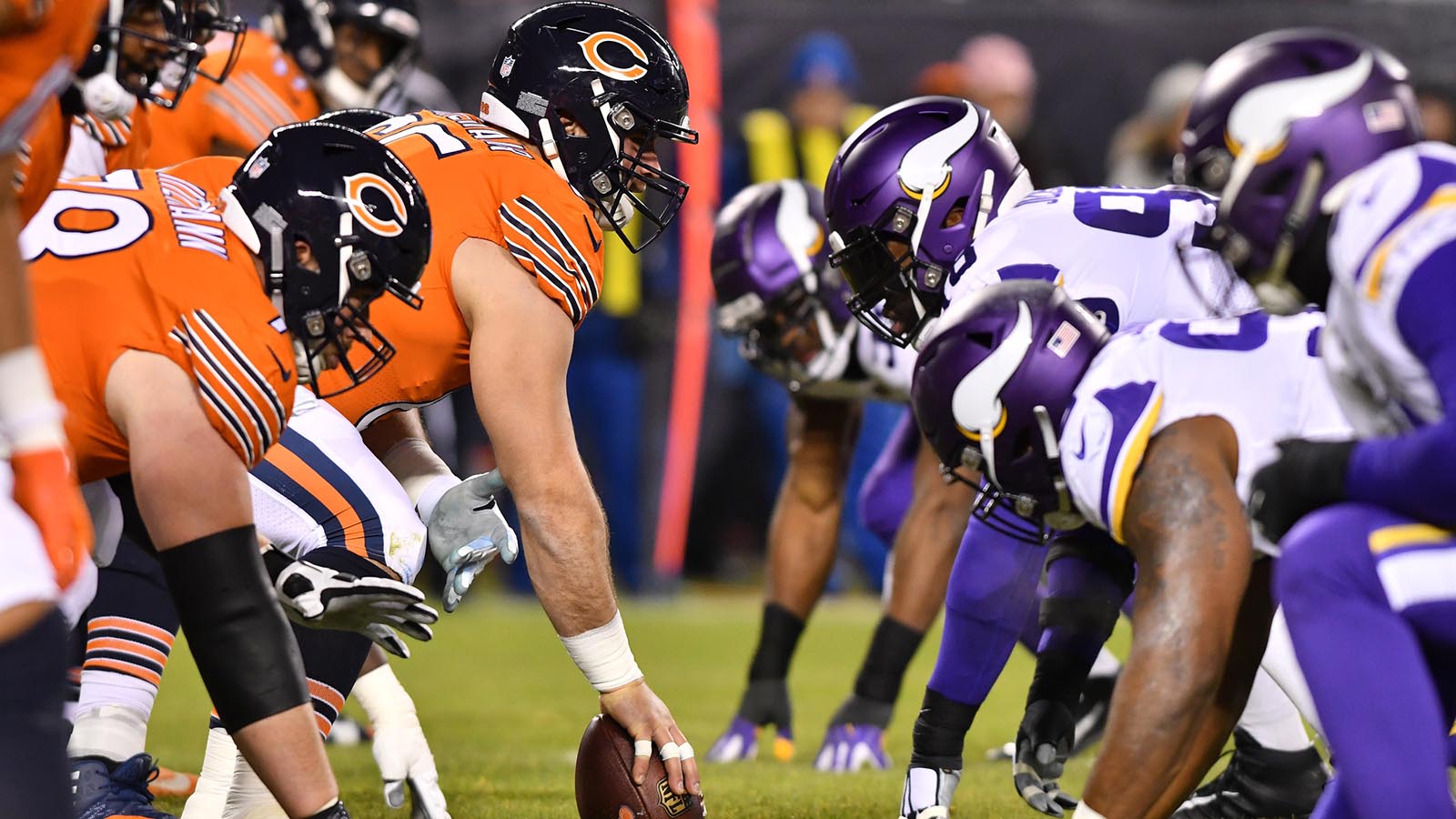 Eagles (-7) at Redskins
Eagles need a win and a Vikings loss to get in, Redskins not playing for much, but Josh Johnson wants an NFL contract next year
I'm not saying he's a better QB than Carson Wentz, but it has become evident that the Eagles play better with Nick Foles under center
Redskins have covered the last two weeks, but they have been ugly
Eagles rout the Redskins to put their playoff hopes in the Bears' hands
Bengals (+14.5) at Steelers
Steelers need a win and a Ravens loss to get in, Bengals have nothing to play for
The Steelers almost always win this matchup, but it's usually a fairly close contest
Bengals have played a little better the last few weeks
Steelers play an ugly first half after blowing that game last week, so the Bengals cover, but the Steelers win comfortably by 10 points to keep their playoff hopes alive
Chargers at Broncos (+6.5)
Chargers can still win the division with a win and Chiefs loss (which is unlikely), Broncos mostly playing to try and save Vance Joseph's job
Broncos are a tough home team and beat the Chargers a few weeks ago on the road
Chargers motivation may not be that high as they are almost definitely locked into the 5 seed with the Chiefs hosting the Raiders
Chargers win, but by less than a TD so Denver covers
Cardinals at Seahawks (-13)
Seahawks need to win to lock up the 5 seed, Cardinals playing for virtually nothing
Seahawks have played great the second half of the season and want to keep that up
Cardinals have looked set on getting the top pick for a few weeks now
Seahawks rout the Cardinals and easily cover
BONUS: Bet Larry Fitzgerald to score a TD in what could be his final game
Raiders at Chiefs (-14)
Chiefs need to win to lock up the division and top seed, Raiders playing for nothing
Raiders played their Super Bowl last week in potentially the final game in Oakland
Chiefs need to win and want to head into the playoffs off a rout before a bye
Chiefs win easily and cover the number as well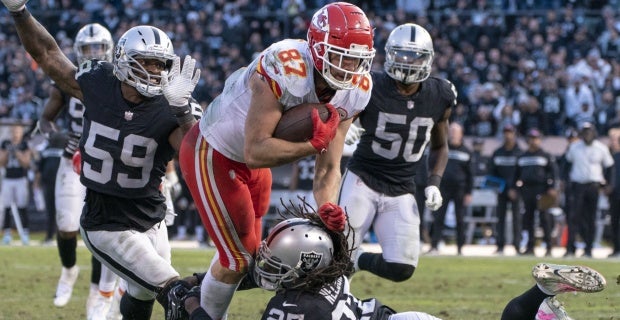 Browns (+6) at Ravens
Browns want to secure their first winning season since 2007, Ravens need to win to clinch the division
Browns have played exceptional of late and want to win before being this offseason's "every member of the media picks them to make the playoffs in 2019" team
Ravens lost as 9 point home favorites last year in Week 17 with a chance to make the playoffs
Ravens win this time, but barely, by a field goal as the Browns cover
https://www.youtube.com/watch?v=DAitXjJiJsM
Colts at Titans (+3)
Winner is the AFC's 6 seed (or division champ if Texans lose), loser is eliminated
Spread will likely change when Marcus Mariota's status is made official, so my pick could as well, be sure to check my twitter @mikejmcgon
Public is hammering Indy (78% as of Friday)
I think the Colts may be the better team on a neutral site, but are just 3-4 on the road this season
Titans are a sneaky 6-1 at home this season
This comes down to Mariota's health, but my pick is the home underdog Titans to win this winner take all game against the Colts 
That's all for the regular season, hope I go 16-0 to make my numbers for the season look better. I'll be back next week for an in-depth look at every Wild-Card matchup, as well as my prediction for how the playoffs will shake out. Will Eagles fans be really happy at Vikings fans (and my) expense for the second straight season?