We watched a thrilling Bears/Giants game Sunday.  It was easily one of the more enjoyable Giants games I have ever watched, even though the Giants are going nowhere this season.  That said, FOX's analyst Charles Davis made me realize that NFL broadcasts need to employ an additional person.  They need to employ a football fan under the age of 40 whose sole job is to notify the production team when an analyst makes a point that everyone under 40 knows is wrong.  This plan will keep the announcer from belaboring that point.  I am not trying to single out Charles Davis here.  Plenty of veteran announcers (see "Aikman, Troy") fall into this same category.
You are probably wondering, "What did Charles Davis say today to make you want to write this post?"  It was actually two things.  Let us start with the main one…
If you watched the game, you know that the momentum-changing play was Saquon Barkley's 3rd-and-23 run at the end of the first half.  Instead though, Charles Davis focused over and over and over again on the fact that the Bears called timeout before this run.  When the Bears called timeout, there were 16 seconds on the clock with the Giants facing 3rd and 23 from their own 30.  The Bears' only mistake was that they let time (I am not sure exactly how many seconds) tick off the clock between the previous play and this timeout.  Anyone under 40 watching this game knows that the Bears should have called timeout immediately after second down (a sack of Eli).  This way, assuming the Bears create a stop on 3rd down, the Bears can call another timeout and have a chance to block a punt or throw up a Hail Mary.  Somehow, neither play-by-play announcer Kevin Burkhardt nor Davis noted at any time before the timeout that the Bears should want to call a timeout.  Everyone knows that 3rd-and-23 is supposed to be an automatic 3rd-down stop.  Thus, the Bears did the automatic thing by calling timeout.  It is a basic thing. There is nothing noteworthy at all about it, yet Davis harped on this point over and over and over again for the rest of the game.  Saquon made an amazing run.  That was the story, not the timeout.  Had FOX gone with my suggestion, someone could have told Davis after his first comment about the timeout, "everyone knows the timeout made sense.  Focus on the Saquon run."
The second Davis faux-pas deals with the classic "down by 10 with 2 minutes to go" saga.  Roughly 10 years ago, older announcers could not yet deal with the concept that it sometimes makes sense to kick a field goal, then do an onside kick, and then go for a touchdown.  Now, older announcers have caught on to the concept, but they overuse it.  The Bears used a big play to arrive at 1st and Goal with 1:28 to play.  From that point on, Davis said repeatedly, "The Bears don't need to go for a touchdown here.  They are going to have to get a field goal at some point anyway."
Of course, he is not wrong that a field goal there keeps the Bears' hope for a win alive.  However, anyone under 40 watching that game knows that the primary storyline at that point is: If you have made it to first and goal, you really really really really want to get the touchdown there.  After all, to get an onside kick is tough enough.  To then march downfield for a touchdown is even tougher.  Thus, you do not want to sacrifice a goal-to-go scenario by settling for a field goal.  The main goal there is to score a touchdown, so that, in the event of a successful onside kick, the Bears need only a field goal to tie.  Plus, they could then win the game on a touchdown.
Granted, we know that the Bears did ultimately kick a field goal on 4th down.  Once 4th down arrived, Davis was justified in saying it was OK for the Bears to settle for a field goal.  Yes, the Bears did score a touchdown after the onside kick, but, if they had scored a TD on that first of the two drives, perhaps they would have won the game with another regulation TD.  The moral of the story is that anyone under 40 was thinking that Davis was off-base with the "The Bears can kick a FG here, since they need a FG at some point anyway" storyline.  Let us get someone on the production team to tell Davis to stop repeating that comment unless it is fourth down.
At this point, you might be wondering if today was the first day that this thought entered my head.  Definitely not.  Over the years, here are the most common cases where broadcast teams could use a young mind in the production staff:
4th Downs: Plain and simple. If you are over 45, you are Troy Aikman, or you are both; you think that teams should never ever go for it on 4th down unless it's 4th and goal from the 1 with 1 second remaining and your team down by 7.  (And even then, Aikman might advise a field goal.)  Needless to say, young people recognize that, in the modern era of crazy amounts of offense, going for it on 4th down is often the right move.  In fact, the second-quickest way to out yourself as an old person is by saying, "You always wanna take the points".  Of course, the quickest way to out yourself is to say either "The Twitter" or "The Facebook". Additionally, young minds realize that, if you go for it on 4th down inside the other team's 20 and do not convert, you still force the other offense to travel further than if you kick a field goal.  When a team misses a conversion deep into opposing territory, no 40+-year-old announcer has ever noted that the team benefited thereafter from forcing a three-and-out and receiving good field position after the punt.
Space-time continuum: This one overlaps with #1. If a team passes up a 1st-quarter field goal, goes for the first down, and does not convert; you cannot say with 2 minutes left in the game, "The Giants are down by 2, but, if they had only kicked that field goal in the first quarter, they would be winning now."  Back to the Future came out in 1985, yet older announcers know nothing about the space-time continuum.  If you change what happens early in a game, everything that happens thereafter changes too.  The under-40 production guy would know this.
Committing to the running game: Older announcers are always bewildered when teams with strong running games deviate from the run when down by 21 in the second half. "I don't know why the Cardinals are abandoning the run here.  They told us in production meetings that they wanted to control the running game."  Wanna know who does know?  Young people.  Teams do not run the ball when down 21 in the second half.
"You're on the road/at home/going nowhere this season, you might as well go for it here." – Again, I have never heard someone under 40 base a punt/FG/go-for-it decision on whether a team is home or away. I swear these comments are the small talk of old announcers.  We are annoyed when people walk tell us, "Monday again?  Oh, the weekend goes by too fast."  Mindless talk, just like this "home/road" garbage.  Herm Edwards was right that every coach "plays to win the game".  Your record does not dictate whether or not to go for it on 4th  Neither does home/away.  Your talent and the game situation do.  Speaking of which…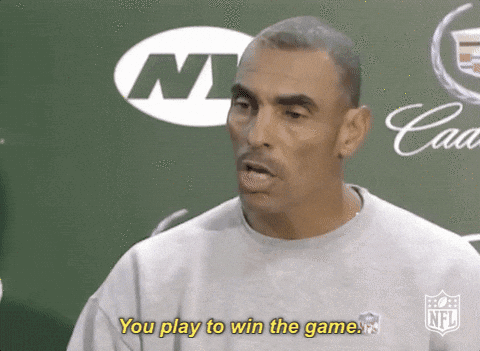 Going for two: For older announcers, going for two is like new technology, new rappers, and difficult-to-pronounce names combined. It is an absolute trainwreck.  It has always been a disaster, but, now that strong offensive teams have realized that, with extra points being less sure things (since being moved back), it can make sense to go for two all the time.  This makes things especially tough for older announcers.  "Why wouldn't you just take the sure point here???" is something they say in their sleep at this point.  Additionally, when a team is down 15 late in a game and scores a TD, you know that an old announcer's head is ready to explode if the team goes for 2 after the first TD.  "Why are they going for two here????  They don't need to go for it yet.  If they miss it here, the game is over."  As a counterpoint, young people present math.  You might as well go for two first, so that, if you miss it, you know you have to find a way to score twice more.  Lastly, in terms of 2-point conversions.  If you are down 7 and score a touchdown at the end of regulation, your decision is simple.  If you are the favorite, you kick the extra point and take your chances in OT.  If you are the underdog, you go for two.  It's the basic "NCAA Basketball Tournament" premise.  There is no way UMBC would have beaten UVA in a Best-of-7 last year, but UMBC was able to win a Best-of-1.  If you are the underdog, your chances improve as you decrease the sample size.  Thus, you would rather beat the favorite over one play than over multiple overtime possessions.
Guess who understands this?  Young football fans.  Thus, NFL broadcasts, the time has come to put young guys in the production staff to make sure your announcers do not keep harping on silly points.