It looks like I should pick against the Cowboys more often…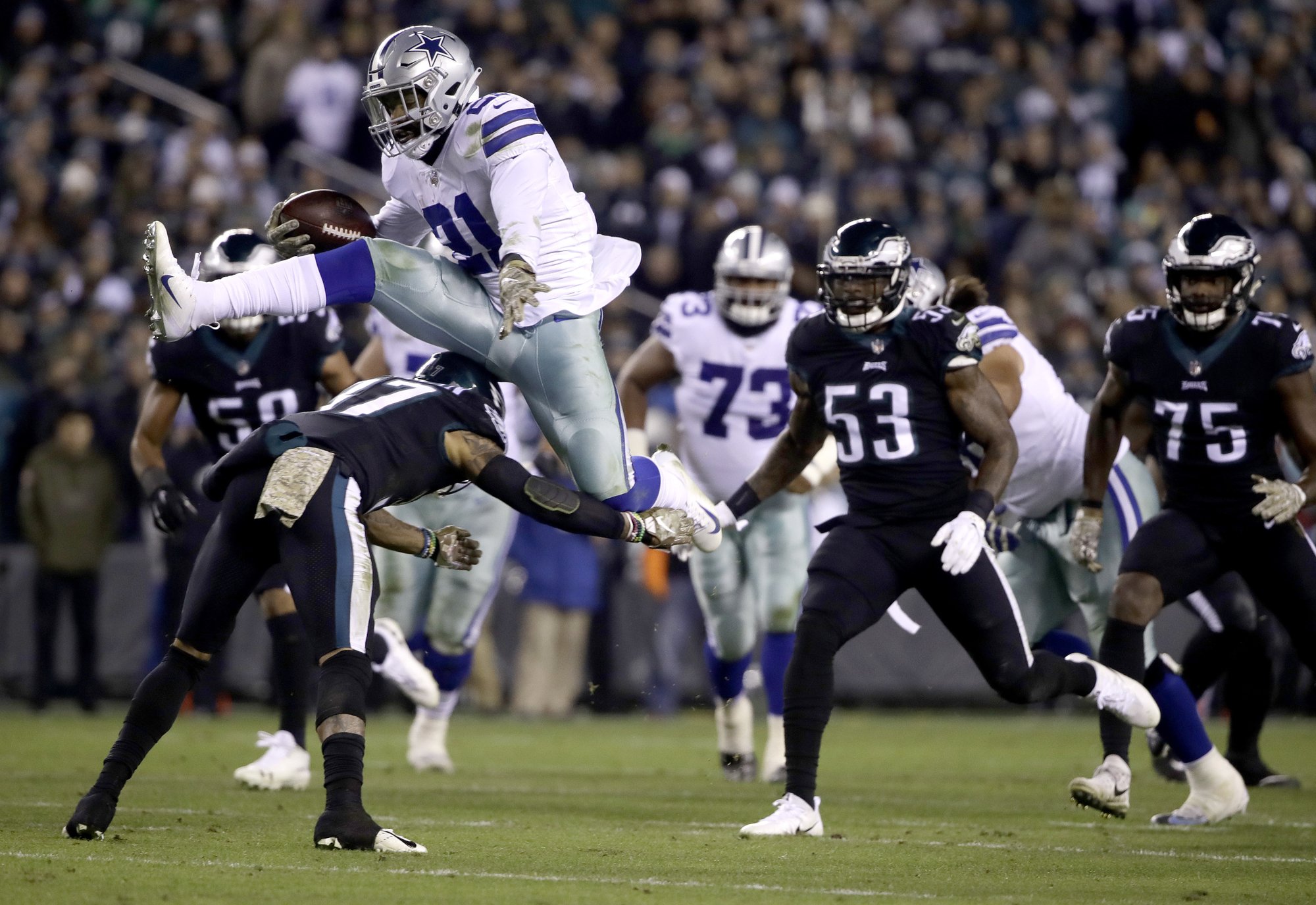 …cause then maybe they'll win more games.
While I was right that the Cowboys would cover this spread, I picked against them outright for the first time this year, and to no surprise they won over the Eagles as 7.5 point dogs.
So while it was a great weekend for me as a fan, it was a tough one for my picks. I went 7-7 outright, and 5-8-1 against the spread. Here's a look bad at the picks I made (correct pick in blue, incorrect pick in red, push in green):
Panthers and Steelers (-3.5)
Bills at Jets (-6.5)
Bet on this game but wasn't able to watch. After watching the highlights, I'm happy I wasn't watching cause I would have been questioning if I still have any credibility picking games at all
Saints at Bengals (+6)
Patriots at Titans (+6.5)
Cardinals at Chiefs (-16.5)
Redskins at Bucs (-3.5)
Lions (+7) at Bears
You don't cover often when your kicker hits the upright FOUR times
Falcons at Browns (+6)
Jaguars (+3) at Colts
Chargers at Raiders (+10)
Dolphins (+12) at Packers
Seahawks (+10) at Rams
Cowboys (+7.5) at Eagles
Giants at 49ers (-3)
2018 Straight-Up: 88-58-2, 2018 vs. Spread: 68-76-4
Week 11 time.
Packers at Seahawks (-3)
Seahawks 27, Packers 24
1-0-1 to start the week
Texans (-3) at Redskins
Texans are hot (6-0 since 0-3 start) and coming off the bye
Redskins are banged up, and coming off a bad loss and an ugly win over the last 2 games
Road teams are 7-2-1 off the bye this season
Could be a sucker pick (69% on HOU as of Thursday night), but I have the Texans by a score
Bengals at Ravens
The spread to this game has not been announced yet, I'll announce my pick from Twitter @mikejmcgon
Steelers at Jaguars (+5)
THIS is the last week I'm giving for Jaguars to have any of last season in them
Last year the Steelers lost only 4 times, and TWICE were at home to the Jaguars, including the Divisional playoffs
Jaguars will be motivated to continue to be the Steelers' kryptonite and will cover at home, but the Steelers are the way better team this year and win outright
Panthers at Lions (+4.5)
It may feel like the Lions got crushed last week, but they lost by 12 with 4 field goals hitting the upright
Lions due for a better home performance, play the Panthers who got demolished in Pittsburgh
Public hammering Carolina (80% as of Thursday night), give me the Lions covering, but Panthers winning by a field goal
Cowboys (+3) at Falcons
It's hard to put too much stock in a team based off of one game (especially the Cowboys), but I think Dallas can build off last week big time
The OLine played much better, Amari Cooper is a true threat in this offense, and that opens up the field for Zeke and for Dak to play as he has shown he's capable of
You never know which Falcons team you're gonna get, but I think they took a big step back in that loss last week
Cowboys win a close one
Titans at Colts (-1)
Could be my favorite pick of the week
Public loves hot Titans, but it's easy to overlook that the Colts have won 3 in a row
Don't let the last 2 games fool you- the Titans are only a decent team, and not very good on the road
Home Colts win by a score
Bucs (+1.5) at Giants
Don't let last week fool you- the Giants still stink
Last week was bad, but the Bucs still have a much more explosive offense than the Giants
Giants aren't putting 2 in a row together, Bucs win on the road
Raiders at Cardinals (-5.5)
Raiders have become hopeless in any matchup
Cardinals have played some competitive games of late
Not a blowout, but Cardinals win comfortably by a TD
Broncos (+7) at Chargers
Broncos coming off bye and will likely have "home field advantage" in LA
Broncos have lost 3 of 4, but all 3 were by 7 or less
Chargers are the much better team though and will win, but by less than a TD
Eagles (+8.5) at Saints
Despite their 4-5 record, the Eagles have been underdogs just once- by 1 point to the Falcons, and they were favored in that one til the last minute
We all know the Eagles love the underdog mentality and will come out strong against the team trying to take their throne this year
But the Saints are too good this year and will win by a TD with the Eagles covering
Vikings at Bears (-3)
The Bears are for real- they are 6-3, and should've beaten the Packers and Dolphins
Kirk Cousins is good, but never wins on the big stage
Bears show they're the team to beat in the North and win by a score
Chiefs at Rams (-3.5)
Patrick Mahomes is the the NFL's new star QB, but Sean McVay is the NFL's new mastermind
Rams are 1-5-1 in last 7 ATS, they're due to cover again soon
Public absolutely hammering KC (85% as of Thursday night), give me the Rams by a score
Be back for Week 12. Who wins in #MexicoCityGate?