Most fans have hated the matchups we have seen on Thursday nights for years…
…but one night made up for all the shitty ones. I can't remember a time ever where the Thursday night matchup felt more important than any other matchup the entire weekend. I like the Jets and normally root for them, but that was arguably the most I have ever rooted for a team that was not mine or was not facing a team I hated. Between Hard Knocks, having a player I've known of since he was a freshman in high school in Jabrill Peppers, and visiting there to see the Cowboys play in 2016, the Browns have become a random team I've paid attention to over the past few years. You can argue that they are one of the more famous teams in the league just cause they are so consistently bad. Winning their first game in nearly two years at home in prime time just felt meant to be and was awesome to watch.
As for the picks, it was a second straight week of success. I went 10-6 straight up, but more importantly, improved to 11-5 against the spread. Here's a look back at the picks I made (correct pick in blue, incorrect pick in red):
Jets at Browns (-3)
Bengals at Panthers (-3)
Saints at Falcons (-1.5)
Only loss in my spread pool (also took Ravens, Colts, Redskins, and Dolphins).
Titans at Jaguars (-10)
As the source Stu Feiner would say "sucker pick" as 70% of the public was on the Jags after their national TV win over the Pats.
Broncos at Ravens (-5.5)
Bills at Vikings (-16.5)
Games like these are why some of the games I'm just making my pick, but advising against actually taking it. Even though it was virtually a lock that the Vikings would win, I would never recommend wagering $1,667 to win $100 on this game due to the ramifications of a loss like this.
49ers (+6) at Chiefs 
Colts (+6.5) at Eagles
Raiders at Dolphins (-3)
Giants (+6.5) at Texans
Packers at Redskins (+2.5)
Chargers at Rams (-7)
Bears at Cardinals (+5.5)
Cowboys (+1.5) at Seahawks
Patriots at Lions (+7)
Steelers (+1) at Buccaneers
2018 Straight-Up: 30-16-2, 2018 Vs. Spread: 26-21-1
We're on to Week 3.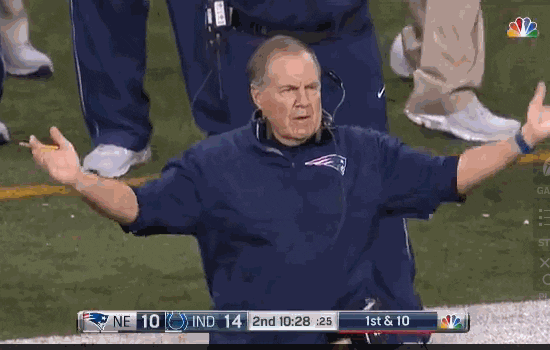 Vikings (+7) at Rams
 Rams 38, Vikings 31
 1-0-1 to start the week. Vegas knew what was gonna happen.
Lions at Cowboys (-3)
This is a sucker pick if I have ever seen one! As of Thursday night, 61% of the public is on Detroit after they beat the Patriots in prime time and the Cowboys had another poor road performance on national television. This has a very similar feeling (and spread) as the Cowboys home game against the Giants, which they pretty much dominated. I don't know where my confidence is with the Cowboys going forward, but my confidence in them is high for this matchup.
Buccaneers (+3) at Bears
This is as even of a matchup as it gets in my mind. A Bucs offense that has impressed against a Bears defense that has impressed, and a Bucs defense that has not impressed against a Bears offense that also has not impressed. While they were both in Tampa, the Bucs have dominated the Bears each of the last two seasons, and are nearly 3-0 against three of the NFL's best from a year ago. This will be a good game, but the Bucs will pull off the upset.
Dolphins at Patriots (-6.5)
While I still think they will make the playoffs, I'm buying the idea that the Patriots just are not the same team this year. That being said, this feels like an easy pick to me. The Patriots have dominated their division rivals at home for years, and I don't see that changing with the hot Dolphins coming to town. This will not be a blowout, but the Pats will return home and win by 2 scores.
Bengals at Falcons (-3.5)
I've been going back and forth with this one, but I concluded that the Falcons are too good of a team to go 1-2 on a three week home stretch. The Saints are getting a lot of praise after that win last week, but there's no praise for the Falcons who probably should have won that game (if they didn't choke like always)? I don't like to play the "team x beat team y, and team y beat team z, so team x should beat team z" game, but I am in this case cause I think the Panthers and Falcons are similar teams, and the Panthers just easily won over the Bengals. With the spread moving in the Bengals direction, I'll take the Falcons and the points.
Bills at Packers (-9.5)
After performances the public did not expect out of both of these teams last week, the public is picking the Bills to cover this spread. While I think the Vikings are a better overall team, I can't see a game like this happening to Aaron Rodgers, while it happening to Kirk Cousins did not stun me. I think the Bills keep it interesting but the Packers pull away in the second half to cover.
Texans (+1) at Colts
The Colts have looked (a little but not much) better than the Texans and they are home, so they should win. That's why I am taking Texans. The Texans are desperate for a win and have too much talent to be 0-4, while the Colts (and their coaches' play calling) have looked uninspiring on offense and you have to question just how healthy Andrew Luck is. The Texans will edge out the Colts in this one.
Jets (+7.5) at Jaguars 
How will both of these teams respond after disappointing performances a week ago? I think the Jets will look much better, especially with the extra rest. I think the Jags will struggle again on offense, but their defense will dominate Sam Darnold. This will be a low scoring game just like the Jags game against the Titans, but they will edge this one out, and the Jets will cover.
Eagles at Titans (+3)
If not for their late game red zone defense, the defending Super Bowl champs would be 0-3. As for the Titans, they have won in upsets each of the last two weeks. I think the Eagles will eventually find their groove, but Carson Wentz is still getting his preseasons reps in and the Titans will stay hot and earn the upset at home.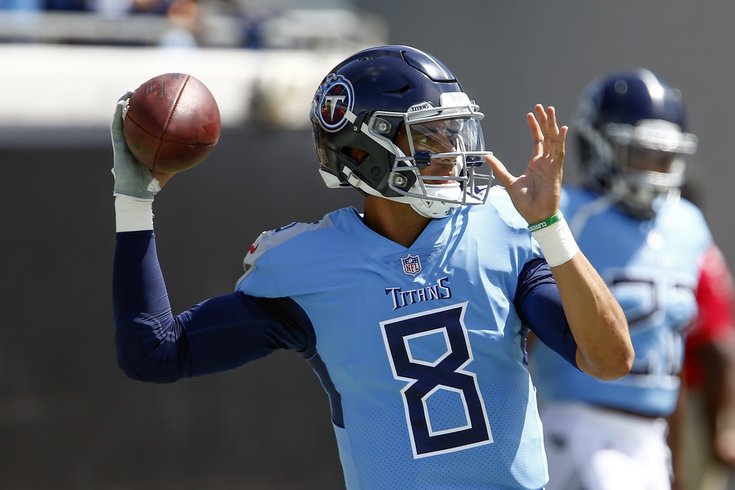 Browns at Raiders (-3)
The Browns have looked solid this year, but this is an easy pick for me. Everyone loves to bash the Raiders and Jon Gruden, but the truth is they could be 2-1, and in that one loss, they had the Rams number through the first half. A rookie QB going into the Black Hole sounds like a bad matchup, and (I might be wrong on the exact number) 10 straight #1 overall picks have lost in their first career start. The Raiders are my favorite pick of Week 4.
Seahawks at Cardinals (+3) 
Sorry Bert, but I'm going against the Seahawks again. The Seahawks looked good last week at home, but it is as if the public (74% on Seattle as of Thursday night) has forgotten how they looked on the road the first two weeks, and how the Cardinals should have won that good against an impressive Bears team last week. In Josh Rosen's first career start, the Cardinals will edge out the Seahawks in a low scoring game.
Saints (-3.5) at Giants
I normally don't like taking the side the public is favoring, but what is Vegas seeing in this one? The Giants looked good last week, but has Vegas completely forgotten how bad they looked in Week 1 and 2? I think they will score some points on the Saints vulnerable defense, but the Saints offense looks amazing and will score a lot more. This is an easy pick for me as the Saints win and cover.
49ers at Chargers (-10)
Obviously this spread is bigger than it would be if Jimmy G was playing, but it's still not big enough. Does Vegas forget that the Niners were 1-10 before Jimmy G stepped in last year? I know almost any team is bad with a backup QB, but the Niners with a backup are arguably the worst in the NFL. This will be a blowout win for the Chargers.
Ravens at Steelers (-3)
You can throw out the record books when these teams match up, but I think the Steelers is the easy choice. Their defense is definitely not very good, but their offense really has not missed Le'Veon Bell at all. The Ravens looked like a much different team on the road against the division rival Bengals in Week 2, and since most of us can agree the Steelers are better than Cincy, I think they have the advantage going into this one. The Steelers will win by a score, enough to cover.
Chiefs at Broncos (+4.5)
As much as I love the Chiefs, they are gonna become the team the public is gonna hammer all year, and I will probably be picking against them most weeks. Maybe they will turn into the 2016 Cowboys, who would win and cover in every game the public was on their side. Anyway, prime time game in Denver, I think the Broncos are gonna fight hard against their division rivals. However, the Chiefs are looking way better than them, so they will win. The Broncos will fight and lose by a field goal, enough to cover.
Be back in a week for Week 5 picks. Can Mahomes and the Chiefs keep up this crazy run?