Many eras ago, there was a time where NBA players truly hated one another. A time once the playoffs rolled around, nobody was all talk. It was time to man up or go home. Not "If we lose it's okay, we'll just move our vacation together up one week". One of the guys who spearheaded that era was Lakers center Andrew Bynum, as seen below:
A few days ago, we learned that this former Lakers, Cavs, and Pacers center is en route to an NBA comeback.
Despite the fact that his dribbling sort of reminds me of Stanley from The Office (gif below for all you uncultured swine), I'm actually really pumped for Bynum.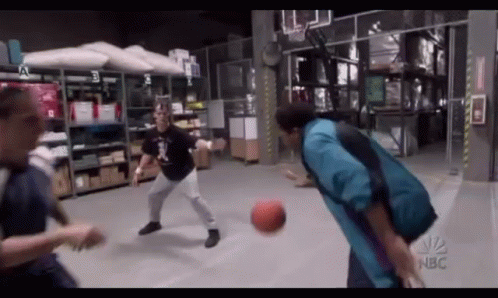 Why? Am I former Lakers fan? No. Did I place an irrational bet years ago saying he would be a Hall of Famer? Fortunately, no. Does he represent something larger than any of you probably understand? Fuck. Yes.
Andrew Bynum's comeback is not just about a former star center playing basketball again. It's so much bigger than that. His attempt to get on a professional court again gives hope to players of the past just like him. That's right, every oversized and overrated center that ever graced the NBA is looking at Andrew Bynum right now like "Holy shit, he's gonna do it". Greg Oden, Kwame Brown, Anthony Bennett, Darko Milicic, and Sam Bowie are all sitting on their couches viciously icing their knees and crying their eyes out. But deep, deep under those tears of failure is a glimpse of hope. A belief that just because you're a big man that fell out of the NBA, and your body was bigger than your brain could handle, that you and so many others could be great once more. If Bynum completes the comeback, it will be a lesson to all of them…don't give up, even if literally every doctor tells you that you should. Listen to your heart, not your knees.
Fortunately for him, Bynum is the rich man's version of all these players, and actually had/will continue to have a solid career. At his peak, he averaged 18.7 PPG and 11.8 RPG. Knee injuries derailed him, but at one point he was part of discussions in a blockbuster trade for Dwight Howard and Chris Paul. He was an impact player without a doubt.
Most people will shake their heads at this, much like we do with all old players who leave the league. But, at 30 years old, this really isn't that far of a stretch. He could really go out and perform well in front of a couple of teams, and they'll decide to take him as a project. Off the bench, you'll get a player similar to Dwight Howard's level of production, probably a little less. Regardless, a veteran who has been to the end of the world and back is great for a young team with young big men on the team (@SacramentoKings?)
You know what, give me Andrew Bynum in a Kings uniform by mid-October or I'm not watching a single second of the NBA season this year. ALL IN.
#BringBackBynum