As you likely know, Mets pitcher Jacob deGrom is in the midst of an epic season in which he has a .97 WHIP, 1.85 ERA, and 173 strikeouts in 22 starts (one of which he left after one inning, due to rain/injury).  This has put him in a tight race with the Nationals' Max Scherzer for the National League Cy Young Award.  Of course, I should also mention that deGrom has all of 5 wins (5-7 record) this season.  Thus, he is on pace to earn a total of 7 or 8 wins.  Even if one looks at the Mets' team record in deGrom's starts (which leads into my view on how MLB should change its wins stat), one will see a sub-.500 record for deGrom and the Mets.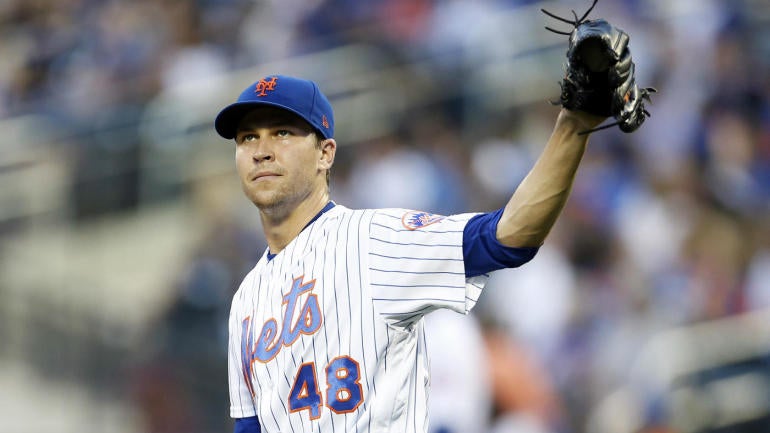 As a result of all this, what course of events over the next eight weeks would be most optimal for both deGrom's Cy Young candidacy and his legacy?  I believe the best result for him would be to endure more of the same stuff that has happened for the first four-plus months of this season: more and more outings in which deGrom earns a loss while pitching 7 or 8 innings of 1-run ball.  While that would be bad for the Mets overall, it would be the best thing that could happen to deGrom.  Hear me out here…
Max Scherzer has 15 wins this season and is a safe bet to reach 20.  If deGrom maintains his own current pace toward 7 or 8 wins, Scherzer will destroy deGrom in the "Wins" department.  This occurrence would prop up the vitality of the "Poor poor Jacob deGrom" storyline.  Cy Young voters would likely ignore the "Wins" totals altogether.  The stat is already of waning importance to voters, and voters would use the 12-13-win gap between Scherzer and deGrom to a) provide the ultimate proof that the "Wins" stat is silly and b) stamp deGrom's 2018 season as the ultimate "dominant season on a terrible team".  As long as deGrom maintains his strong ERA edge and beats or comes close to Scherzer in strikeouts, Jake should earn the Cy Young Award with the help of the two aforementioned thoughts of voters.
What happens though if the Mets somehow bring deGrom 8 wins between now and the end of the season?  I know that a team regularly starting Jose Reyes, Jose Bautista, and Wilmer Flores is unlikely to win 8 games period the rest of the season, but let us play "What if?" anyway.  In this hypothetical situation, deGrom would end the season with 13 wins.  That sounds good at first thought, but deGrom would now have a win total that is closer to representative of his 2018 performance.  In actuality, he likely will have pitched well enough to have earned 20 wins with 26 of the 29 other offense/bullpen combinations in baseball.  That said, the deGrom pity party would nevertheless be much smaller if he has 13 wins, compared to if he has 7 or 8 wins.  The gap between 13 wins and Scherzer's 20 wins is small enough to make the "Wins" mark a legitimate factor in the Cy Young voting.  At the same time, Scherzer will have earned 7 more than deGrom.  All of a sudden, many of deGrom's pity votes will change to Scherzer votes as the "Wins" debate is ironically legitimized.
Meanwhile, if deGrom ends this season with 7 or 8 wins, baseball fans and writers will remember his season forever.  Someday, when deGrom's name appears on the Hall of Fame ballot, voters will be quick to add 12 wins to his career "Wins" total on the grounds of "He should have won 20 games in that legendary 2018 season".  This would be true even though many modern-day starters have great seasons that result in only 13 to 16 wins, due to lack of bullpen/offensive support.  This is why, if deGrom actually makes it to 13 wins this year, future Hall of Fame voters will not "tack on any wins" when analyzing his career.  Therefore, deGrom would lose out on "7 wins" in the minds of many voters, who would likely be overly generous in pretending an 8-win season is a 20-win season.
Anyway, this way of thinking might seem crazy to you, but it demonstrates one of the basic principles of life in the 21st Century.  You are better off having extreme misery than minor inconvenience.  Extreme misery sells, while nobody cares about minor inconveniences.
For example, would you rather give birth to triplets or octuplets?  Well, first off, I give major props to the woman birthing either.  That said, it is a lot of money and work to raise triplets.  It should cost an exorbitant amount of money and work to raise octuplets, but you are also 90% likely to get your own TV show if you have octuplets.  That TV show will give you a whole lot of money which will allow you can make ends meet.  If you have 3 kids, nobody is giving you a TV show…or money.  You have to take care of those three kids on your own.  Therefore, it might indirectly become easier to raise octuplets than triplets.
Actually, this "extreme misery sells" concept is the whole premise of reality TV.  As another example, Angelina showed up on Jersey Shore: Family Reunion this season looking like a complete mess.  Not a big deal.  Not super-memorable.  However, she then had a "period-sh!t" on TV, and, all of a sudden, we were blessed with the most memorable moment of the season.  Being a garden-variety complete mess was a minor inconvenience for Angelina, but I would like to think that having the entire world remember her as being "period-sh!t girl" is extreme misery….except for the fact that she has stayed much more relevant, famous, and (therefore) rich because of it.  Extreme misery pays off.
Basically, this extreme misery is just "life tanking".  For years, the 76ers knew that they were not good enough to compete for NBA Championships, so Philly was better off losing to earn better draft picks.  Now, the team is good and ready to compete for championships.  Was Angelina really that different from the Sixers?  Had Angelina been merely "normal-level trashy", it would have been like having "only" triplets", deGrom winning 13 games this year, or the Sixers churning out a few #8-seeds and non-lottery draft picks.  Instead, Angelina showed that she could "trust the process" by doing the "period sh!t", something that 99% of women would not want to do in front of even one other human, much less the whole country.  The action was memorably disgusting but led her back to fame and money.  Angelina was not going to use success to earn fame or fortune, so she tanked her way to fame and fortune.
Therefore, if the Mets want to earn deGrom a Cy Young Award and augment his Hall of Fame credentials, they should put the worst-possible lineups on the field every time deGrom makes a start.  In other words, the Mets can continue doing EXACTLY what they have been doing for deGrom for four months, and deGrom will achieve his "extreme misery" and his Sixers/Angelina/Octomom payoff in the form of a Cy Young Award.  Keep trusting the process, Jake and the Mets.