During Spring Training, Mets manager Mickey Callaway earned great praise for the positive energy he had brought to Spring Training.  I also read of players complimenting the fact that all of the Spring Training drills had purposes, as if Terry Collins had always been orchestrating a bunch of useless drills in his Spring Training workouts.  That seemed like a bogus claim to me, but it was not the silliest thing that I heard this spring.  To the contrary, the silliest thing I heard was when Callaway mentioned that he wanted Steven Matz, Matt Harvey, and Zack Wheeler to pitch 4 innings per start.  At the time, Callaway also discussed having relievers be able to pitch multiple innings to make up for those short starts. While the idea of having relievers pitch multiple innings was and is a good one, the idea that a bullpen could collectively handle such a massive workload was and is not.  Nevertheless, in the spring; reporters, players, and some Mets fans thought that all of Callaway's ideas were wonderful.  I was not one of these people; I thought Callaway's idea to use starting pitchers for so few innings was a recipe for disaster.
In fact, when I heard all of the premature praise for Mickey Callaway, it reminded me of the scene in Step Brothers in which Seth Rogen's character compliments Dale and Brennan for showing up for a physical-education job interview in tuxedos.   "It's ironic.  I get it."  Anyway, why did the Callaway situation remind me of this scene?  First off, most things in life remind me of Step Brothers.  Secondly, I knew that there was no way that the bullpen strategy could work over a 162-game season.  Thus, applauding the strategy in March was like Rogen applauding the tuxedos.  I figured that, when the strategy ultimately blows up, and Callaway's over-the-top positivity for a bad team quickly runs stale; all of his one-time sycophants would say, "OK, now the 4-inning starts (aka the "tuxes") seem kinda f$%#ed up".  If this analogy has gone over your head, please go watch Step Brothers immediately.  Then it will all make sense, and the movie is one of the funniest movies of all time.  You are welcome.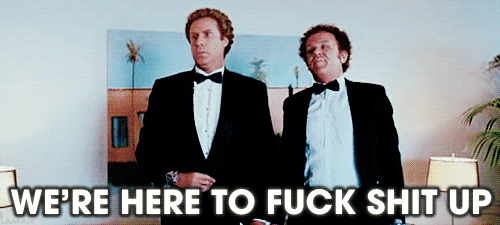 Anyway, enough with the analogy.  I do give Mickey Callaway credit for the idea of pitching relievers for multiple innings.  I have been preaching this idea since 1998 when I first wrote to The Record, stating that, if Turk Wendell has pitched a good 8th inning, he should be allowed to pitch the 9th.  That part of Callaway's logic makes perfect sense.  We know that Callaway rightfully includes warm-up pitches in his consideration for how much work a pitcher has received.  We know that he hates "dry humping", and, by that logic, it is more efficient to have a pitcher throw 70 innings in 35 appearances than 70 innings in 70 appearances.  The latter means 35 more games in which the pitcher has to throw several warm-up pitches in the bullpen.  I agree with Callaway on all fronts here.  Furthermore, some days a pitcher "has it".  Some days a pitcher does not.  Therefore, I have never liked taking out a pitcher who clearly "has it".  If you go through 6 or 7 pitchers in a game, the law of averages says that at least one (and likely more) of those pitchers will not "have it" that day.  Therefore, you might as well stick with the guy who has been effective in that game.
That all said, the benefits of this strategy go out the window when you have three pitchers who rarely make it past four innings.  I should add that some of the unwarranted preseason praise for Callaway intimated that Callaway would be able to fix Matt Harvey.  That clearly proved not to be the case.  Meanwhile, I am not going to blame Jason Vargas's horrific performances on Callaway, but the fact remains that we are stuck with three Mets pitchers who routinely exit after 4 or maybe 5 innings.  That was Callaway's plan anyway, and it does not work.  You cannot sustain a bullpen under those circumstances.
It does not matter if you are using relievers for an inning apiece or multiple innings apiece; if you need five innings of relief three out of every five nights, you will destroy your bullpen.  If we assume that Jacob deGrom and Noah Syndergaard give a combined 13 innings per rotation, the Mets need 20 bullpen innings per rotation, and that equates to roughly 650 bullpen innings per season.  Keep in mind that a dependable workhorse reliever is good for 80 innings per season.  The standard modern workhorse, in that case, would make 80 appearances and average one inning per appearance.  Fortunately, Callaway has allowed pitchers to make multiple-inning appearances.  However, if a pitcher like Seth Lugo or Robert Gsellman pitches 2 or 3 innings in a relief effort, he should not be pitching in the next two games or really the next three games.  THAT is how you maximize the effectiveness of a relief pitcher.  It is not only the longer outings but it is also the longer rest.  Ideally, a team should be able to use two relievers per game.  This would keep all relievers fresh, as they would regularly get two or three days off in a row.
The problem is that this idea would only work well in an era in which starting pitchers routinely pitch seven innings.  Such an era would require only 320 relief innings per season.  If a team has 4 good relievers, the team can satisfy the bulk of those 320 innings with only those four relievers.  Plus, if those relievers could make 2-inning appearances with some regularity, these relievers would receive enough rest to stay effective.
On the other hand, the Mets need the afore-mentioned 650 bullpen innings.  Yikes!  Is the Mets' bullpen terrible?  No.  It has four dependable relievers – Jeurys Familia, Lugo, Gsellman, and the injured Anthony Swarzak.  How many teams have more than four dependable relievers?  2?  3?  Many teams would be happy to have four dependable relievers.  However, when your team's strategy is to have 650 bullpen innings (as I have projected for the Mets), and you have only four dependable relievers (who we will generously say are good for 80 innings apiece); you are stuck with the unenviable choice either a) coaxing 330 innings from the other relief pitchers, who are generally terrible, b) completely overworking the good relievers to the point where they are injured or no longer dependable, or c) both.  Actually, who am I kidding?  The only answer is "c".  This is the sole logical result, given that teams do try to use the bad relievers; the bad relievers get bombed; and the teams must then use the good relievers.
Case in point: Seth Lugo on Memorial Day.  This guy has dominated all year, but he has been overused.  Callaway wanted Lugo to get a 2-inning save in the first game of a doubleheader, so that he could save Familia for the nightcap.  I do not think it is bad strategy, but it would have been much better strategy if Lugo had not pitched so many innings already.  Lugo has pitched 32.2 innings, and Gsellman has pitched 33.3.  Lugo's 20 appearances are not bad for a 51-game stretch, but he, like Gsellman (25 appearances), is on pace to pitch more than 100 innings, an untenable total for a reliever.  (I would still love to swap Lugo and Wheeler; given that Lugo has been an effective starter and that Wheeler has an innings' limit.)  Unfortunately, the Mets are burning out their best relief pitchers.
The funny thing is: this same exact issue happened for the Mets last year.  In fact, I wrote an article about how the Mets' starting pitching was atrocious and responsible for the bad bullpen performance.  The Mets' bullpen performed well at the beginning of last season too, but those relievers became overtaxed and lost effectiveness.
The truth is that there are only two ways for a team to be successful while having as many 4-5-inning starts as the Mets do:
The team must have at least 6 good relief pitchers.
The team must have fantastic position players.
It is great to have six good relief pitchers, because that would cover 480 of the 630 relief innings.  That is a workable ratio.  However, let's be honest.  How many teams have 6 good relief pitchers?  The Yankees did last year, and so did the 2006 Mets (Billy Wagner, Duaner Sanchez, Aaron Heilman, Pedro Feliciano, Chad Bradford, Darren Oliver); but it is a huge rarity.  No, the only way to expect success with such undependable starting pitching is to have a dynamite offense, and the Mets do not have that.   The Mets have a bunch of old guys who would be on the benches of most other teams, some younger guys who are currently no better than #7 or #8 hitters, and one phenomenal hitter who can never stay healthy.  Mickey Callaway cannot fix any of these problems, but he cannot fix the pitching problems any better than Terry Collins could.  That is why the preseason praise for Callaway seems as f$#@ed up as the tuxes.  I do not think he is a bad manager, but he does not have the ability to fix the major problems with the Mets' roster.