Obviously, anyone who is an athlete is going to have an argument that their position is the hardest. And they might have a few points here and there, as really no sport is "easy". But if you're going to tell me with a straight face that being a professional bowler is harder than trying to outrun 225 pound linebackers, then your opinion is invalid and you probably punt in Madden. You have to consider the likelihood of success, the necessary athleticism, the work that goes into being out there every day, and who your opponents are. With that said, here are the five hardest positions in sports.
5. Soccer Goalie
The thing about being a soccer goalie, which I can tell you from my four years of experience as a stud rec soccer goalie on an undefeated team, is that there is a lot of instincts involved. You have to know when to come out, when to stay, and even if you make the right decision, you can get a ball coming at your skull with the intention of taking you along with it into the goal. You also have a massive amount of space to defend (24 feet wide, 8 feet tall) when forwards and wings can be infinitely close to you. I mean, you're telling me you, or anyone else, plans on stopping this?
4. Baseball Pitcher
As some of you may know, I myself am a pitcher for Ramapo College baseball. And let me tell you, there are times when it's physically impossible. Mechanics need to be perfect in order to have the ball go where you want to go, and even if you do everything perfect, the ball could still get absolutely creamed on by hitters. The reason why I don't consider this to be higher on the list is some guys can pick up a baseball and throw 100 MPH with no problem, and they never have to put in the extreme amount of work other positions may have to. But, when your average guy is on the mound, the gif below describes perfectly what we, as pitchers, think is going to happen.
3. Hockey Forward
The whole ice thing to me is just insane. Maybe it's just because I don't play hockey and can't skate for more than seven seconds at a time without falling, but the fact that people can compete against each other at a high level on that terrain is unfathomable to me. Now you have to add in the ability to be able to stick handle, pass, and score on a goal that probably doesn't have more than a foot (if you added up all the space) of open space to shoot at. I'll get to goalies later…
2. Quarterback Football
Easily the position in all of sports with the most pressure, I don't care what anyone says. Despite ability, if you are the quarterback for a team, you are automatically one of the faces of the franchise. You'll never know the name of every back-up offensive lineman in football, but if I asked you who Brandon Weeden is, most of you would have a clue. Added to this pressure, you now have to guess where receivers will be down the field while dodging immensely large defensive ends and linebackers who wants to hurt you in every way known to man. Oh, and you have to know EVERY play in a playbook of 100+ plays, and tell everyone their assignment for 50+ times a game.
1. Hockey Goalie
There was simply no doubt in my mind about this one. Let's not forget that in addition to trying to stop 100+ MPH slap shots while another human, sometimes your own teammates, are entirely blocking your vision and have less than a second to react, they are also on ICE. ON ICE. LIKE DISNEY. Most people look like this on ice: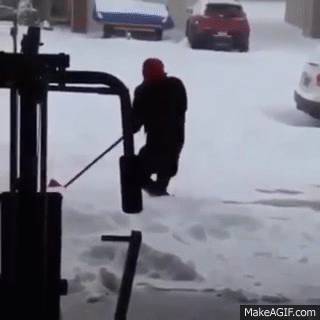 But, now you have to stop guys, who train night in and night out for their whole life, from scoring on YOUR goal! You have to make sure nobody slips a 1-inch puck through your 5-hole. There is absolutely no harder position in all of sports than a goalie.
Maybe I left a few out, but these are the hardest in my humble, amateur opinion. Let me know what you think in the comments below.