What is the greatest piece of art ever? I've asked this question to some of my friends before, and their responses largely consisted of da Vinci's Mona Lisa, Michelangelo's Sistine Chapel ceiling, van Gogh's Starry Night, etc. All brilliant masterpieces. All the wrong answer. There is one glaring omission from my friends' responses that happens to be the one, true correct answer: Mount Rushmore. When asked the prior question, the fact anyone could say anything other than the granite-faced sculpture carved into the Black Hills of South Dakota is actually laughable. And anyone that disagrees is an abject fool. Not only does it depict our great nation's four founding fathers, but the sheer size and accuracy of the presidents depicted absolutely blows my mind. Think about it. The 60-feet height of each head is unprecedented. The striking resemblance to the real life presidents is uncanny. Sculptor Gutzon Borglum found a giant cliff and just decided to carve four U.S. presidents into the side of it. Where the fuck did he start? The top? The bottom? Washington's nose? The idea of the whole thing is unfathomable.
Anyway, I'm not here to argue history's greatest piece of art because there is no argument. So before you comment, "But the Renaissance masterpiece that was the Mona Lisa is still the most recognizable and visited artwork today," let me segue into the reason I'm actually writing this article. No stranger to sports debate, Mt. Rushmore commonly provokes the discussion of who belongs carved into the Black Hills of basketball, football, baseball, etc. Thinking about this, I later began thinking about the Mt. Rushmores of other aspects of culture, such as Hollywood, music, drinking, etc. And THEN, I had the idea of Mount Rushmore Mondays. Starting today with sports, each Monday of April I will post a new slate of Mt. Rushmores. The best of the best of the best aspects of American culture.
Here's the lineup:
Week 1 (Mon. 4/2): Sports
Week 2 (Mon. 4/9): Movies
Week 3 (Mon. 4/16): Television
Week 4 (Mon. 4/23): Music
Week 5 (Mon. 4/30): Miscellaneous
Why Mondays, you may ask? Well, alliteration… obviously.
*NOTE: The Mt. Rushmores aren't purely based on who was the best or most accomplished, but also very much based on overall influence and impact. I also won't be making an NHL Mt. Rushmore for this week due to my lack of knowledge of the sport.
So without further ado…
Mt. Rushmore Monday Week 1: Sports
Mt. Rushmore of the MLB
Babe Ruth
The Sultan of Swat is a lock on this list. Fueled by beer and hotdogs in an era when nobody would hit many more than 10 home runs in a given season, Ruth's 714 career dingers made him the first real home run hitter in baseball's history. From his "called shot" to the "Curse of the Bambino," Ruth left his mark on the history of baseball and all of sports.
Jackie Robinson
How can the man who broke the color barrier not be on this Mount? His number 42 is retired across baseball for crying out loud. Jackie was great. Was he the best player of all-time? No. But what he did for baseball is something that changed the landscape of sports for the rest of history.
Hank Aaron
As the great Vin Scully said when Aaron hit number 715 to break the Babe's homer run record, "A black man is getting a standing ovation in the Deep South for breaking a record of an all-time baseball idol." This was not to be taken lightly. It was a great moment for Aaron, a great moment for baseball, and a great moment for the country. There's gotta be a spot on this Mount for Hammerin' Hank, the REAL Home Run King.
Cy Young
The "Pitcher of the Year" award is literally named after him. That should say it all. Cy's 511 career wins rank first all-time, almost 100 wins more than #2, and is one of the few unbreakable records in sports.
Honorable Mentions: Willie Mays, Roberto Clemente, Cal Ripken Jr.
Mt. Rushmore of the NBA
Michael Jordan
I mean, what is there to say. Even after a career in which he went 6 for 6 in the NBA Finals and defeated the MonStars alongside Bugs Bunny, Air Jordan went on to build a billion dollar shoe empire. If anyone asks who you think is the G.O.A.T., the safe answer is always MJ. Next question.
LeBron James
He's really the only one who has come close to reaching MJ's greatness. The way King James can score, pass, rebound, and defend all five positions is something out of 2K create-a-player. 15 years into his historic career and he is still having his way with the NBA, looking to add ring #4 to his collection. I don't think there will be another player that can play this great for this long ever again.
Kareem Abdul-Jabbar
Six rings. The NBA's all-time leading scorer. A 19-time all-star. Kareem's resume speaks for itself. He also was the one behind the most unstoppable shot in history, the skyhook. Before MJ, Kareem was considered the best of all-time. Not to mention his double life as airline pilot Roger Murdock.
Magic Johnson
If his career wasn't shortened due to his battle with HIV, who knows how much more Earvin Johnson could've done with his career? He really only played until he was 31 (aside from a 32-game comeback at age 36) and he still won 5 rings. The fact he is even still alive is unbelievable. Truly the greatest passer in NBA history, Magic deserves a spot in this Fab Four.
Honorable Mentions: Shaquille O'Neal, Larry Bird, Kobe Bryant
Mt. Rushmore of the NFL (QBs only)
It's a QB-driven league, so QBs deservedly get their own Mt. Rushmore.
Tom Brady
I hate the man, but I have to recognize his greatness. Most wins (223) as a QB. Most Super Bowl wins (5) and appearances (8) as a QB. 40-years-old and he's still at the top of the NFL. Brady has been the face of the NFL (and Uggs) for the past several years, and really is the G.O.A.T.
Joe Montana
Before Brady, Montana was widely considered to be the best QB of all-time. His 4 rings were the most ever for a QB at the time and he's the man who threw the ball that became known as "The Catch" in the 1981 NFC Championship Game. And according to a few S.C.L.S.U. Mud Dog fans, he was the best tackler until Bobby Boucher stepped on the gridiron.
John Elway
Before Elway was the Super Bowl-winning GM for the Broncos, he was the Super Bowl-winning QB for the Broncos. After years of falling short of the Lombardi Trophy, Elway finally found his two rings in the last two seasons of his career. Just as Montana had "The Catch," Elway had his fixture in NFL lore with "The Drive" in the 1986 AFC Championship Game.
Peyton Manning
The only knock on Peyton's legacy is his lack of post-season success, and he's still got two rings. The eldest Manning brother is the greatest regular season QB in NFL history. He's the record holder for most passing yards in a season and career, most passing touchdowns in a season and career, and shares the record for 7 TD passes in a single game. Just don't let him around your kids…
Honorable Mentions: Brett Favre, Dan Marino, Johnny Unitas
Mt. Rushmore of the NFL (non-QBs only)
While the NFL is a QB-driven league, the non-QBs deserve love, as well.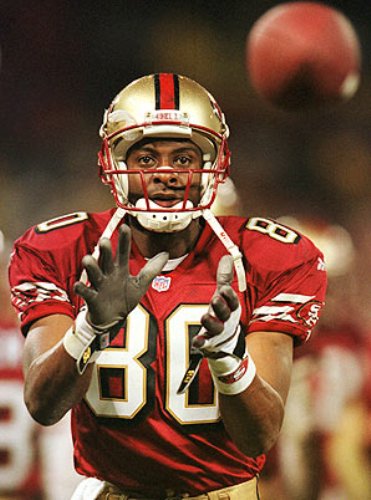 Jim Brown
The oldest player on this list might be the most deserving. Probably the greatest ball carrier in NFL history, Jim Brown made the Pro Bowl every season he played, was a 3-time NFL MVP, and won a Super Bowl with the Browns (Yes! The Browns were actually good!).
Jerry Rice
If Montana gets his spot on the Mt. Rushmore of QBs, it's only fitting that Rice gets his spot on this Rushmore. He's a 12-time All-Pro and is the all-time leader in receptions, touchdown receptions, and receiving yards. What more needs to be said?
Walter Payton
The late, great "Sweetness" wasn't just one of the best players in NFL history (which he was), but he also left his mark on the world through his efforts to spread awareness for organ donations and his charity work, which continues through the Walter and Connie Payton Foundation. There's a reason why the NFL Man of the Year award was named after him.
Lawrence Taylor
I can't forget about defense. Many say Taylor's the best defensive player in NFL history, and he has the resume to back it up. Two Super Bowl championships, 10 All-Pro appearances, and an NFL MVP (one of just two defensive players to ever win the award) later, the original L.T. will forever be remembered for terrorizing opposing offenses.
 Honorable Mentions: Barry Sanders, Deion Sanders, Adrian Peterson
Mt. Rushmore of Coaches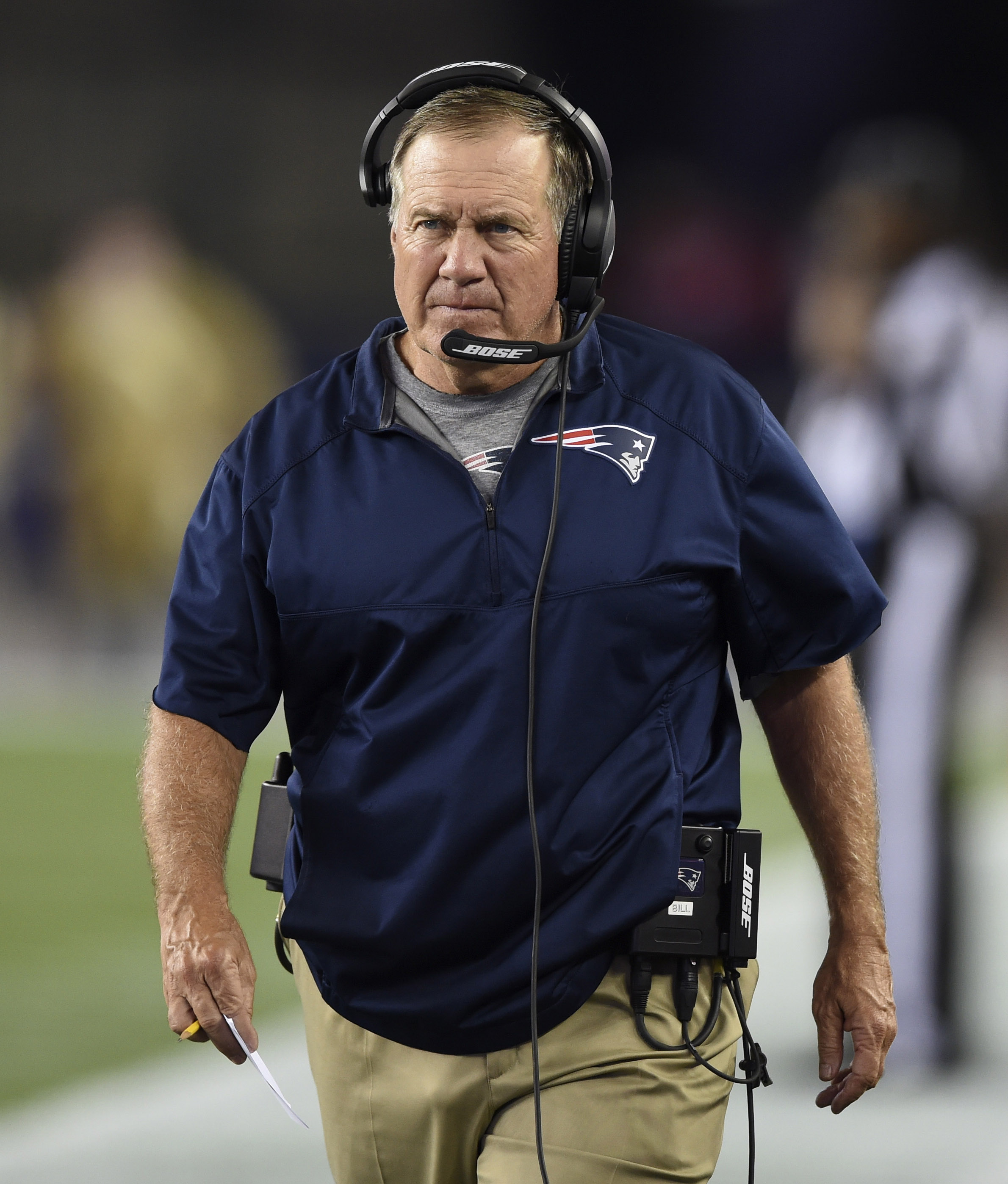 Bill Belichick
Just as Tom Brady is the greatest QB of all time, Belichick is the greatest head coach of all time. They go hand-in-hand. After winning 2 Super Bowls as a defensive coordinator with the NY Giants, he's gone on to win a record 5 Super Bowls (and counting) as the head coach for the Brady and the Patriots. He's truly a football genius.
Phil Jackson
We'll forgive Jackson for his unremarkable playing career and embarrassing job as Knicks president. Thanks to an NBA coaching record 11 titles, the "Zen Master" will be remembered for his innovative triangle offense that helped bring 6 Larry O'Brien Trophies to Chicago and 5 to Los Angeles.
Mike Krzyzewski
While we may never know why his last name is pronounced the way it is, we will always know Coach K as likely the best coach in NCAA basketball history. Since taking over the reins as Duke head coach in 1980, he's won 5 national championships and is officially the only coach to win over 1,000 games (s/o to the O.G. Jim BAE-heim). Coach K has also won three Olympic gold medals as the head coach for USA Men's Basketball.
Vince Lombardi
At the conclusion of the most viewed television event each year, a lucky team walks away with the Vince Lombardi Trophy. Just that should tell you the impact the head coach for the Green Bay Packers had on the game of football. Before the NFL-AFL merger, Lombardi won 5 NFL Championships in 7 years. After the merger, he won the first 2 Super Bowls. I don't really think I need to say much more.
Honorable Mentions: Pat Summit, Gregg Poppovich, Joe Torre
I hope you enjoyed reading Week 1 of Mt. Rushmore Mondays. If you agree or disagree with my selections thus far, we welcome any and all comments. Just know, I likely won't care at all.
Looking forward to next Monday April 9th: Mt. Rushmores of Movies