FINALLY this offseason is starting to heat up a little. I've been dying to write about baseball, but literally nothing has happened. A few free agents remain unsigned, but the bulk of the "big names" have found a home. Teams, for the most part, have their rosters ready to go into Spring Training.
Obviously this year you are going to have the powerhouse teams, and the bottom-of-the-barrel rebuild teams, but what about the dark horses? The ones that have always found themselves somewhere in the middle, but never leaned one way or the other, and now they have a legitimate chance to contend for a playoff spot.
PADRES
Key Additions: SS Freddy Galvis, 1B Eric Hosmer, 3B Chase Headley
The San Diego Padres have been a joke for a really, really long time.  I've watched the sport since I was six, and I honestly cannot remember a time they were even close to good. But I think 2018 might be their year to be slightly above average! Adding some depth to their lineup in Hosmer, Galvis, and Headley (his name still sends chills down my spine), in addition to their talented young outfielders (Margot, Renfroe), can actually make them a threat on the offensive side of things. But their rotation lacks any consistency, so don't expect them to be making a wild card push this season. I'd consider anything over .500 a wildly successful season for the Padres.
ANGELS
Key Additions: SP/OF Shohei Otani, SS/3B Zack Cozart, 2B Ian Kinsler
With the Messiah in center field (others call him Mike Trout), the Angels are always going to contend in some way. But I'm legitimately excited to see them contend in the AL West this year. They are getting a full season out of slugger Justin Upton and added All-Star infielders, in addition to already having defensive wiz Andrelton Simmons and Albert Pujols.
But, of all the teams in this blog, they have the highest chance of failure. With the exception of Otani, they are bringing in old, declining talent, with the hopes they are the players their reputation holds them to. Upton could begin to lose power like Pujols has already done, as could Kinsler. Cozart is no sure thing, especially while playing a new position (3B). And what if Otani isn't ready? What if he pitches like a 24 year old is supposed to. They could fly high, or they could fall hard. It'll be very intriguing to see what happens.
CARDINALS
Key Additions: OF Marcell Ozuna, RP Luke Gregorson, RP Dominic Leone
After falling for the good ol' "Have Derek Jeter become the owner so he can trade that team's best player to his former team" trick, the Cardinals recovered quickly and added Marcel Ozuna to an already stacked outfield. With Dexter Fowler, Tommy Pham, and now Ozuna, their lineup is scary. They were already on the verge of being a playoff team, but with ace Carlos Martinez a year older, and a few added pieces to the bullpen, this squad could be ready for the postseason once more.
BREWERS
Key Additions: OF Lorenzo Cain, OF Christian Yelich
The theme of a "stacked outfield" continues here, but like the Cardinals, this team wasn't missing a whole lot. I don't think they're championship caliber, but a few midseason moves could direct them towards the promised land. They have some great prospects to dish out at the deadline, and Jake Arrieta still remains unsigned.  With the Cubs and the Cardinals both getting better this offseason, be on the look out for the NL Central to be best division in baseball.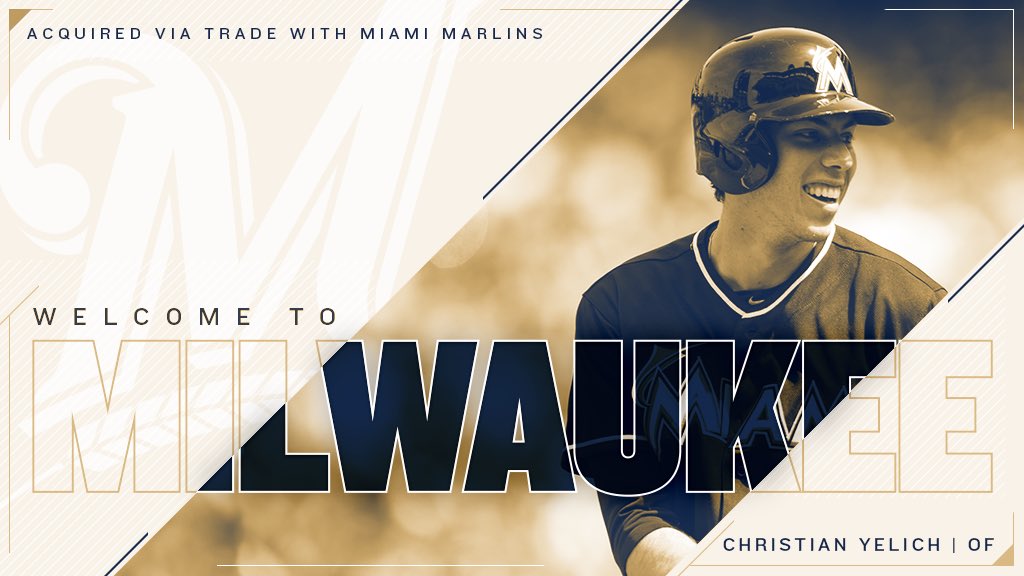 GIANTS
Key Additions: 3B Evan Longoria, OF Andrew McCutchen
It's an even year, so the Giants are automatically a contender. Minus the weirdest trend in sports, the Giants actually made significant moves to be a better team. Longoria and McCutchen are veteran players that still have something to offer, and getting Mad-Bum healthy already gives them a few more wins. I can see them switching between the 2nd and 3rd spot in the NL West throughout the year with the Rockies, and the Diamondbacks falling into mediocrity.
PHILLIES
Key Additions: 1B Carlos Santana, RP Pat Neshek
The Phillies didn't make a huge splash this offseason, but they are a young team that continues to get older, and this season could finally be the year they breakout as a unit. Fans got a glimpse of what OF Rhys Hoskins can do last season, and as their rising stars continue their gradual pace towards becoming All-Star caliber players, the Phillies have a chance to compete for a wild card spot come October.
MARLINS
Just kidding, they're a dumpster fire