I have not been this pumped for Olympic hockey since 1994, the last time that NHL players were not allowed in the Olympics.  I realize that I am in the minority with this opinion, but I do not mind being in the minority on sports opinions. (See "Eli Manning")
There are three major reasons why I dislike having NHL players in the Olympics.  I will list them now in declining order of importance.
I associate players with their current NHL teams. I cannot stop on a dime and change the players for whom I root for two random weeks in February, only for me to change back at the end of those two weeks.  This issue became most pronounced in the 2002 Gold Medal Game.  In that game, two players were on the ice for the full 60 minutes – Mike Richter and Martin Brodeur.  Yes, Ranger Mike Richter and Devil Martin Brodeur.  Yes, American Mike Richter and Canadian Martin Brodeur.
While I have written in the past about my strong dislike for the Yankees, I despise the Rangers a thousand times more.  I cannot stand the Rangers.  I loathe the Rangers.  Anyway, from 1993 through 2002, I watched countless Devils/Rangers games featuring Martin Brodeur and Mike Richter.  To that point, I had always rooted for Brodeur, my all-time favorite athlete, to come out on top over Richter.  However, now that the players were wearing different uniforms for two weeks, I was suddenly supposed to change for whom I am supposed to root?  Look, I agree with Jerry Seinfeld that, in sports, we are really always just rooting for laundry.  (Sidebar: I love Todd Frazier now!)  However, expecting me to overhaul my rooting habits for a mere two weeks in the heat of the NHL season (and then overhaul them back again) seemed patently ridiculous. Thus, I found myself rooting for Team Canada on that day in 2002.  I am not proud of that, but, given the circumstances, I find my actions defensible.  Meanwhile, this issue did not disappear after 2002.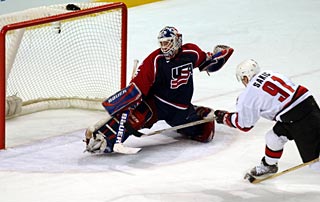 In subsequent Olympics (2006, 2010, and 2014), I have rooted for Scott Stevens, Scott Niedermayer, and Patrik Elias on other countries' teams.  Meanwhile, I have rooted against Rangers, Flyers, and Penguins on the American team.  In fact, there was no post-1994 Olympics – until this year's – in which I found myself pouring all of my heart into the US Olympic men's hockey team.  Once a player is playing for an NHL team, I associate him with that team, not with his country.   (Do not get me started on the World Baseball Classic, which will not "happen" until long after "fetch" "happens".  Also, I would never root for Bryce Harper, Chipper Jones, or Derek Jeter!)  Plain and simple, my emotions are too fragile and my loyalty too deep to root for players one week, against them the next two weeks, and for them again afterward (and vice versa).
Having NHL players in the Olympics makes zero economic sense for the NHL.   Can you imagine Adam Silver, Roger Goodell, or Rob Manfred stopping his respective season at the ¾ mark so that his top players can play in an intense, physical tournament for which his league receives ZERO revenue???  That is comical….and I am sure that all three of these commissioners and their predecessors have laughed at Gary Bettman because of it.  Interestingly, Islanders GM Garth Snow took flak four years ago for blasting the practice of having NHL players in the Olympics.  Snow spoke out after Islanders star John Tavares hurt his knee in the Olympics and thus missed the remainder of the NHL season.  Snow complained that a player under an NHL contract should not play for another team, risking major injury and/or fatigue, during an NHL season.  Somehow, many people thought Snow was out of line for his comments, which confounds me.  Snow was absolutely right.  (Fittingly, Garth Snow was a goalie on the 1994 US Olympic team, the last edition comprised solely of amateurs.)
Of course, some people counter my economic argument by saying that the NHL draws more interest following the Olympics.  Well, my friends, that argument is baloney.  It is Grade-A baloney.  There is not a single person who watches Olympic hockey and thinks to him/herself, "You know, I did not watch the NHL before, but now I am definitely tuning into the Flyers/Stars game next week."  That does not happen.  The NHL does not get a ratings bump off the Olympics.  People who would have watched the NHL continue to watch the NHL; people who would not have watched it continue not to watch the NHL.  It is no different than the situations with most other Olympics sports and me.  I love watching Olympic skiing, speed skating, luge, bobsledding, figure skating, curling, swimming, gymnastics, track and field, and slalom-kayaking.  What is the key word in that sentence?  "Olympic".  That is all I am watching.  The week after the Olympics, those sports are all dead to me, as they are to many Olympic fans.  Likewise, this is how hockey is for Olympic, non-NHL fans.  These individuals tune in for Olympic hockey and then wait four years to watch hockey again.
Given all that logic, why the heck should NHL teams be expected to expose their players to major injury and fatigue 5-7 weeks before the NHL playoffs?  It is asinine.  It is a major cost with no benefit for the NHL.  Sure, I know that players really want to be able to play in the Olympics, but that is life.  These players cannot have their cake and eat it too.  Plus, many of you know that I think the MLB season is too long.  Well, I certainly feel the same way about the NHL season, and having the players go to the Olympics makes the season even longer!  Craziness.  I am very glad that is not the case this season.
Lastly, I do not feel much American pride watching a team that has had all of one or two practices together suddenly play together in the Olympics. I do not feel much American pride watching a team that flies to the Olympics 3 days after the Opening Ceremonies and now plays 3 to 6 games together.  Both of these afore-mentioned scenarios describe the American teams of the previous five Olympics.  Meanwhile, if you have seen Miracle, you know that one of the joys of the 1980 American gold medal came from the adversity the team had to overcome over more than a year's worth of training.  "A bunch of guys from Minnesota and Massachusetts" spent months getting over their differences and individuality to realize that they were playing for one team.  These players committed themselves every day for over a year to their teammates and to winning a gold medal for the United States.
On the other hand, let us look at 2014. During the Sochi Opening Ceremonies, I was at The Rock, watching the Devils beat the Oilers in overtime.  Patrik Elias, Jaromir Jagr, and Marek Zidlicky suited up for the Devils that night, which is interesting considering that they were on the Czech Olympic team.  Similarly, the next night, I went to a bar in Hoboken.  On one TV, I saw the Olympics; on the neighboring TV, I watched the Capitals and US Olympic defenseman John Carlson defeat the Devils.  Thus, the Olympics had begun, yet most of the players on the top-8 Olympic hockey teams were still focused on their NHL teams.  Only a day or two later did the NHL Olympic players finally fly to Sochi, Russia, to commence their participation in the Olympic games.
It is very hard to get psyched to watch an Olympic team full of guys who were still playing NHL games during the first few days of the Olympics.  These NHL/Olympic hockey players spend little thought on their Olympic teams and gold medals before boarding those planes three days into the Games.  This does not exactly evoke memories of "Mike Eruzione…I play for the United States of America!!!"  Plus, some people claim that it is better to have NHL players in the Olympics, because Olympic medals are meant to reward the best players and best teams in the world.  However, in reality, it takes months for a hockey team to jell and for the cream to rise to the top.  The probability is relatively slim that the best hockey team will win the gold medal, given that the players have essentially no practice time, play three games, and then enter a single-elimination tournament.
Anyway, I have now listed and explained my three reasons why I do not like having NHL players in the Olympics.  Granted, I realize that many of the American players this year are not amateurs like we used in all of the Olympic Games through 1994.  Many of these players, like captain and Devils single-season goal-scoring leader Brian Gionta, have played in the NHL at some point.  Also, these players have not trained together for a full year or longer.
That said, at least these players been practicing together – as a team – in pursuit of a gold medal for a few months.  That is enough for me.  Plus, even if some of these players – like Matt Gilroy and Bobby Sanguinetti – did once play for the Rangers, it was a few years ago….not right now.  After a few years away from the Garden, I am able to erase the Rangers "stink" from a player, as I have with Devils Brian Boyle and John Moore.
This leads me to my last point.  In 1994, I had the pleasure of watching both the Devils and Olympic hockey on the same days.  That was one of the greatest thrills of my sports-watching life.  Throw in the facts that the 1993-4 Devils had their best season in history to that point and that the current Devils are now having their best season since 2012, and I am very excited to have a sports repeat of February 1994…minus Nancy Kerrigan, Tonya Harding, and a messed-up shoelace.