Haven't done one of these in awhile, or really blogged at all much recently. Shoutout to Rutgers midterms, you take years off of my life figuratively and literally. Regardless, I'm home chilling on break now and figured I'd blog about Thanksgiving. Since Mr. Walker and Googs have the football side of Turkey Day covered, I figured I'd break down the moves that you absolutely cannot make on Thanksgiving without me judging you. Here we go:
You Bring Up Politics at the Dinner Table
The only moment of the day everyone dreads is when politics inevitably gets brought up at the dinner table. You're kinda just sitting there waiting for your super liberal Aunt to passive aggressively bring up something Trump tweeted and then your hardcore conservative Uncle chimes in and there's no going back. No one wants it to happen but it always does. But if YOU are the one to bring up politics in any way, shape or form then you are a snake of Kevin Durant proportion. Just keep the topics simple. Football, how "crazy" the holiday season is, lying about your grades, telling your Grandma for the 1000th time you don't have a girlfriend/boyfriend; you know, the usual. If you bring up politics at Thanksgiving dinner, especially if you're of college age/younger, I definitely don't trust you.
Your Cranberry Sauce Doesn't Look Like This
Let's get one thing straight. When the Founding Fathers sent the Declaration of Independence, they intended cranberry sauce to look one way and one way only.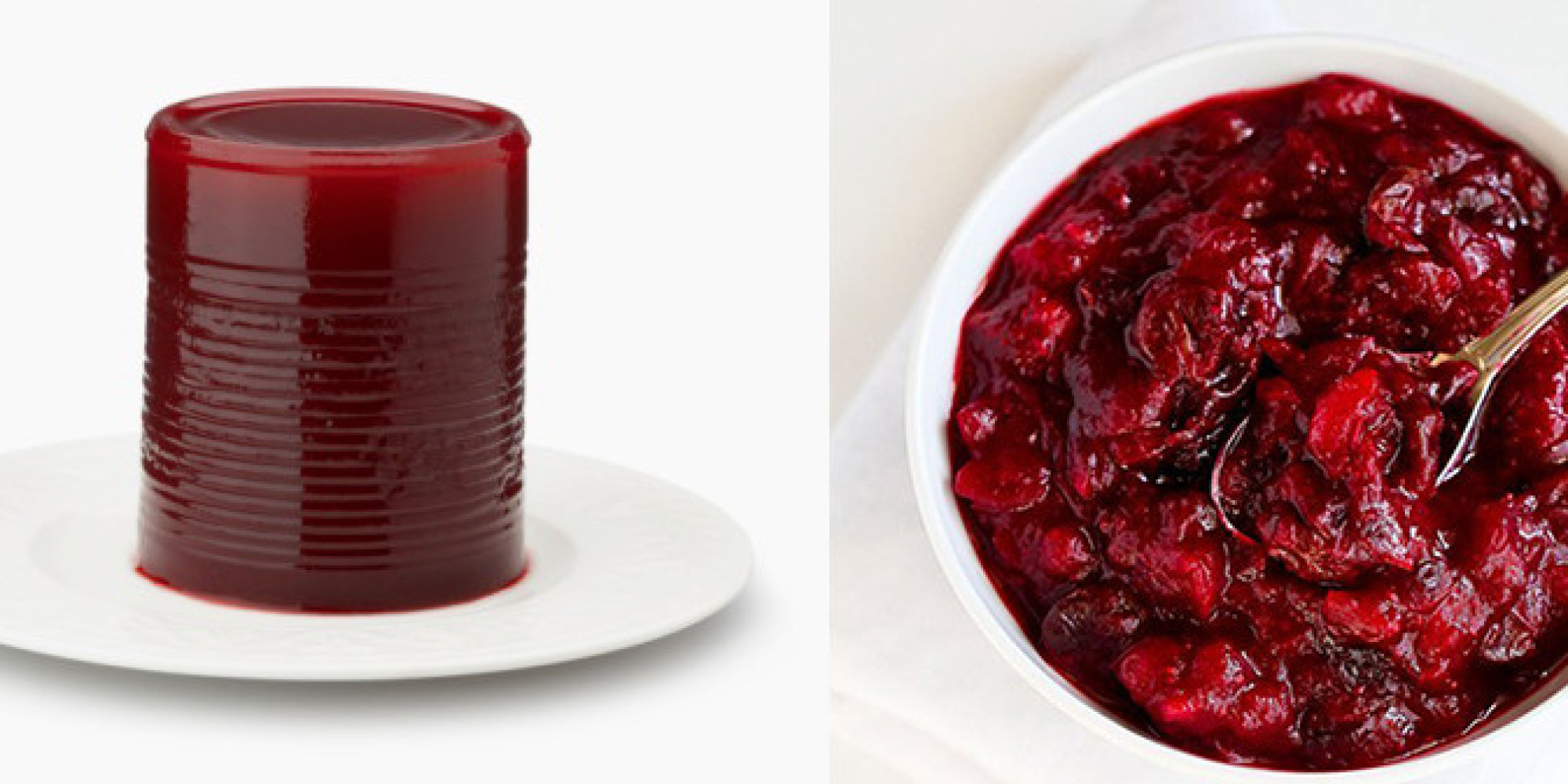 If your cranberry sauce doesn't look like the one on the left, you might as well go to sleep and try Thanksgiving again next year. None of this boujee-ass bullshit on the right. My cranberry sauce will come straight out of a can and look just like that can when I eat it. If you don't agree, I can't trust you.
You Say You "Don't Have Room For Dessert"
As if this was some sort of option? It's an unspoken rule that whatever food if put in front of you on Thanksgiving, you eat. You crush as many appetizers as possible, at least one full plate of dinner, and then a healthy helping of dessert. You can't just tap out after the turkey. No one said you could stop eating just because you're "full" or "about to puke" or "not having fun anymore." If you aren't fighting off your severe stomach ache to pound some dessert, then you don't deserve Thanksgiving. Go celebrate Groundhog Day or something you snowflake.
You Don't Make a Leftover Sandwich at Night
This one kind of falls in the same category as the last one. Obviously you're gonna eat way more than necessary on Thanksgiving. But if you don't wake up from your food coma nap at like 10 and think to yourself "damn I kind of want more food," I can't relate to you. A little turkey sandwich with stuffing and cranberry sauce is just what the doctor ordered as you try to keep your eyes open for the late football game (can't wait to watch the Giants lose it this year, #SuckForSaquon baby.)
You Go Black Friday Shopping On Thanksgiving
This one is honestly wild. First off, it's so sad that stores make their employees come in on Thanksgiving for sales like this, that's not fair. But if you're willingly leaving Thanksgiving dinner to go shopping, I trust nothing about you. Have these people never heard of the Internet? You can get everything you're about to shop for online and have it at your door in two days, well before Christmas. Why risk getting trampled by crowds or punched in the face by someone's Grandma when you could enjoy Thanksgiving and just shop later on from the comfort of your own home? As Forrest Gump once said, "stupid is as stupid does," and if you Black Friday shop on Thanksgiving Day you are in fact stupid. And that's all I have to say about that.
Thanks for reading, and Happy Thanksgiving everyone! Unless you're one of the people I mentioned in the blog, then you just need to figure it out.