I really hate doing this to you guys…but that right there is Clickbait 101.
Did Giancarlo Stanton get traded? Christian Yelich? Jacoby Ellsbury? Zach Britton? Nope, nope, only in my fantasies, and nope. But let me tell you who just bought a one-way ticket to a lifetime supply of free Starbucks.
Put your motherfuggin hands up Seattle, you just traded for Ryon "Explosively Average" Healy.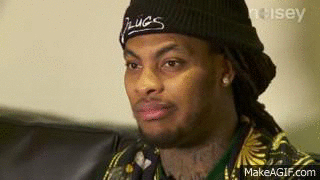 Not impressed? What about now?!
That's right, folks. That is two, count them TWO, rock-star hand signals. Elite.
Wednesday night, CBS MLB reported that the Mariners traded RHP Emilio Pagan and INF Alexander Campos to the Oakland Athletics in exchange for Healy. An actually somewhat decent player, Healy hit .271 with 25 HR and 78 RBI in 2017, and the Mariners plan to insert that stat-line into the middle of their lineup next season.
This is definitely something I'd consider a "Moneyball" move. Seattle is on the smaller market side of the MLB, despite what Robinson Cano's "Shut Up and Take My Money" contract implies, so the front office has to get scouts working overtime to ensure they have a decent team on the field in 2018. They need to look at the little things and small-name players, then find the nearest religious center and pray it works out.
Is Ryon Healy the answer to Seattle's playoff drought? Absolutely not.
Doesn't exactly look like he has that "IT" factor, but he is only 26. In a season in a half in the minors, he hit 38 dingers, so that could be cool. Something to keep an eye on, maybe he has a Yonder Alonso-type season and everything works out nicely in Seattle for once.
Regardless…trades, free agency, and all the exciting moves of the offseason are underway, with Ryon Healy and Co. as the headliners. It's a fun time to be a GM, unless you screw up really bad and get fired.  Good luck!