In the NFL, the MVP award is usually between the best quarterbacks and running backs in the league. In the league's history, there have only been two defensive players to win the award (Lawrence Taylor in 1986 and Alan Page in 1975) and one place kicker in 1982 named Mark Moseley. If that happened again though, I think at least 6 major American cities would burn to the ground out of sheer confusion.
Since this year the award is obviously between the league's top QBs and RBs, let's analyze some of the potential candidates, in the order in which they are favorites to win the award:
QB Tom Brady, NE
This is so boring, I don't even want to write about it. Yeah, yeah we get it. Tom Brady is the best player ever. He's the GOAT. Cool. Let's move on and just accept it. He's really good, and this year is no different.
STATS: 2,541 Yards, 16 TD, 2 INT, 106.5 QBR
QB Carson Wentz, PHI
Wentz showed spurts of being the franchise QB in Philly in his rookie season, but he faulted in decision making and consistency as the year continued, leaving the Eagles out of the playoffs. But in his sophomore campaign, nobody is doubting his ability anymore. He has the weapons around him to continue his success, and his escapability is something that is allowing him to escalate his game to an all-new level. Gingers have souls, and they may have an MVP award after this season too.
STATS: 2,063 Yards, 19 TD, 4 INT, 101.6 QBR
QB Russell Wilson, SEA
After somewhat of a slow start to the season, Wilson has elevated his play to MVP level during the Seahawks 4 game win streak. I'm hesitant to say the Seahawks would be a terrible team without @DangeRussWilson just because of their elite defense, but I can guarantee you they would be towards the bottom of the league in terms of offensive production. To put the rest of their offense in perspective, the Seahawks had 33 rushing yards yesterday against the Texans, and Mr. Wilson had 30 of them.  He is one of the most valuable players in the league.
STATS: 2,008 Yards, 15 TD, 4 INT, 100.4 QBR
RB Kareem Hunt, KC
Now THIS is exciting. A rookie who wasn't even the starter at the beginning of the year, and is pretty much only playing because Spencer Ware tore his knee apart. He exploded onto the scene against the Patriots in Week 1 and hasn't looked back. He and Alex Smith (see later) are carrying the Chiefs to what could potentially be their year to hoist the Lombardi Trophy. The only reason why neither of them will win the award is because they are on the same team, and it's hard to argue that somebody is the MVP when there is another MVP standing a few yards in front of him.
STATS: 1,070 Total Yards, 6 TDs
QB Alex Smith, KC
The former #1 overall pick is living up to the hype…12 years later. But hey, better late than never. Along with Kareem Hunt, they have the chance to take Kansas City to the promised land. I was actually in awe when I looked how good his stats were. NO INTERCEPTIONS?! Alex Smith is doing Tom Brady better than Tom Brady is doing Tom Brady this year. NOTE: I've heard if you say Tom Brady three times in a row in front of a mirror and spin around once he shows up at your house and perfectly spirals you out the nearest window. Could be just a myth. Idk.
STATS: 1,979 Yards, 15 TD, 0 INT
QB Deshaun Watson, HOU
If we're being bold…let's be bold. I called it right when I saw him defeat Alabama for the National Championship last year…this kid is special. He is the player people are going to look back on in 20 years and say "How did he fall so late in the draft?" Granted, Watson has the weapons around him to make his success possible. With DeAndre Hopkins and Will Fuller V running routes for you things could be worse (see DeShone Kizer). He won't win this award because he is still making rookie mistakes, but he deserves a nod through Week 8.
STATS: 1,699 Yards, 19 TD, 8 INT, 103.0 QBR
RB Todd Gurley III, LAR
The NFL is a weird place when the Rams are good. It's like when you see an ugly kid hooking up with a hot girl…things just aren't adding up. You keep on waiting for everyone to laugh and be like "haha it was just a joke that would never happen", but it hasn't happened yet. The Rams are still good, and this ugly kid is now dating a dime piece. Most of their success is thanks to the resurgence of Todd Gurley III. After a sad sophomore year, nobody expected Gurley to be relevant again. He was headed towards Steve Slaton territory. Thankfully for LA, who still doesn't know they have a football team now, he has turned it around and made the Rams a playoff team.
STATS: 920 Total Yards, 8 TDs
RB Leonard Fournette, JAC
See my rant about the Rams above as it applies to the Jaguars as well. The Jaguars should never be good either. But thanks to their star rookie running back, they have come forth to relevance. With their absolute need to run the football under Blake Bortles' incompetency, Fournette has been everything they wanted and more. Jacksonville is 4-3 and second in their division.
STATS: 732 Total Yards, 7 TDs
RB Melvin Gordon, LAC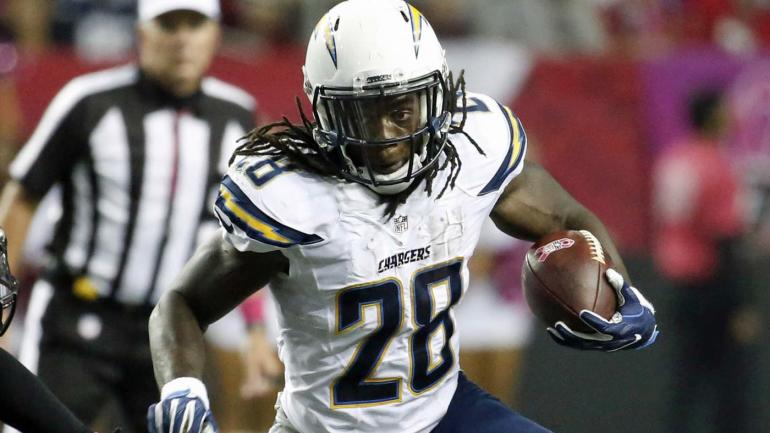 He won't have any chance at this award because the Chargers are not relevant right now, but this kid is giving everything to this team. Gotta respect it, and also gotta love having him in a PPR league. Guy's a stud.
STATS: 761 Total Yards, 8 TDs
If you think anyone else is a standout candidate that I missed, comment below and be sure to let me know how misinformed I am. Gotta get better. Thanks!