Note: Granted this blog was started by three Yankee fans, but we need some more Yankee hate on this blog. Everyone knows you can't have a great sports blog without hating on/making fun of teams like the Yankees, Cowboys (unfortunately), Patriots, Warriors, etc.
All Rise, and let me paint a hypothetical for you to start this out. Say you are a standard Yankees fan who lives in the tri-state area. If you are my age, you grew up watching the Red Sox send out David Ortiz, Manny Ramirez, Pedro Martinez, and other players who were on their championship teams in 2004 and/or 2007. Naturally, you hated these guys and those teams, for the most part simply because they were all Boston Red Sox and you hated that team. Flash forward to the last couple of seasons, the Red Sox have brought in young talent such as Mookie Betts, Jackie Bradley Jr., and Andrew Benintendi, just to name a few. All of these guys have been good guys on and off the field, and of course are loved by Red Sox fans. If you are a Yankee fan, you may not hate these guys as much as you hated the 2000s Red Sox (yet), but you naturally root against these guys and hate on them because as good as they may be, they play for the Boston Red Sox.
My point? As a Mets fan, don't tell me I can't root hard against Aaron Judge and the rest of the Baby Bombers just because they're great players.
The Mets are not nearly as much of rivals to the Yankees as the Red Sox, but the Mets have always been the little brother of NYC baseball. The beta. There is no getting around it. It stinks as a fan to watch your team suck on the field, while watching the other team in town constantly succeed. But let's get back to the hypotheticals. Say you are a Mets fan. You don't care at all that the Diamondbacks had a much better year than the Mets and that Paul Goldschmidt is a star. But say you know someone (whether your friend or someone you hate) who is cocky and rubs it all in your face how good the Diamondbacks are and how amazing Paul Goldschmidt is. You naturally are going to root hard against the Diamondbacks and especially Paul Goldschmidt because of how annoying and cocky this fan has been all year. But now picture knowing hundreds of those fans and dealing with them every single day for years, you live in that area, and that team is has been relevant for your entire life and has historically been the best team in the history of American professional sports.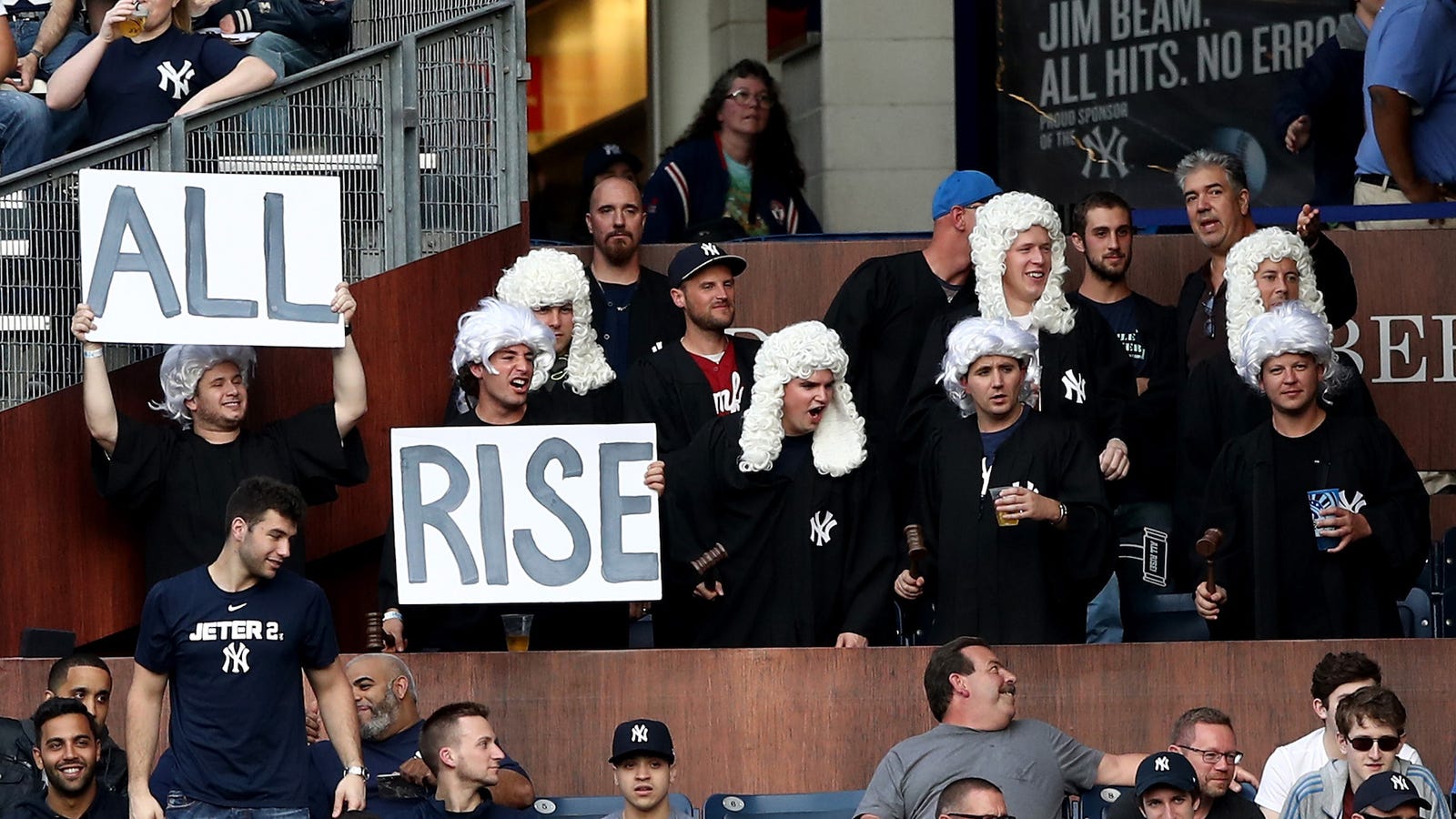 And of course
Games 3 and 4 between the Yankees and Indians may have been the biggest assortment of these assholes (shoutout Stanzo and Dave who went to both games) in the history of the world. And just picture how much crazier this would be if the Yankees hadn't blown Game 2 and had just stunned the Cleveland Indians in 4?
For the first 19 years of my life, essentially all I knew was Met failure and Yankee success. Despite the fact that no Yankee fan my age is old enough to remember the late 90s (and stop lying if you say you remember) and are really only old enough to remember one Yankee championship in 2009, all of these fans grew up only knowing Yankee success and Met failure. In other words, my team has been the punch line for the last 21 years, but especially the first 19. Then things began to change in 2015. 2015 was the Yankees first season in the post-Derek Jeter era. Despite the fact that the Yankees actually made the playoffs that year (which they hadn't done in Jeter's final two seasons) it still felt as if the Yankees were on a decline and this was not the same team. At the same time, the Mets were having their best season in nearly 10 years, and they were very exciting to watch. When the Mets were on their postseason run, Yankee fans were pretty divided on how they felt. Some just did not care about baseball that season (but do now, ironically). Most of the fans highlighted in the images above were very annoyed that the Mets were better now and completely rooted against them, which I have no problem with. And then there were fans who were actually rooting for the Mets.
Honestly, I think these fans are the worst ones. That's because the Mets postseason run was a win-win for these fans. If the Mets won the World Series, they could act happy and say they are fine with it because their team wins all the time so seeing little brother win isn't so bad. But once the Mets lost, they could go back to making fun of the Mets and dancing on their fans' graves. 2016 went by, the Yankees were not as good, and the Mets dealt with a lot of injuries, but ultimately made the playoffs again only to get bounced in the Wild Card game.
But 2017 came, and order was restored in the city. The Mets both underperformed and dealt with some brutal injuries to the players that had carried them the previous two seasons, and the Yankees look like they have a young core that could be great for awhile. Aaron Judge was obviously at the center of all of this, as he absolutely exploded in the first half. Next thing you knew, Yankee fans felt like Yankee fans of the past, and Judge Chambers was established in the Right Field seats. In my article previewing the ESPYs, I admitted I felt Judge was deserving to be a co-winner of the Breakthrough Athlete award along with the QB of my favorite football team, Dak Prescott. Dak is a great leader, humble, and overall a person who has dealt greatly with adversity both on the field and in his personal life. If you are a Giants fan, you may admit all of these things. But don't act like the young Cowboys of Dak and Ezekiel Elliott did not become annoying with all of the success they found, and that you did not root against them in the playoffs last season. In that sense, Aaron Judge is to me as Dak/Zeke is to Giants fans (and that is ignoring Zeke's off the field issues the following offseason).
But then Aaron Judge hit a mid-summer slump that happens to almost every power hitter at some point in a season. Suddenly, the Yankee fans were challenged. The smart ones were not worried, but may have been a little at one point because the slump was very prolonged. Pessimistic fans felt the first half was a complete fluke. But the fans who were out and about for the first time since Derek Jeter's walk-off single were still taking pictures of him at games and obsessing over him. It's almost like these were the smartest fans in the end because they continued to treat him like God despite the fact that he was striking out every single night. It was great too see these fans think he was going to homer every single night, but then strike out every night, and in a typical Yankee fan response would just say "who do the Mets have".
Things of course picked back up in September for Judge, and I was actually at Yankee Stadium to see his 49th and 50th home runs (I was there to see my roommate's brother, Royals reliever and former Marist Red Fox Kevin McCarthy). I'll admit, I was rooting for it and it was awesome to see in person.
Throughout the playoffs, almost every Yankee fan has been significantly more excited for Judge's at bats than any other player's. Rightfully so, he's their best player and power threat. But it's almost as if some of the their fans would rather see Judge hit a solo Home Run than another player hit a 3-run HR. In Game 3 against the Indians, when Judge robbed Francisco Lindor of a 2-run HR which proved to save the Yankees season, I was so mad.
I was almost more mad that Judge caught it than the fact the Indians did not score 2 runs there. I was watching with a few Yankees and Mets fans, and even the Mets fans were wondering how I could root against Judge. And Mets fans who appreciate what he's doing and are rooting for the Yankees are just falling for the Yankee fans bait. This guy is about to tear us and the rest of the MLB up for a while and potentially be apart of some great Yankee teams. If you think for one second I'm going to root for or appreciate the best player on a team I hate then you have to be wrong in the head in some way.
And the truth of the matter is, almost every single sports fan is like this whether they admit it or not. If you hate a team, and they have a great player, you root for him to fail in big moments. No ifs, ands, or buts. Does not matter what team it is and if those fans are assholes or not. If you don't like a team, you love to see their best players fail. Case closed.
But in specific to Mets fans who are rooting for Judge and the Yankees: WAKE THE FUCK UP. Did any of you root for Ryan Howard and Chase Utley in the playoffs? Obviously not. Have you rooted for Bryce Harper and Ryan Zimmerman in the playoffs? Nada. Did you love seeing some the playoffs losses those two teams have suffered in the last decade? Of course. You hate these guys despite the fact that you probably don't know many fans of these teams' fans personally and neither teams is historically much better than the Mets. And in Howard and Zimmerman's, case, they are not nearly as unlikable of guys as Utley and Harper. While the Mets don't play the Yankees more than 6 times a season, which fans do you hear the most from the most when the Mets are playing bad? Oh right, Yankees fans. You're telling me you are rooting along with the Yankee fans for a team that has always been the alpha to the Mets in New York? Rooting along with the same fans…
…WHO HAVE NOT ONLY SEEN A SIGNIFICANT AMOUNT OF GREATER SUCCESS OUT OF THEIR TEAM, BUT OF COURSE HAVE ALSO HAD ABSOLUTELY NO PROBLEM SPITTING, KICKING, AND DANCING ALL OVER YOUR GRAVES EVERY TIME YOUR TEAM HAS FAILED FOR THE LAST 20 YEARS?????
(Those were painful to watch)
Lets say this is not sports, and just real life. If someone (ex: Yankee fan) loves to see you (ex: Met fan) miserable, do you A) Hope for their misery as well (ex: Yankees lose), or B) Actually hope for their happiness (ex: Yankees win)? Sounds a lot like choice A has been a common answer recently.
I started this blog hating on Yankee fans and Aaron Judge, but it just turned into me hating on Mets fans. So, sorry Aaron, you are a great player and nice guy, but I hope you, your team, your fans, and your new Mets fans get demolished in the ALCS. All Sit.