For all the uncultured swine out there, it was documented in one of the greatest baseball movies ever, Moneyball, that the 2002 Oakland Athletics won 20 straight games under the power of Rain Man-esque General Manager Billy Beane.  The concept of "Does he get on base" worked out rather well, as they rolled through the AL winning 103 games that year. Iconic movie for baseball fans, a definite must watch, and you can't hate the fat Jonah Hill.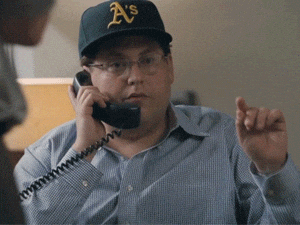 But, for all the hard work that fat Jonah Hill and super-genius Billy Beane (Brad Pitt) did for the A's, the 2017 Indians are giving them a run for their money with their current streak.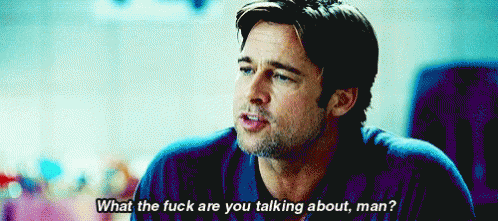 Well, Billy Pitt or Brad Beane (whichever combination you prefer) let me tell ya!  The Indians have won 18 games in a row, and are nearing the Expansion Era record that made you guys famous.
Alright, sorry, I'll stop with the gifs.
My point is that the most memorable, recent, and entertaining winning streak is being threatened in the MLB right now, and it's very exciting. The Indians are beating opposing teams as if they were an oversized bully in middle school with self-esteem problems.
Having the lead 149 out of 153 innings? Outscoring opponents 118-30? That means, on average, they are beating their opponents by a margin of about 5 runs a game.  Yes, I got a B+ in Algebra II in high school, so you can vaguely consider me the math guru of BTB Sports (sorry Mr. Walker).
I know the Indians started the season off similarly to the Cubs in that they just couldn't break away from average baseball. Maybe both teams were still fatigued from the long World Series five months later…who knows? But while the Cubs have still maintained the speed limit on the road of winning, the Indians better look for sneaky cops because they are driving at lightning speed right now in broad daylight. We all know how dangerous of a team they can be, but most of the season we weren't seeing it. Now, their window of opportunity has shot open and they are looking like the favorites to represent the AL in the World Series once more.
Even if their streak does end, it does not look like they are slowing down anytime soon. Reinforcements are on the way in Andrew Miller, Michael Brantley, and Jason Kipnis. These guys will likely be coming back from the 10-day disabled list soon, and if not soon, likely before playoffs begin.  Getting back arguably the best reliever in baseball and two top-to-middle of the lineup guys will only make this team that much better (duh), but it's a little scary to think about the fact that the Indians have yet to peak this season.
You nervous Billy Beane?