I, for one, have seen enough, and apparently so has this guy.
I know Stanzo talked about it in his summary earlier today, but I still think more needs to be said.
Chapman blew his 4th save of the season last night, throwing a 103 mph fastball to 20 year old Rafael Devers that he blasted over the left-center wall, tying the game at 2. This was not something that was entirely unexpected. When my friends and I saw Chapman warming up, we were like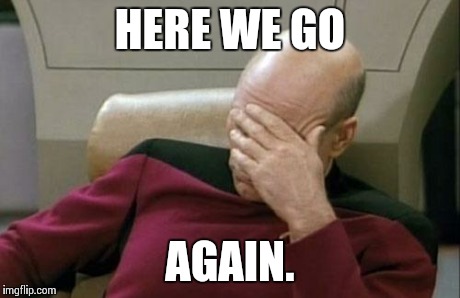 I have hated watching Aroldis Chapman all year. He walks half the batters he faces, usually has no control over his offspeed pitches, and his fastball hasn't even been that much better than other pitchers. Last night though, I actually made a comment about his 2017 fastball being below his standards, only to be roasted by him touching 103 multiple times. So while he looked better than he has in the past, he still blew the game. In a game like that, in a series like that, it was unacceptable, and he deserved to walk off in the 10th to a wealth of boos.
On paper, this is by far and away the best bullpen in baseball. Yet howcome, as a fan, I never feel safe with a lead. Chapman is 15/19 on save opportunities and has a 3.48 ERA, so we are basically paying $1 mil/save this year, along with taking years off our own lives watching him and Betances walk the bases loaded every game. Robertson and Kahnle are studs with sub-1 WHIPS, Chad Green is having a career year, and Adam Warren is doing great..so why are we forcing a cause?
It's hard to blame a manager when players don't perform, and I personally get very agitated when people do that. A manager only has so many players to put on a field, and you try to give the most talented players the benefit of the doubt, assuming they figure things out and perform to potential.
But in all that is good and holy, Joe Girardi, how many times do you have to watch Chapman have no idea where his pitches are going and still put him out there in a close game? You literally have the Golden State Warriors of bullpens, and games are not being shut down with ease.  If we get a 2-1 lead, there should be no question we are safe. Girardi NEEDS to handle the bullpen better, and realize he has multiple pitchers with the potential to be closers. All of the other guys (Betances, Robertson, Kahnle, Green, Warren) are interchangeable on what inning they pitch for the most part, and Chapman should be as well.
Here is my proposition:
I 100% agree with Stanzo. David Robertson should be our new closer, and get Chapman as far away from the 9th inning as possible. I do not care how much he is being paid. If you're not performing, you're not playing, it should be as simple as that. For Chapman, being taken out of the closer role is a downgrade, and hopefully that will help him realize he's not untouchable.
Save Chapman as the best lefty specialist in baseball, or when you need 2 outs in the 7th or 8th and he can use his fastball to full effect. Until he pitches like he can, why are we going to treat him like the best? We have too much other talent to wait him out, and we have plenty of talent to fill innings with consistency.
It's time for a changing of the guard in the Bronx bullpen. No more of the bullshit where if you're being paid a lot, you have to play. No. If this year is supposed to be about winning, then practice what you preach.