Draft day. It's a day that only comes once a year for fantasy football owners (or a few times, depending on how many leagues you're in.) If you're a true fantasy footballer, you've been doing mock drafts and reading fantasy advice online for weeks now. That's obviously important, but it doesn't matter if you take the wrong course of action on draft day. So here's a timeline of how you should spend your draft day if you're serious about winning your league this year.
4:30 AM: Rise and shine, it's draft day baby! Get your ass out of bed, it's grind time.
4:45 AM: Start fueling up, you've got a long day ahead of you. Caffeine and protein are gonna be your best friends. A balanced breakfast of coffee, raw eggs, and Red Bull is the move here. If you're efficient, which all good fantasy owners should be, you'll mix them all into one. Add protein powder for good measure.
5:00 AM: Now that you've got some food in your stomach/possible salmonella, it's time to get the blood flowing. Go on a 5-mile run. Instead of music, listen to fantasy football podcasts.
7:00 AM: After a half mile of running, 25 feet of crawling, 20 minutes of crying and an hour long nap on the sidewalk, it's time to hit the showers. Make sure to use Head & Shoulders for that Odell Beckham look.
8:00 AM: Now it's really time to get down to business. Look up all of your fantasy teams from the past five years. Make a list of any picks that went wrong, for example guys who got injured, were flat-out busts, or Eddie Lacy. Force yourself to watch their highlights back from that season to remember the mistakes you made. Don't hold back the tears, it's all part of the process.
11:00 AM: It's 11 AM and you've only cried twice. Pat yourself on the back. Now it's time to do some recon. Stake out every other league member to see how their day is going. You never know what you'll find that can be used to your advantage in the draft. Oh, Jim's bum knee is acting up again? Would be a shame if someone accidentally bumped into it right before he was supposed to make his third round pick. Guess you'll have to give him a kicker.
3:00 PM: Read everything Matthew Berry has published in the last six months. Do the exact opposite of what he says.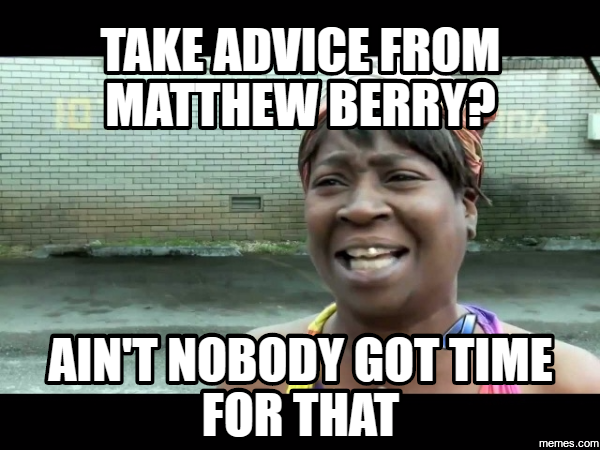 4:30 PM: Time to eat again. Raw chicken and fish are an excellent source of protein. No need to cook them, you don't have the time. Also, don't worry about drinking anything, humans are made mostly of water anyway, so any time spent drinking water is time wasted. Again, efficiency is the name of the game.
5:30 PM: With the draft under three hours away, it's time to get super serious. It's about to be fantasy football season, and it will take over your life. Cut out all distractions. Quit your job. Don't worry, the fantasy winnings will be enough to sustain you. Tell your parents you're moving to Alaska and can't see them for a few months. Break up with your girlfriend. Sell your kids on Craigslist. Whatever it takes to make Fantasy Football your only priority, you've gotta do it if you really wanna be a champ.
6:30 PM: Start listening to the Rocky theme song on repeat. Everything goes better if you listen to the Rocky theme song first. My proof? I took three Statistics exams my freshman year. My scores were 45, 95, and 97. I'll let you guess which one I didn't listen to the Rocky theme song before.
7:30 PM: Go into the nearest liquor store and just hand them your credit card. You won't be needing it anymore. Drink as much alcohol as possible. You've been waiting a long time for this moment, and you're gonna need something to take the edge off.
7:45 PM: Show up to the draft on time with 15 minutes to spare. Get settled in, and get ready for action.
8:00 PM: Inevitably pass out from either exhaustion, food and/or alcohol poisoning, or the realization that you just quit your job and sold your kids to a stranger online. Miss your draft.