New York City baseball is returning to its norm. The Yankees are making a playoff push and the Mets, well the Mets have come out screaming and shouting about this season being THE season. Of course, as the trade deadline approaches both the Mets and Yanks are in positions to make moves. The Mets as sellers, and the Yankees as buyers.
However, both of these franchises do not fit the stereotype that come along with the "buyer" or "seller" title. The Yankees sit with an absolutely LOADED farm system. But like any team with a gold mine in their minor league system, deciding to go all in and deal prospects is a hard and risky. The Mets on the other hand don't want to admit that they are rebuilding. Selling off players who reached a World Series leaves a sour taste with the fans who want to believe the core pieces that got them to the 2015 Series will get them there again.
But I have an idea. An idea my non-Yankee-or-Met-fan-mind believes would put both teams in the right direction. Although I really don't think this deal would ever occur, I am here to offer it. And I want feedback. If you hate it, rip me apart. If you love it, sign me to be your fantasy baseball team's new GM. Either way, tell me what you think.
So here it is, picture it being tweeted by Buster Onley or Kenny Rosenthal. Picture it popping up on your screen from the ESPN, Bleacher Report, and Fox Sports News apps all at the same time.
BREAKING: Yankees Acquire RHP Jacob deGrom and 1B/DH Lucas Duda. Mets Acquire MIF Starlin Castro, Prospects MIF Jorge Mateo, RHP Chance Adams and $4 Million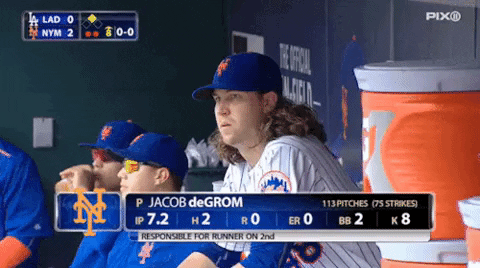 Now shut up and let that settle. Hear me out on why I think these are the pieces that would complete a fair trade which directs both ball clubs to the proper track.
Yanks, you're adding exactly what you need. A guy with ace-quality stuff who has proven that he can not only pitch successfully in New York, but he can pitch successfully in the playoffs. deGrom is 3-1 in the postseason with a 2.88 ERA and 29 K. He could be the leader of a staff that is currently lead by a young rising star, which is okay… but risky. Take some of the load off of Sevvy, and make a  playoff rotation of deGrom, Severino, Sabathia, and Tanaka. That sounds a lot better than hearing the name Montgomery come from Joe Buck's mouth come October. Plus, you have some control of deGrom. He doesn't reach unrestricted free agency until 2021, and currently makes just over $4 mill. deGrom becoming the centerpiece of the rotation for 3 seasons means that is one less purchase the post-George ownership doesn't have to make. When 2021 rolls around you wipe your hands clean being that deGrom will be going on his age 33 season. The timing is perfect. PLUS (most importantly, you and I both know you would rather have deGrom than Sonny Gray). Duda, on the other hand, is strictly a rental. Everyone is hyping up how amazing of a hitter he could be in Yankee Stadium. Why not take a low risk and find out. He may catch lighting in a bottle. Plus, it means you won't have Garret Cooper and Chase Headley forced down your throats any longer.
Now for what you are giving up. Starlin is a loss, but saying he's irreplaceable is an overstatement. Didi has the middle infield hatched down and has turned into a great player. Also 3 of the Yankees top 10 prospects are guys who could play second or short.  What I'm saying is Starlin wasn't in your long term plan anyway, and your offense is explosive enough to make a playoff push without him. Mateo and Adams are the 2 pieces of this deal you should worry about the most, but if you want talent you have to give talent. Again, Mateo is more expendable than you think. Gleyber Torres is the future of the Yanks and him and Didi will be a force in 2018. And again, there are still 2 other prospects (Tyler Wade and Miguel Andujar) who are top 10 prospects at the ol' farm. Young farm pitching is also deep for NYY, so even though Chance Adams is a great young pitcher, he's 1) not a lefty, and 2) one of nine pitchers in their top 20 prospects. In my mind, sending Adams is worth the immediate results deGrom will add. Finally, the Yankees will send $4 mill to the Mets… ill get into that later.
As for the Metropolitans. In the big blue and orange eyes of Sandy Alderson he is able to complete this trade because he knows that even though fans will freak out,  the right move to make is one that helps next year's squad. Watching deGrom become the pitcher he is today has been a thrill. But right now is a great time to sell him. He is doing great, and people forget he is already in his age 29 season even though he has only played 3 year in the bigs. The longer the Mets wait to trade him the more value will plummet because his time spent with another team decreases. Plus, when healthy the Mets staff is the one rotation in the majors who could handle losing their number 2 starter, especially when receiving Adams. Getting rid of Duda should be EASY. He is a free agent at the end of the season and at this point nothing he does in a Mets uniform will ever be remembered or meaningful.
But think about what you are receiving Mets fans… Starlin could be a great middle infield partner for Neil Walker in 2018 if Walker is resigned. If not, Starlin can fit right in at second. Then, in 2019 how about sliding Castro to 3rd, moving T.J. Rivera to first, and having Mateo and current Mets prospect Amed Rosario mature at short and second together. That is an infield which certainly will produce better defensive and offensive numbers than the little league infield they are running out there currently. So that is my pitch for how Mateo and Castro will play out and impact you. Defensive improvement, offensive improvement. Castro immediately and Mateo in 2018. No doubt about it. Adams is the player who can get to deGrom's current level by 2019. He's got the stuff to have a ceiling of potential that is deGrom-esque. Syndergaard, Matz, Wheeler, Adams, and Lugo/Montero/Pill… sounds pretty sick right? Finally, that 4 million dollars. What could that possibly be for? To buyout the club option the team has on Jose Reyes so they never have to see his face again. The man can't field, is a cancer in the clubhouse, makes way too much money, and is just clogging up the roster. Also, he has hit .333 in July… and still is hitting .229 on the season in 332 at bats. The buyout is $4 million on Reyes and If the Yanks cover at least $2 mill I would accept the offer.
So that's it… Like I said, tell me how you feel about it. Are Yankee fans willing to give up good players at positions they are deep at to gain 2 guys who can not only get you to the playoffs, but help make a run in the playoffs? Are Mets fans willing to admit this year just isn't their year, but actually put themselves back on the map for maybe 2018 but certainly 2019? Like I started this article with… there a 99% chance this trade won't be a thought in Brian Cashman nor Sandy Alderson's minds, but it would be pretty cool if it did.