…In Madden 2010.  Sorry, should have clarified. But check this out.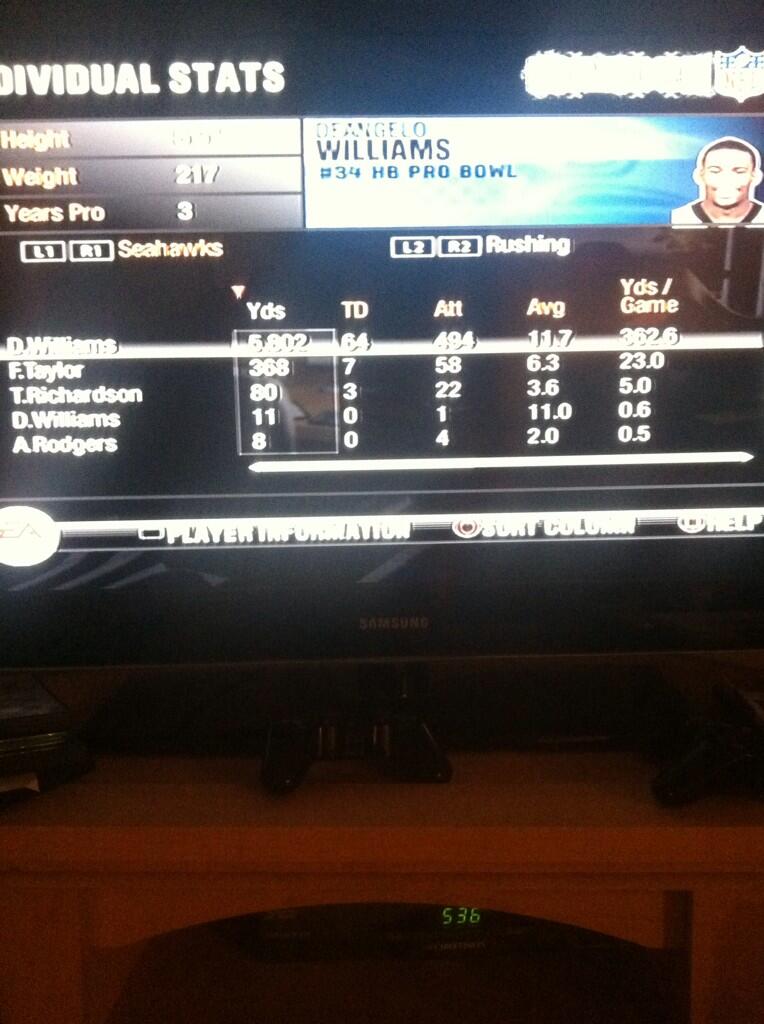 So long story short, I was really good at Madden 10 for the PlayStation 2. I'm one of those weird people who runs the ball in Madden because I think it can be effective with the right running back. DeAngelo Williams was clearly a great fit for this role.
His stats were literally ridiculous, even for a video game:
5,862 yards, 64 TDs, 362.6 Yards Per Game, on 494 Attempts.  That's a touchdown on every 7.7 possessions.  Scary stuff right there.
How did this happen???? Am I just that good? Simple answer, yes. Actual answer, no, it was pretty much a cheat. Basically, since his speed in the game was a 96, nobody could catch him if you got past the line of scrimmage.  So how do you get past? You don't go near it.  Every single play was either HB Cutback or HB Toss, and then the rest was magic.  I had to either spin move one guy or hit R1 and watch him do some overpowered move then let him run for miles.
It got really, REALLY boring after like 3 games of running for like 490 yards because he would go for an 80 yard touchdown right after kickoff, so I spent most of the game on defense.  I wound up not watching the defensive series, then looking up when I was on offense, running for a touchdown, stop watching again, and repeat until the game was done.
Despite my boredom, I persevered, and finished the season. Like a true champion.
Obviously, he made the Pro Bowl, and my team brought the Lombardi Trophy to Seattle.  It was an historic season that was lost in the record book, and I did my best National Treasure 1,2, and soon to be 3 impression to go on a long journey to find and save this history (I scrolled down ten seconds on my Twitter).
If you have a PS2, and for some reason still play Madden 2010, give the DeAngelo Williams Challenge a go and see if you can run for more than 6,000 yards.  It's not a matter of skill, it's a matter of overcoming hours of boredom. Good luck.