America, the greatest country on Earth. As our beautiful nation turns 241 years old in a few days, some people will choose to focus on what's wrong with it rather than everything that is great about it. And that's okay, I'm not saying America is perfect. But the last year or so has really set Americans against each other, whether it was their differing political views in the 2016 election, or Colin Kaepernick refusing to stand for the national anthem. It has almost made some of us forget we are the UNITED States of America. If I know of two things that can unite people, however, it's pride in our great nation, and sports. So, on this holiday weekend, let's take a look back at the most patriotic moments in American sports history.
Boston Bruins National Anthem Post-Boston Marathon Bombing
At the 2013 Boston Marathon, double bombings killed three people and injured over 250 more. Anytime an attack like this happens on American soil, especially post-9/11, it really strikes a chord with Americans all over the country. Every American sympathized with Boston that day. Two days later, the Bruins played their first home game after the attack. Rene Rancourt sang the National Anthem before the game that night, but he wasn't singing by himself for long.
I'm an absolute die-hard New York sports fan. I'll heckle any Boston team or their fans when they come into town until I lose my voice. But if this doesn't give you chills, you are a crazy person. No matter where you're from, what teams you support, whatever, at the end of the day we're all Americans and we've gotta have each others backs, especially at times like these. Just an awesome moment for a great city that showed they weren't gonna back down after such a tragic event.
Jesse Owens Wins 4 Olympic Gold Medals in Hitler's Germany in 1936
At the 1936 Berlin Olympics, Adolf Hitler planned to show the world the superiority of the Aryan race. A young African-American man by the name of Jesse Owens, however, had other plans. Owens was the most successful athlete at the 1936 Games, becoming the first American to ever win four Gold medals in track & field events. While America was no Nazi Germany, African-American rights were nowhere near where they should have been in 1936. Major progress wouldn't be made until the Civil Rights movement of 1954-1968. Regardless, Owens' display of bravery and skill in the 1936 Olympics will live on forever in American history.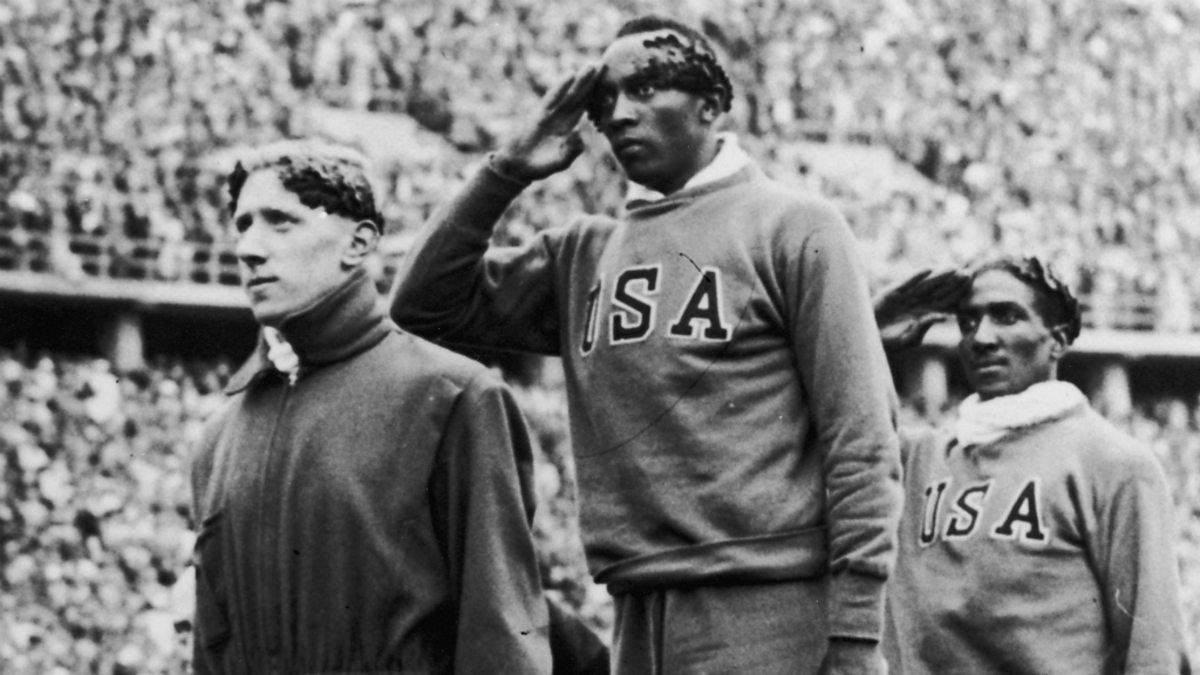 Mike Piazza's Home Run After 9/11
Ten days after the most tragic attack on American soil, baseball returned to the city it occurred. Americans were still trying to process what had happened, New Yorkers especially. But if one thing can take your mind off of tragedy, it's sports. Mets' hero Mike Piazza hits a go-ahead home run in the bottom of the eighth to give the Mets the lead in a game they would win, 3-2, and Shea Stadium goes absolutely berserk.
President Bush Throws Out the First Pitch at World Series Game 3 post-9/11
The other New York baseball team, the Yankees, made it to the World Series in 2001. After losing the first two games on the road to the Arizona Diamondbacks, the Yanks returned home to play in front of their still-healing fans. None other than the President himself, George W. Bush, showed up to throw out the first pitch. It was a special moment for Yankee fans, New York, and America.
Miracle on Ice
Undisputedly the most patriotic moment in American sports history. You don't think of displays of patriotism in sports without thinking of the Miracle on Ice. At the height of the Cold War, America's hockey team comprised of college kids played the Soviet Union's professionals, the same team that had taken 2/3 games from the NHL All-Stars (including a 6-0 blowout in Game 3) just one year earlier. I could go on for days with what happens next, but if you've seen Miracle then you already know, and if you haven't seen Miracle what are you doing with your life? I'd argue a high-school dropout who has seen Miracle has their life together more than a doctor who hasn't seen it. (Not really. But if you haven't seen Miracle get on that ASAP.)
Al Michaels with the greatest and most iconic broadcasting call of all-time. I wasn't even alive and it still gives me chills every time.
So this weekend, make sure to drink some Buds, grill some burgers, and enjoy some baseball to celebrate our great country. And don't forget all the brave men and women in our armed forces who make our country great. Have a Happy 4th, and God Bless America.