The Yankees have started to look like the Mets lately. In the past week, they've sent Aaron Hicks, Starlin Castro, and Matt Holliday to the DL, and Tyler Austin could be next. This prompted the Yanks to call up "Baby Bombers" like Tyler Wade and Miguel Andujar to make their MLB debuts. The announcers said pregame last night that 7 of the 9 starters (everyone besides Headley and Didi) had played for the Scranton Rail Riders, the Yankees AAA affiliate. That's unheard of for the Yankees, who are usually active in free agency (or "buying championships" as Mets fans will say.)
Andujar had a three-hit, four-RBI game in his major-league debut, including a 2-run single in the first to make it 3-0 Yanks.
Hopefully, it was a sign of bright things to come.
If you'd have told me last night that this Yankee lineup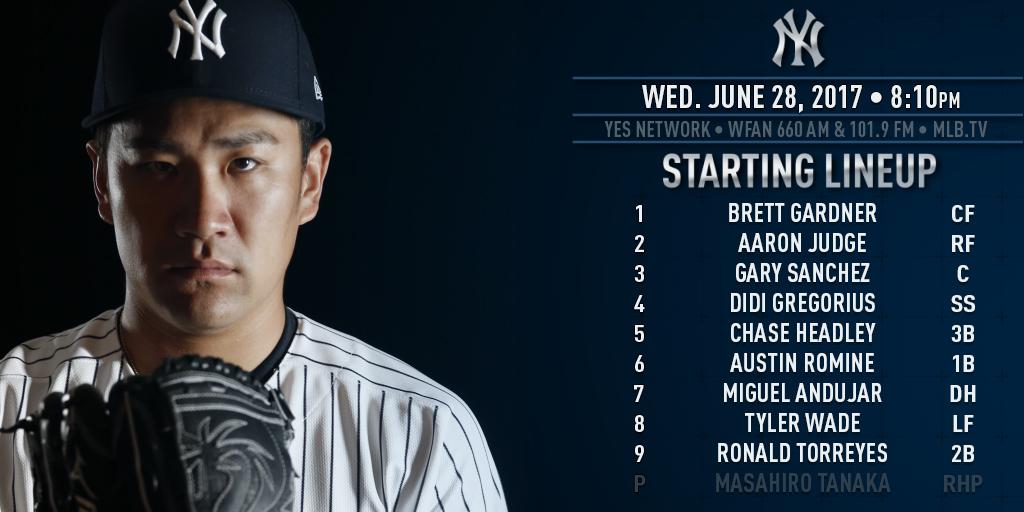 would score 12 runs, I probably wouldn't have believed you. But that's exactly what they did, giving Tanaka the run support he needed to go out and throw 6 strong innings giving up only 2 runs.
In other news, Aaron Judge continued to do Aaron Judge things.
Just a really fun game to watch after losing a heartbreaker 4-3 the night before. Obviously you can't expect that lineup to put up 12 runs every night. But if these guys keep producing, you can't help but wonder what it'll be like when Hicks, Holliday, and Castro come back.
P.S. Dustin Fowler coming up tonight too? Let's get it.