LaVar Ball is a mad man. Everything that he does is so painful to listen to but you kind of don't want him to shut up because his actions are so cringe worthy that it's reversed into must watch television. It would almost be a brilliant marketing move on his part if I wasn't 100% positive that this man has no idea what in God's name he's doing and is just a legitimate jackass. Back to the story, earlier this week on Monday night, LaVar and his younger son LaMelo finally hit the big leagues. They entered the Mecca of the sports world, Monday Night Raw, to spread the good word on Big Baller Brand to the likes of a fashion icon in his own right, The Miz. These legends will not sit around and ride the coat tails of Lonzo. It's just not in the script for Lavar. That's not Ball family ethic. I mean, can you blame LaVar? Think of the track record of celebrities coming onto Monday Night Raw.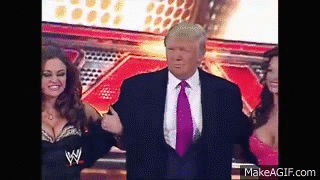 Check mate. I'm not saying that a Monday Night Raw appearance delivers a clear path to the White House but I'm not not saying that a Monday Night Raw Appearance delivers a clear path to the White House. Did I just release the plot for season 6 of House of Cards? Of course not, but that's exactly what the person who just released the plot for season 6 of House of Cards would say. Now let me hop back out of devil's advocate for a hot second.
On the other side of this two pronged argument is Kevin Hart's dad. For those of you who haven't heard of this wild card, here's a glimpse into how Kevin describes growing up with this man was like:
Aaaaaand now back to LaVar
Now of course I'm not insinuating that LaVar Ball does drugs, I think, but if you try to tell me that that is anything but the no draws run, you're not only lying to yourself, but mankind at large. You best believe LaVar has all makes and models of nature swinging down south for the WWE world to see. On top of that, how can you not say that the spelling bee story has LaVar Ball written all over it. If there was a Ball brother named LaKevin who participated in spelling bees and debates I can only imagine that LaVar would be screaming that shit verbatim.
ALRIGHT ALRIGHT ALRIIIIIIGHT. Ball 2020