Note: This was supposed to be published yesterday but Bert, Dave and I forgot to actually post any articles yesterday. That's the BTB difference.
Heartbreaking loss for the Yankees yesterday. I got to experience my first Old Timers' Day at the Stadium, which was really cool. Watching guys like Tino, Jorge, and Bernie play again was a real treat. Unfortunately, the current Yankees got off to a not-so-hot start. Pineda gave up a three-run homer in each of the first two innings, followed up by a solo shot in the 4th. At 7-0, the Stadium was lifeless. The Yankees weren't done yet, however.
An RBI single by MVP favorite Aaron Judge followed by this three-run shot by Gary Sanchez to dead center cut the deficit to 7-4.
Didn't even think that was gonna be close to getting out, but it got legs at the last minute and just kept carrying. For as impressive as Judge has been this year, Gary hasn't been far off. Hopefully these guys are the 3-4 hitters in our lineup for a long time.
Ronny Torreyes hit a solo homer in the 7th, producing one of my favorite moments of the season thus far.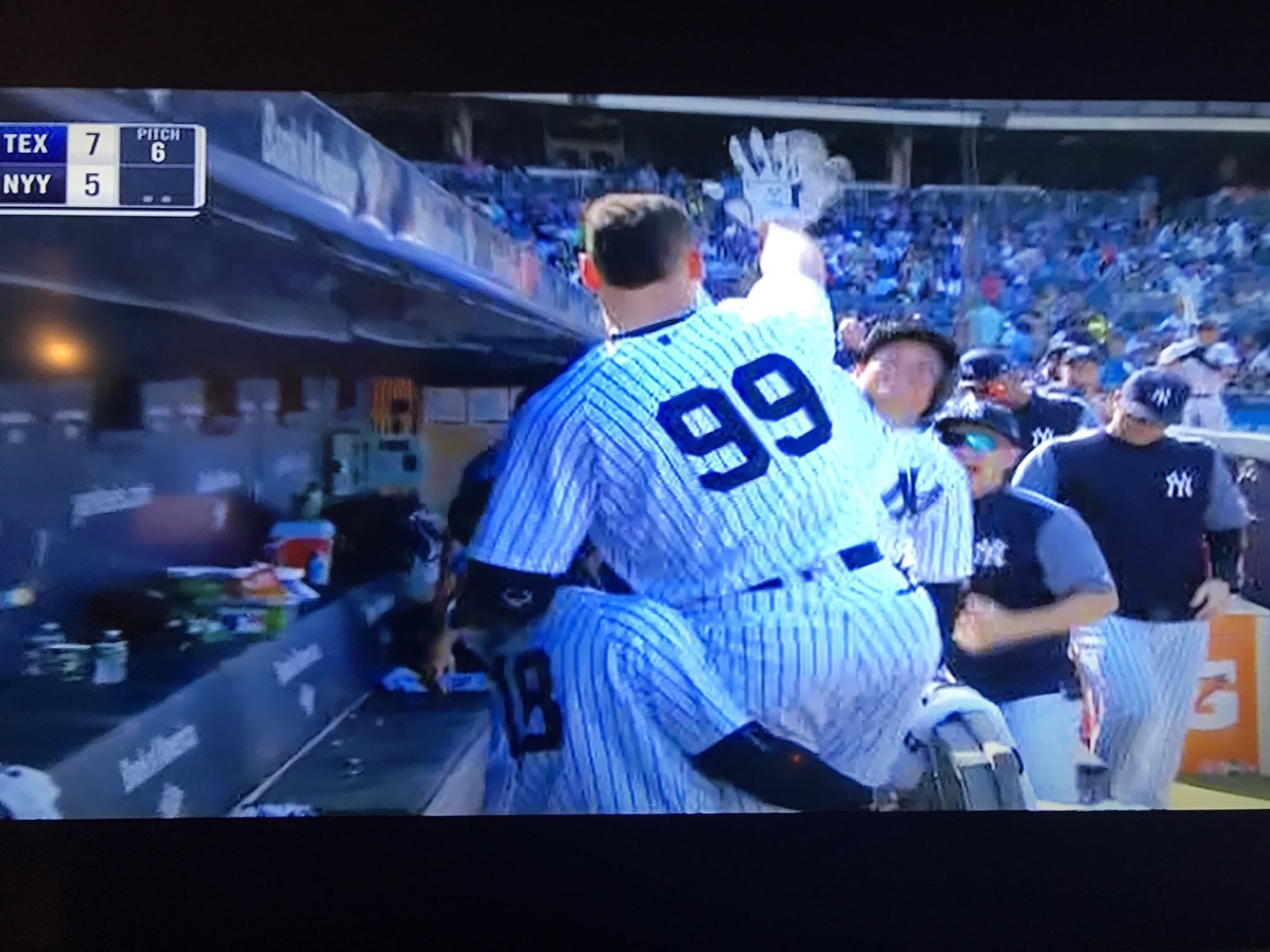 I'm gonna need a gif of that ASAP. Gotta love Didi, Judge and Toe.
Unfortunately, the same inning came to a close when Gary got thrown out trying to go first to third on Didi's RBI single that scored Judge. Anyone who's ever played baseball knows, you never make the first or third out at third base, and it negated a chance for Chase Headley to hit with a runner in scoring position after already having two hits on the day. (Chase Headley had three hits yesterday. Wow that felt weird to type.)
Betances and Chapman looked like the most dominant relief duo in the league in the 8th and 9th, but unfortunately the Yankees couldn't scratch across another run to tie the game. Does a 7-6 loss hurt? Yup. Does it sting to be 2-10 in our last 12? Like saltwater in an open cut. But I'm optimistic after yesterday. Here's why.
Yeah, Pineda didn't pitch well and that's concerning. And yeah, Hicks is headed to the DL for 3-4 weeks. But this team got back to their strengths: their lineup and bullpen.
The Yanks scored 6 runs on 11 hits, with everyone in the lineup seemingly contributing. RBI singles for Judge and Didi, a 3-run shot by El Gary, solo homer for Toe, 3 hits for Headley. Plus, Tyler Austin is no All-Star, but at least he's not Chris Carter. We didn't even have Holliday or Castro available yesterday, and the offense performed this well. If the 2017 Yankees can do one thing, they can hit. They are NOT a good baserunning team, as shown by Sanchez's blunder in the 7th. But this team will hit, and it was great to see it yesterday since the bats have cooled off lately.
The other strength the Yankees got back to yesterday was their bullpen. Pineda's disaster of a start got them only 4 innings, and the bullpen threw 5 shutout innings. Tyler Webb threw a scoreless 5th after issuing two walks, Chad Green worked his way out of a runner on third, one-out jam unscathed while throwing two shutout innings, and Betances and Chapman did their thing in the late innings.
So yes, these last 2 weeks have been a nightmare. Hicks is headed to the DL. Holliday and Castro are banged up. But Chris Carter is gone, Ellsbury is almost back, and even Tanaka pitched great on Friday. There's a lot of baseball ahead of us. Let's go Yankees, baby.