If you ever played sports video games growing up, there's a 100% chance you loved creating players. I'm not talking about 2K MyPlayer where your guy starts out at an overall 62 and you have to build him up. I mean straight up create-a-player mode, where you make the biggest, strongest guy possible and drag all his abilities to 99 until your thumbs hurt. Aaron Judge is the real-life version of that guy. After Sunday's two-homer performance, he now leads the American League in batting average, home runs, and RBI. That's a little thing called the triple crown, folks. Am I saying Judge is going to win that? No, but I'm definitely not gonna rule out the possibility that he can. With Mike Trout injured, I'm not sure there's anyone in baseball pitchers fear more than Judge. Maybe possible future teammate Bryce Harper, but Judge and Aaron Hicks are making a free-agency run at him look less necessary every day. Here's footage of Judge's first home run, which was the longest in Major League Baseball this year at a whopping 495 feet.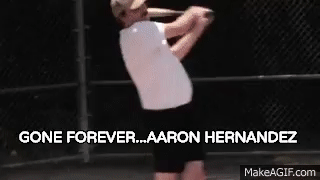 Not even gonna try and put that blast into words. Totally unreal. Judge wasn't done, though. He would later hit his 21st homer of the season on a ball that basically would be a single for anyone else, but since this guy has video-game strength found its way into the right field bleachers.
Judge is currently on pace to hit 52 home runs this season and break Mark McGwire's rookie record of 49. Does he have to continue this pace? No, he would be a great outfielder at a fraction of what he's doing right now. But this sure is fun to watch. The best part is, he doesn't seem to care about these personal accomplishments. He constantly deflects credit from the media to his teammates, and just wants to win games. This guy is the front-runner for Rookie of the Year and MVP and not once have I heard him say anything remotely selfish to the media. At this rate, Aaron Judge is gonna be the same role model to my kids that Jeter was to me. Gotta love this guy.
P.S. Look how much fun this team is having. After years of A-Rod and questioning this team's chemistry this group is a breath of fresh air.