July 4, 2016. The 240th birthday of our beautiful country. But for one, it was a day they decided would make about themselves, and partially ruin the day for many American sports fans.
After blowing a 3-1 lead to the Golden State Warriors in the Western Conference Finals, Kevin Durant, arguably the second best player in the NBA, was leaving Oklahoma City to join this Warriors team. It is widely considered to be one of the softest moves in sports history, a move only a KowarD would make. The difference many saw in his move versus when LeBron James went to Miami was that Durant was joining a team that was already arguably the best in the NBA, and leaving a team that he had so close to the Finals, but couldn't win one more against the Warriors. Now, you would think Kevin Durant and the Warriors would be prepared for the repercussions that this would come with, that most of the NBA would just simply hate them. However, despite the success of this season, Kevin and the Warriors are still constantly playing victim. Some of these include: Warriors ownership and Kevin Durant's mother upset with the Thunder for not honoring Kevin Durant in his first game back in Oklahoma City, Draymond Green upset the four Warriors didn't make an All-NBA team, and Green mad about the Cavs lack of competition in the Eastern Conference playoffs. I think it's time we all feel bad for the Warriors. They have had a long and stressful season, and have an NBA Finals to worry about now, not the bullshit us fans are bashing them for.
When Kevin Durant signed with Golden State, most fans were upset that a league that had already become top-heavy was about to become even more top-heavy, and that the regular season would pretty much mean nothing. So far, both have those have been true, and the fans are really hoping it'll be worth it in the third Finals meeting between Golden State and Cleveland. However, despite being four wins from his first title, Kevin Durant is still out here playing victim.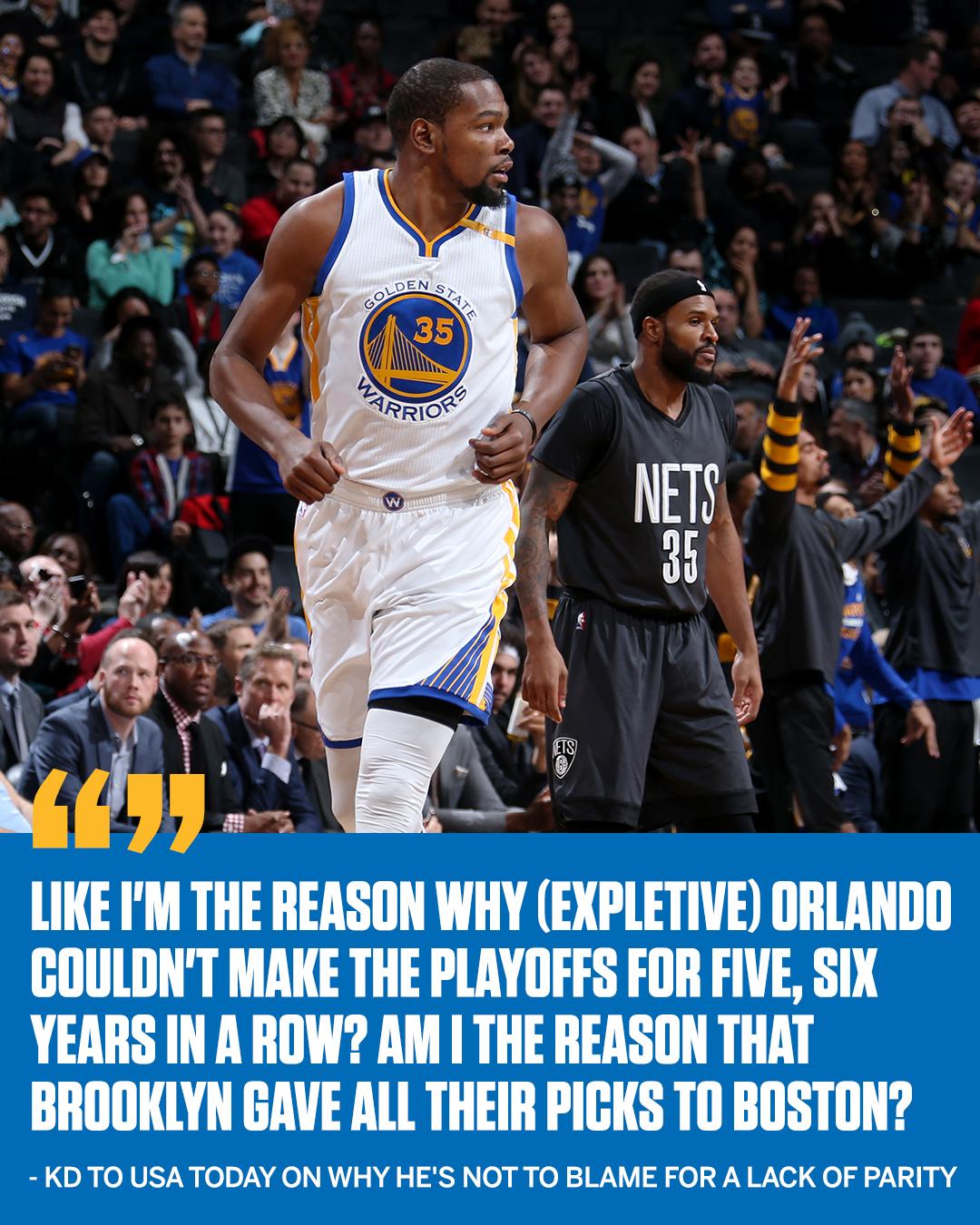 While many people tossed Duran't latest claim aside and just said "okay, let's just play the Finals already", I won't let Kevin play victim here, because when it comes to recent problems with the Brooklyn Nets and Orlando Magic, Kevin Durant is clearly at fault.
We'll start in Orlando. Kevin Durant's comment on the Magic not making the playoffs for the last 6 years is obviously not his fault, and is just a scapegoat for the other problems he has caused. He has been at the center of a string of very bad decisions by the Magic organization. The Thunder needed to create salary-cap room to resign Durant, so they sent Serge Ibaka to Orlando. Orlando wisely agreed to this trade, and sent back Victor Oladipo, Ersan Ilyasova, and 11th overall pick Domantas Sabonis. Midway through this past season, the Magic sent Ibaka to the Raptors for Terrence Ross, a downgrade. Essentially, the Magic traded those 3 players for Ross. Looking at it that way, this was a terrible trade, sending two young players, and another solid player for a streaky shooter who wasn't even a starter for the Raptors. And how did this mess all start? With the Magic making a trade with the Thunder that would help OKC resign Durant. And then Durant didn't even resign. If Durant didn't cost so much that the Thunder would have create cap room and bait Orlando into a stupid trade, the downfall for the Magic would have never happened. What a selfish asshole. Orlando deserves an apology.
Now let's go over to Brooklyn. As a Nets fan, the idea of signing Kevin Durant in 2016 was the dream I knew probably could never happen, but was one I had in the back of my head. A few years ago, when the Nets were actually good, the idea seemed better, and a fellow fan and I referred to this signing as #Durant2016. However, Billy King, using his great General Managing mindset (as always), realized this was not going to happen. The Nets finished the 2012-13 season in 4th place in the East (a huge improvement from 12th in 2011-12), but they were eliminated by the Bulls, WITHOUT Derrick Rose, in 7 games. Billy King knew if the Nets ever wanted to compete for an NBA Championship, they would have to acquire some players who were a little better than Gerald Wallace and Reggie Evans. Being that he would not be able to acquire Durant, King cracked under pressure and sent Brooklyn's 2016, 2017, and 2018 first round picks, along with a few players, to the Boston Celtics for Paul Pierce, Kevin Garnett, and Jason Terry. And we all know how that has turned out. Kevin Durant has no way out of this one. If he had less skill, his asking price would have been lower. And if his asking price would have been lower, the Nets would have traded for Durant, not the old guys from Boston. And if the Nets had gotten Durant instead, they would be winning championships instead of handing the Celtics number 1 draft picks. Thank you for ruining the organization I grew up loving, Kevin.
What Kevin Durant did to the Thunder was pretty bad, but doesn't even compare to what he did to the Nets and Magic. At least the Thunder still have an MVP on their team. Oh well. Kevin better hope the basketball God's let his knees work this time against Cleveland.