Pretty bold headline, I know. But Cavs-Warriors round 3 could be better than "Gym, tan, find out who wrote the note." (If you don't like/haven't seen Jersey Shore just stop reading and re-evaluate what you find entertaining)
Even though the NBA Playoffs have been worse than Angelina up to this point, I think I speak for all basketball fans when I say I've been looking forward to this series since Game 7 ended last year. We've never seen two teams breeze through their conferences like this before (Warriors 12-0 and the Cavs 12-1, respectively), and it's blatantly clear that these are the two best teams in the league. Let's break it down.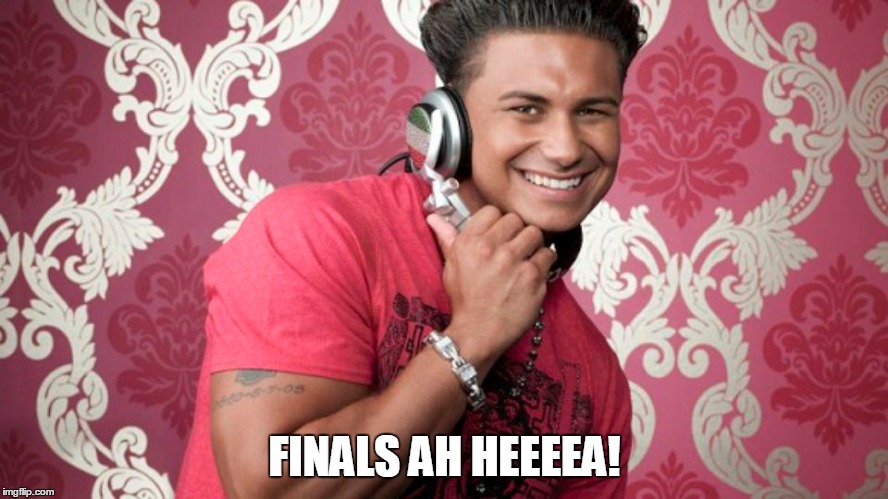 We're Seeing the Best Version of LeBron
The guy who led the Finals in all 5 major stat categories last year is gonna need to have a similar performance for his Cavs to win. He's been sensational in these playoffs thus far, averaging 32.5 points, 8 rebounds and 7 assists on 63% shooting, as well as 42% from three, both playoff career highs for the King. Aside from failing to show up in Game 3 vs. the Celtics, he's been outstanding in each of the 13 games the Cavs have played up to this point. Will LeBron's every move continue to be analyzed/scrutinized/criticized to the point where you're asking yourself if everyone at ESPN is on meth? Unfortunately, yes. But the bottom line is that if LeBron keeps shooting as efficiently as he has been, especially from deep, he's unguardable. I don't care if he was being guarded by Kelly Olynyk or Jae Crowder in the conference finals and now he's gonna be guarded by Klay Thompson and Draymond Green, there's no way to guard LeBron's skill set when he's firing on all cylinders.
How Will the Warriors Handle Adversity?
The Warriors set yet another record, sweeping their way through the Western Conference, which no one had previously done. However, this is not necessarily all good. Aside from Game 1 against the Spurs when they came back from a 25-point deficit, they haven't played any games that were particularly close in the playoffs. Who takes the last shot when it's crunch time, Curry or Durant? How will these guys fare in high-pressure situations, especially on the road? Good news is, these guys have been here before. This will be most of the Warriors key players' third straight Finals, and Durant was in the Finals back in 2012 against LeBron's Heat.
Who Will Step Up?
A key to the Cavs' victory last year was bench players such as Richard Jefferson playing well. They'll surely need the bench to be a big factor again. Another former New Jersey Net could be the one to step up this year, Deron Williams has quietly been solid these playoffs, shooting 54% from the field as well as 50% from three. If he continues to play like this, the Cavs could have Quicken Loans Arena rocking like Continental Airlines Arena circa 2003 (before it became IZOD Center. Fuck the IZOD Center).
Will Ayesha Curry Continue to be Annoying as Hell on Twitter?
Steph's wife stirred up so much drama on Twitter during last year's Finals, you would've thought she was The Situation 2.0.
After the Warriors' Game 6 loss, the best shooter of all-time's wife took to Twitter to voice her frustrations
Brian Windhorst pointed out that if the NBA was rigged, then it would've been rigged for her husband to have won last year's Finals, 73 regular season games, and 2 straight MVPs. I don't really care what Ayesha tweets, but I do because the responses she gets are so damn good.
I'm never deleting Twitter.
All jokes aside, this series pins arguably the greatest NBA team on paper of all-time against arguably the greatest player of all-time playing at his best. Pressure is on KD to win and prove he did the right thing signing with the Warriors, and pressure is on LeBron to deliver Cleveland another championship. Waiting through 2 months of dreadful playoff basketball will be worth it to see these two teams match up.
Prediction
This Warriors team is good. Really good. As much as I hate Durant and Draymond and Klay, they are all All-Stars. The only way they could lose this series is if a few of them lose their 3-point stroke like they did at points in last year's Finals. However, with Durant replacing Harrison Barnes (who was basically a traffic cone vs. the Cavs last year), that scenario is even less likely. But this is the best version of LeBron we've ever seen, I can't pick against him when he's playing like this. The Warriors are better than last year, but so are the Cavs. Cavaliers in 7.