Bartolo. Tolo. Big Sexy. GOATolo. Happy 44th birthday to man who can bring joy to any baseball's fans life like no other. While I cannot fault the Mets fan not overpaying the big man this offseason even more than the Braves already did, losing Bartolo this offseason was very sad because it took something away from Mets fans that was a lot more about on the field play. It took away the most unique and most fun player to watch in baseball, whether he was playing good or bad at the time (it didn't help that we lost him to a division rival).
He could make unbelievable plays without any effort, one's that most fail on in the moment and just make themselves look like complete assholes.
He could swing out of his uniform like no other.
He could literally tell the catcher he wasn't going to swing, and still draw a few balls.
He could do things that nearly make the Earth stop spinning.
(BTW, people who get mad at Gary Cohen for referring to this as "One of the great moments in the history of baseball" are butthurt losers who just wish Bartolo was hitting Yabos for their team)
But best of all, he could do things we could cheer for, while making us laugh tremendously at the same time.
It's truly Bartolo's world, and we're just living in it.
The secret life of Bartolo Colon began last year when he was being taken to court by his baby mama with whom he had two children, and apparently had not helped pay child support. The thing is, he has been married to another lady for 22 years (21 at the time of the report), and they have four sons together.
However, Bartolo doesn't give a damn what the news reports, or what asshole Nationals fans have to say.
"They kept taunting him with comments about having two families. That was until the 43-year-old turned around to the crowd and, according to manager Terry Collins, put up three fingers to joke that he has three families." (NY Daily News)
Heck, I'd chirp Bartolo if it meant he would look at me like this.
Now, yesterday being his 44th, SNY gave him a shoutout during last night's Mets telecast (how about that bullpen?) and showed a picture of his 1995 baseball card, while he was in the Indians' organization (he would make his debut in 1997).
Notice anything? I'm not sure how, but something extremely small caught my eye. Doing the math, 2017-44 would mean Bartolo was born in 1973. Well take a closer look at his date of birth on the card: 1975.
This card is a 1995 Bowman card. At first I thought maybe this one card made a mistake, but then I decided to do some research…
1998 Upper Deck: (DOB on card is 5/24/75)
1998 Pacific: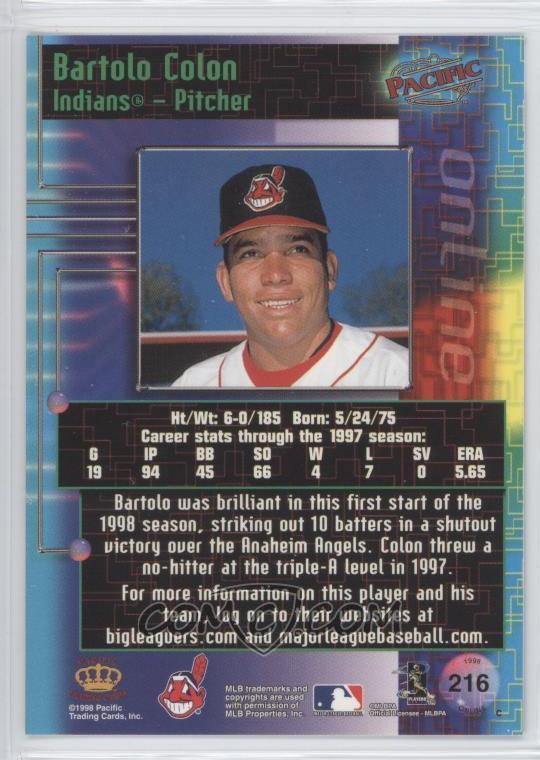 1998 Topps:
1999 Pacific: (1975)
2001 Topps (now on Montreal Expos):
Every card I found from 2004 on had his birthday at the correct date of 1973, however. I feel like the mostly likely scenario here is something along the lines of Major League Baseball having his date of birth incorrect and reporting it to these Card companies incorrectly for years. However, I refuse to believe that this is the reason. That does not sound like a mistake that the league or card companies would make more than once, let alone for 7 seasons. I'm trying to think of possible theories, but none make any sense to me. Bartolo Colon must be involved in BirthdateGate in some way.
At this point, I think Rob Manfred's only option is to suspend Bartolo Colon for 50 games. We can already jump to suspension because it's clear that Bartolo will not comply when asked, as he will likely have no valid explanation and will probably try and ignore the subject as well. Since the Indians allowed this mishap for 6 seasons, and the Expos (now the Washington Nationals) allowed it for one, Manfred will most likely be stripping Cleveland of its First Round draft pick for six seasons, from 2017-2022, and Washington of its First Round draft pick for this one season, 2017. Bartolo will appeal this suspension, and the appeal process will go into 2018, after he has signed for a second stint with the Mets. He will lose his appeal, and after he returns, will be a vital piece in leading the Mets to the 2018 World Series Championship. Bartolo will be named World Series MVP, making it a quite awkward situation for the commissioner, who has to look him in the eye, shake his hand, and congratulate him. A situation this unique could only happen to a player this unique. Take that, Manfred.
(I hate that comparing this situation to Tom Brady can sound cool, cause I fucking hate that guy and his team so much)
Happy birthday Bartolo, never retire.
(I'm going to pretend the word "Bartlanta" never entered my ears. That sounds like when people refer to a couple by a combination of their names, but it's a huge joke behind their backs because they're the worst, most disgusting couple anyone has ever seen.)